By Scott Wierman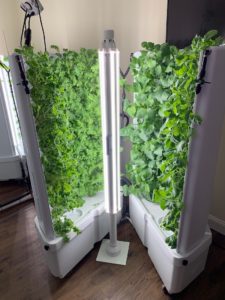 The high number of Hilton Head Island residents dealing with food insecurity may be surprising to many Lowcountry visitors and locals. But regional nonprofits, including the Community Foundation of the Lowcountry, are very aware that food insecurity is a pressing issue.
So when Volunteers in Medicine (VIM), a Hilton Head Island-based clinic that offers free medical services for residents in need, sent the Community Foundation a grant proposal in February aimed at alleviating food insecurity and providing healthy options for residents, we took action. In partnership with the Town of Hilton Head, and as part of the COVID-19 American Rescue Plan, the Community Foundation of the Lowcountry awarded VIM a grant to fund a hydroponic farm, located in VIM's office space.
The genesis of the hydroponic farm was the impact fresh produce had previously had on VIM patients.
"Community gardens would drop off excess produce to VIM," said VIM Executive Director John Newman, MD. "And the produce brought such joy to the patients who received it. The produce would quickly go out the door. And we thought what could VIM do to help the community in need with fresh produce?"
Just a few months after funds were received, it is remarkable to witness the amazing progress the VIM Clinic's Farm-acy has made in a short time. Eight vertical hydroponic Flex Farms (and a storage refrigerator) are full of vegetables: romaine lettuce, arugula, collard greens, kale, basil, and spinach. Tomatoes, okra, bell peppers, and jalapenos are started in hydroponic Flex Farms and placed in cups with dirt and given to patients to plant. By mid-May, over 250 plants had been given to patients. A garden of fruits and vegetables has also been planted outside of VIM's office and in the parking lot, using the heat from the blacktop to help grow avocado, grapefruit, and mango.
While most people start their work day with a cup of coffee and small talk with co-workers,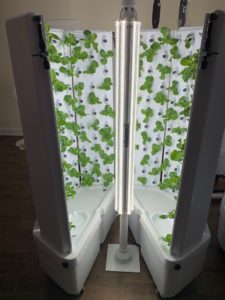 several physician assistant students working at VIM spend the 15 minutes before their shift harvesting vegetables. The VIM hydroponic farm has also inspired members of the community, which resulted in 10 new volunteers specifically working on the garden.
In addition to patients receiving produce, VIM donates produce to three Hilton Head nonprofit organizations: Second Helpings, Deep Well Project, and Sandalwood Community Food Pantry. In return, these organizations supply VIM with other food items to distribute to their patients. During one day in May, VIM gave 60 bags of lettuce to Second Helpings for distribution. The Community Foundation of the Lowcountry is proud to have affiliations with Deep Well Project and Second Helpings and this shows how well Hilton Head nonprofits collaborate on important programs.
"Second Helpings is really thankful for VIM including us in their produce distribution," said Second Helpings Operations Administrator Leah Long. "A lot of our donated food is can goods, so whenever we can provide fresh produce, it is a real treat."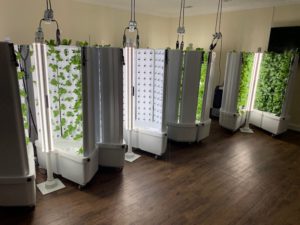 With the prices of food skyrocketing, food insecurity is likely to increase. VIM has shown that, in a very short time, you can make a real difference in the lives of people who live in the community you love so much.
For many people looking to provide relief for those in need, they often don't know where to start. A call or visit to the Community Foundation of the Lowcountry is the perfect place to start your philanthropic journey. Please visit cf-lowcountry.org to learn more about the many nonprofit funds we manage and to make a donation, or call 843-681-9100 to learn how to set up your own fund that supports the community. If you are interested in volunteering, visit Lowcountry Volunteer Connections at http://www.lowcountryvolunteerconnections.org/.
Scott Wierman is President and CEO of the Community Foundation of the Lowcountry. www.cf-lowcountry.org