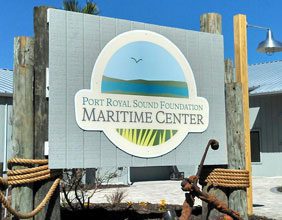 The Port Royal Sound Foundation is gearing up for its second annual STEAM Festival on Saturday, August 25th from 10am-3pm at the Maritime Center in Okatie, SC. Sponsored by Lockheed Martin and the Stanley B. Farbstein Endowment of Coastal Community Foundation, the STEAM Festival will provide hands-on, innovative and super-cool activities for families to enjoy.
                  STEAM, which stands for Science, Technology, Engineering, Art and Math, is an important initiative for educating and preparing today's students for tomorrow's jobs. The festival will showcase demonstrations, simulations, experiments and hands-on activities by area businesses, organizations and schools that are using STEAM to succeed in our highly technical world.
                  Featured vendors at this years' festival include Lockheed Martin, Beaufort/Port Royal Fire Department, Beaufort-Jasper Water & Sewer Authority, The Sandbox, South Carolina Aquarium, Technical College of the Lowcountry, Coastal Conservation League, SC Department of Natural Resources, Beaufort Memorial Hospital and many more. Each vendor will provide a hands-on and engaging activity for the whole family. Guests are invited to have lunch at the Maritime Center. Food vendors will include Time to Eat, Murican Border, KC Mikes Smokin and Kona Ice.
                  The Maritime Center features many STEAM-based exhibits and offers a variety of STEAM-based programs to educate visitors about the Port Royal Sound.
                  "It's a natural fit for us to host this free festival for the public, as a way to excite area youth about STEAM and help make a connection to many of the Lowcountry organizations using STEAM to succeed," says Executive Director, Jody Hayward.
                  The festival will be a great kick-off to the 2018-19 school year. A comprehensive list of participating vendors, demonstration schedules and parking information will be posted on the Port Royal Sound Foundation's website and Facebook page. For more information, contact the Foundation office at 843-645-7774.