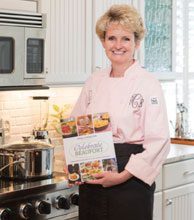 The Pat Conroy Literary Center and the Anchorage 1770 Inn are excited to announce the second Cook The Book event with Debbi Covington, award-winning chef, caterer, cookbook author, and food columnist. Debbi will choose recipes from her third published cookbook, Celebrate Beaufort. This special event is to be held Saturday, September 29th, from 4:00–8:00 p.m. at the Anchorage 1770.
The event has three components: Debbi will give a cooking demonstration featuring several recipes with tastings from Celebrate Beaufort, followed by a book and apron signing with wine and appetizers on the second floor veranda, and culminating with an appetizer buffet on the third floor balcony. Menu selections will be prepared by Anchorage chef Byron Landis. Debbi's signature cocktail, Bourbon Slush, will also be offered. The cost of the event is $75 and includes two signed cookbooks (Celebrate Everything! and Celebrate Beaufort) and a Pat Conroy Literary Center apron.
This new venture was inspired by Pat Conroy's passion for cooking and his perennial search for a new recipe. Pat opens his 2004 cookbook with the words, "The subject of food is nearly a sacred one to me." His lifelong passion for cooking was first ignited in 1969 and only became more intense as he grew older. Many of his readers are familiar with another quote from his cookbook, "a recipe is a story that ends with a good meal."
Debbi Covington is a natural choice to continue the series, which celebrates foodways, writing, and fellowship. She first met Pat at a funeral while in her 20's. She was helping to prepare the food while working at the First Presbyterian Church downtown. Over the many years that followed, Debbi became one of the most respected caterers in Beaufort and a close friend of Pat's. When Pat died, she was called to cater his funeral reception. Debbi says, "We knew he was sick. When I got the phone call from his family, I had his cookbook in my lap. I happened to be reading the chapter, "Why Dying in the South Is More Fun."
A contributing writer to Our Prince of Scribes: Writers Remember Pat Conroy, Debbi has authored three cookbooks: Celebrate Everything; Dining Under the Carolina Moon; and Celebrate Beaufort. She also writes the food column "Celebrate Everyday" in Beaufort's Lowcountry Weekly newspaper. She has been featured as a "Master of Entertaining" in Southern Living magazine. The readers of the Beaufort Gazette and The Island News have voted her "Best Caterer," "Best Catering Company," and "Favorite Caterer." Debbi has a passion for southern cuisine and delights in creating seasonal and locally inspired menus.
Anchorage Chef Byron Landis, who will be assisting with food preparation, began his culinary career as an apprentice chef in Overland Park, Kansas, where he logged 6,000 hours of experience. From there he honed his skills at Kansas social clubs including Kansas City's esteemed Carriage Club. He was then sous chef at Hilton Head's Long Cove Club before joining the team at the Anchorage 1770.
Tickets for Cook The Book are $75 and include all food and wine, and the signed cookbooks and apron. Make your reservations by September 25th by calling 843-525-1770. Space is limited to 75 attendees.
The next Cook The Book event will be Saturday, December 5th, and will feature Johnathon Scott Barrett, author of Cook & Tell and Rise and Shine. Johnathon has Georgia roots and calls both books "culinary journeys, showcasing the South's world-renowned cuisine and our incredible propensity for the descriptive narrative."