Your
gender-
specific
guide to
getting
it right
this year. This year, the prospect of Christmas shopping has us all feeling a bit queasy. In this doomy, gloomy economic climate, we're pledging to tighten our belts, and some of us may even be swearing off gifting altogether. But when it comes to our spouses or special someones, is this really a viable option? The urge to lavish our loved ones at Christmas runs deep in our DNA… or at least in our American psyche. So put your personal financial fears aside and give in to your nature! Do it for the national economy. Do it for your local merchants. And for God's sake, do it for The Lowcountry magazine! We won't survive if our advertisers don't.
To help jump start you, Mark Shaffer and Margaret Evans have scoured the Beaufort area, looking for great gifts you can buy right here in your own back yard. Don't go online! Go shopping! Recapture that elusive Christmas spirit by purchasing something special, face-to-face, from someone you actually know.
He Shops
By Mark Shaffer
Ladies, your mission (should you decide to accept it) is to pick out the perfect Christmas gift for the man in you life. This does not include ties, socks, or any essential undergarments regardless of how urgently they may actually be needed. Guys, you know what I'm talking about. No. I'm shooting for something a little more meaningful here, something he will treasure and enjoy for years to come and quite possibly pass along to the next generation – a few of these suggestions entertain that possibility. That being said, we're all painfully aware of the state of the economy and I'll admit the items on this list are not inexpensive, but keep in mind that each represents outstanding value and quality.
Good luck and good shopping.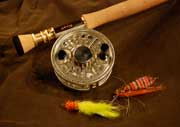 For the Sportsman: Salt Water Fly Fishing Package
Where: Bay St. Outfitters, 815 Bay St., Beaufort, (843) 524-5250.
We live smack in the middle of 300 square miles of some of the best, most diverse salt water fly fishing in the world and the folks at Bay Street Outfitters want you to get out and enjoy it – together. The package not only includes a state-of-the-art fly fishing rig, but lessons and a _ day of fishing for both of you with one of the best guides in the Lowcountry. The 9 foot Orvis Helios, the lightest fly rod on the planet, is perfectly matched with the Tibor Everglades reel, the reel of choice for saltwater anglers. It's the same outfit the pros use and both rod and reel are guaranteed for 25 years. Cast for Reds on the flats of the Broad one day and pack it up for Alaskan Kings the next. Line, leader and a selection of flies are included.
Price Tag: $1859.00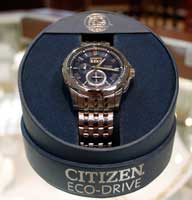 For the snappy dresser: Citizen Calibre 3100 Eco-Drive Watch
Bay St. Jewelers, 902 Bay St. Beaufort (843) 524-4165
Who knew watches could be eco-friendly? This new generation of cutting edge Citizen time pieces are solar powered and never ever need a battery. This means the seals on the mechanism never need to be broken, perfectly preserving the integrity of the mechanism even under 300 feet of water. Should it get lost in a sock drawer, the solar cell stores power for up to 6 months. Not only that, but the Calibre has the elegant look and functional feel of a much more expensive watch. It's got a substantially masculine heft and comes in a variety of styles and finishes. In today's economy we're pretty sure James Bond would trade in his trusty Rolex Oyster for the elegant yet functional Calibre.
Price Tag: $475
For the reader: The Complete Pat Conroy in hardcover
Bay Street Trading Co. (The Book Shop), 808 Bay St. Beaufort (843) 524-2000.
In a review of The Great Santini, the Houston Chronicle once wrote "Reading Pat Conroy is like watching Michelangelo paint the Sistine Chapel." Indeed. For readers Pat Conroy is a sublime experience. For those of us who toil in the fields of language he is a standard to which we foolishly hope to aspire. He's also a local which means you've got a better than average chance of bumping into him in the grocery store, which is kind of cool. And though he's no native son, Conroy distills the essence of the Lowcountry as though he were spat fully formed from the salt marsh on a full moon tide. This hardcover collection offers a copy of every book he's published – so far – including The Boo, The Water is Wide, The Great Santini, The Lords of Discipline, The Prince of Tides, Beach Music, My Losing Season and The Pat Conroy Cookbook. Rare signed editions are also available for the serious collector.
Price tag: $200
For the aspiring chef: The Firehouse Chef's Basket
The Firehouse, a culinary specialty store. 706 Craven St. Beaufort (843) 379-8810
Guys know you need the right tools for the right job. Even the well-equipped cook will drool over this collection of premium kitchen essentials. Included are basics like a whisk, flex spatula, tongs, wooden spoons, bowls, and microplane grater from the likes of Mario Batali, Kuhn Rikon, Zastar and more. The 12 inch pre-seasoned Lodge skillet is an instant family heirloom and something no Lowcountry kitchen should be without, but the 8 inch Shun Chef's knife is what really sets the heart pumping. This is arguably the finest cutting edge for the money. This blade will make your Wusthof blush. Slice and dice away on the 15×10" Epicurean cutting board. The basket also includes a William Bounds Pepper Mill (there is no substitute for fresh ground pepper) and a bottle each of luscious Miguel Valentino unfiltered extra-virgin olive oil and deeply intense Burly Cabernet Sauvignon, or as I like to call it "Man Wine." The only thing missing is the Bam!
Price Tag: $410 (all items are also sold separately)


For the Grill Guy: The Weber Summit S-650
Grayco True Value Hardware, 136 Sea Island Parkway, Lady's Island (843) 521-8060
If Weber is to grills what Harley Davidson is to motorcycles, this baby's a stainless steel Electra Glide – only a whole lot safer and cheaper to run. With six individually controlled burners, a heavy duty hideaway rotisserie capable of handling a whole turkey and more bells and whistles than an SUV, the Summit sets the gold standard for gas grills. It even comes with Weber's patented stainless steel "Flavorizer bars." I don't know what that means, but any male with the dominant barbecue gene will want one even more because of this. What's more with proper care and storage this grill will last a lifetime and the fine folks at Grayco guarantee the lowest price in town. They also offer 10% off all Weber accessories and free propane with the purchase of a grill. If your grillmeister's more of a conventional charcoal guy, there is no substitute for the classic (and more economical) Weber On-Touch (commonly called The Kettle). The One-Touch Gold charcoal grills come in 18.5", 22.5" and new this year is the 26.75". Grayco also stocks nearly every grilling accessory known to modern man.
Price Tag: suggested retail for the Summit S-650 is $2299 (call Grayco for their discounted price). The On-Touch 22.5" runs around $150.
She Shops
By Margaret Evans
Okay, guys, common wisdom has it that girls are easy to shop for. Jewelry… clothes… perfume… accessories… The possibilities are endless, right?
Right. And there's the rub. The truth is, gentlemen, it's a bit overwhelming out there. There's simply no generic, one-size-fits-all answer to the question "What do women want?" Contrary to popular opinion, we're not all alike – and even if we were, you'd still find us baffling. The ideal gift must reflect a deep, nuanced understanding of your beloved – in all her inimitable singularity – while also acknowledging that you'll never totally understand her… that she is still, in many ways, a delightful mystery. A paradoxical challenge? Yes. But so are we. That's why you love us.
So don't despair. Distinctively enigmatic as we are, we do have this much in common: Our favorite gifts tend to be things we'd never buy for ourselves. (Too luxurious… too frivolous… too whatever…) They are often things we don't need, or even consciously want. They are seldom practical, and almost never essential, but once they are in our possession, we can't imagine how we ever lived without them.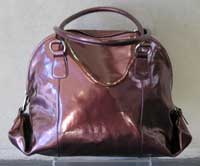 Witness, for example, this Hobo International Bag from Lulu Burgess. This, to me, is luxury personified. Slouchy but elegant, impeccably unfussy, and way roomy, it's made of luscious leather so soft and squishy, you can actually imagine it doubling as a pillow on your next cross-country plane trip. I'd never splurge like this on a bag – I'm too sensible… and too cheap – but my heart sings at the thought of owning one. A gift like this says to your lady, "I still don't understand why you have to carry so much stuff, but I accept that you have your reasons, I love you unreservedly, and I'm totally invested in this relationship. I just want you – and your stuff – to be happy."
(This bag is priced at $324, but Nan says she's "willing to work with you." Lulu Burgess in the Old Bay Marketplace, 917 Bay Street, Beaufort. 843-524-5858)


Another item I'm not likely to buy for myself – simply because it wouldn't occur to me – is a really great bathrobe. I'm a tee shirt and sweats girl; fancy sleepwear is outside my wheelhouse. But these Pine Cone Hill Robes I found at What's In Store aren't really "fancy," per se. They're just fabulous. Made of some spectacularly snuggly fabric – terrycloth crossed with cashmere? – they come in skin-flattering, sherbet-y colors like persimmon and periwinkle, and are, quite magically, both lightweight and substantial. This is a robe to hunker down in on a blustery winter's eve… while receiving callers… or, heck, even eating bon bons. The message it sends as a gift? "You're precious to me, darling. I want to swaddle you in softness… wrap you in fluffiness… ensconce you in comfort. And I'm kinda tired of the sweats and tee-shirts."
($70 at What's in Store, 853 Sea Island Parkway, St. Helena, 843-838-7473)


From the "potential family heirlooms" file… Invest in the future of your holiday household. If yours is a together-forever love, it's time to step up. Nothing speaks to a girl's sense of eternity quite like an original piece of art. And if it's one that screams "drag me out annually and hang me over the fireplace"… well, what better way to tell her she's a keeper? Four Winds Gallery has an ethereal collection of Angel Art from around the world – Brazil, Poland, India, and even… South Carolina. Give your angel something as singularly exquisite as she is – to commemorate Christmas 2008 and treasure for all the Christmases to come. Those plastic Hallmark ornaments are okay, but this is much, much better. Trust me on this, fellas.
(Prices vary at Four Winds Gallery, 709 Bay Street, Beaufort 843-379-5660)


And speaking of original art… It's not just for walls anymore. I've had my eye on these dazzlingly whimsical rings by Julie Milazzo for a few years now. In my more lucid moments, I suspect they're not really "me," but, dang, I wish they were! If I were but a little younger… a little hipper…. a little more audacious… But, hey – your girl might be all of the above. Or maybe she'd just love knowing you think she is. To a new-ish paramour, a gift like this says: "I find you endlessly fascinating, refreshingly unconventional, and delightfully bold." To a longtime mate, it goes even one better: "You may cook my meals and scrub my toilets and carpool my kids… but you're still the sexy, sensational babe I fell for all those years ago!" Handcrafted of sterling silver and semi-precious stones, each ring is one-of-a-kind and adjustable. Much like your lady love. An eminently romantic choice. ($250 at The Gallery, 802 Bay Street, Beaufort, 843-470-9994)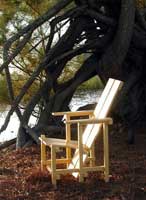 But romance comes in many shapes and sizes. Behold, the Low Country Chair. This comely exemplar of form and function is made and sold on our own St. Helena Island. Comfortable, sturdy, and built to weather all kinds of… weather, the Low Country Chair will coax her out of doors for hours of blissful lounging. In the garden. On the deck. By the water. This chair looks good – and feels great! – anywhere you put it. There's the original, the rocker, and even a love seat. Handcrafted by master carpenters out of the finest cypress, cedar, aspen, white pine, and fir, its strong lines and sleek details have "quality" written all over them. Give her the ultimate Christmas present: In the midst of holiday madness, invite her to set a spell. She'll love you forever. (Starting at $195 at The Lowcountry Store, St. Helena's Island, 843-838-4646).