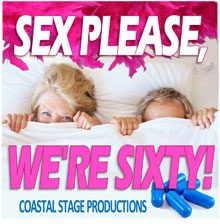 This weekend the cozy B&B is hosting three mature women for a relaxing get-away. The guests include the plucky romance novelist Victoria Ambrose (Connie Hoskins), who is suffering from writer's block and hoping for some local inspiration; the sophisticated scientist/researcher Hillary Hudson (Anne Helm), and a properly over-the-top Southern charmer Charmaine Beauregard (Carol Miller).
The inn's neighbor, self-proclaimed Bud "the Stud" (JT Chinn), believes that his charms are the reason most women regularly return. This weekend he's hoping that some of his favorites from the previous year will show up. Never mind the fact that he can't remember their names or exactly what they looked like.
Meanwhile, the courtly Henry Mitchell (Michael Ryan), a retired chemist, only has eyes for the obsessively punctual and proper Mrs. Stancliffe (Kay Owen) the inn manager. She's a prim and proper widow of 25 years who has always refused Henry's daily marriage proposals.
As the guests settle in, Henry confides to Bud that he's invented a new pill, Venusia, a female Viagra that stimulates a menopausal woman's libido. The women find out, pilfer some of the pills, readjust the plotline and the senior-set comedy begins.
"The zany plot is definitely aimed straight at those of a certain age. We get the jokes, we like the characters, and we love laughing out loud at them and ourselves as we recognize what's going on," says director Margy Oehlert.
Get ready to laugh out loud, sit back and enjoy Michael and Susan Parker's hilariously written farce Sex Please, We're Sixty! presented by Coastal Stage Productions.
Performance Dates: Aug 31, Sept 1, 7 and 8 @ 8pm and Sept 1, 2 8 and 9 @ 2pm – The Shed Event Venue, 809 Paris Avenue, Port Royal, SC.
Tickets: Reserved Seating: $25.00, General Admission: $22.00, Group Reserved Seating: $20.00. On sale Online: www.coastalstageproductions.com or Box-Office: 843-717-2175