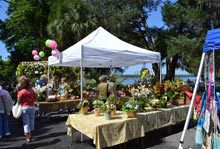 The 34th annual Bluffton Village Festival promises to be a fun celebration of what makes Bluffton so unique.
The festival, coordinated by The Rotary Club of Bluffton, will be held from 10 a.m. to 4 p.m. Mother's Day weekend Saturday, May 12 in Old Town Bluffton.
The festival is a time to enjoy art, music, food, kids' activities and a chance to experience all Bluffton has to offer! Admission is FREE.
The Bluffton Village Festival, commonly known as Mayfest, was created to give Bluffton residents a chance to have some hometown fun and be exposed to the amazing craftsmen, artists and musicians in their very own town.
Karen Lavery, this year's festival chair and Bluffton Rotary member, said the organizers expect more than 170 vendors including local and visiting artists, restaurants, churches and non-profits offering unique arts and crafts, delicious food items and other goods.
Lavery describes the Bluffton tradition as "an old-fashioned street party with lots of good food, fun and laughter."
Vendors will be selling jewelry, sweet grass baskets, ironworks, print and original artwork, quilts, glass art, pottery and more. The close to 10,000 guests in attendance will have their choice of yummy Lowcountry favorites such as the festival's famous shrimp salad sandwiches along with barbecue, funnel cakes, seafood and Italian Ice.
Babbie Guscio, the original founder of this festival commented, "There's a bit of romance and drama about the whole [festival] because you don't know exactly what will be under the vendors' tents."
On festival day, Calhoun Street is full of electric energy and Southern hospitality. The variety of vendors and entertainment is the epitome of quintessential Bluffton fun. Festival-goers can jam to the sounds of local musicians or tap their toes along with The Sun City Cloggers.
Be sure not to miss the 24th annual Ugly Dog contest at 1 p.m. on the porch of Sprouts. The event is sponsored by Richard Coefield of May River Realty. All ugly dogs are welcome! And the winner receives a coveted trophy by local potter, Jacob Preston.
And, here are more festival details on what to expect!
THE 34TH ANNUAL BLUFFTON VILLAGE FESTIVAL ENTERTAINMENT LINE-UP
Reid Richmond from 10 a.m. to noon
Sun City Cloggers at 10:30 a.m. and noon
Metro Blues from 10 a.m. to 2 p.m.
Bluffton Dancers at 1 p.m.
Loco Motion FM at 1:30 p.m.
Mike Gab. Trio from 2 to 4 p.m.
Howard Duff
General Tips for Festival-goers:
A good pair of walking shoes, bug spray, sunglasses and sunscreen will keep you comfortable.
Friendly dogs are welcome at the festival on a leash. Several of the pet nonprofits provide water and a swimming pool for hot dogs!
Rotary volunteers will be available to assist you throughout the day.
Free parking will be available at Red Cedar Elementary School with free shuttle services to Calhoun Street running continuously from 9 a.m. to 5 p.m. The buses are air conditioned, and there will be one bus designed for guests with disabilities. Transportation provided by Palmetto Breeze.
Directions to Red Cedar Elementary:
From S.C. Highway 278: take S.C. Highway 46 toward Bluffton. Take the first right off the traffic circle onto Bluffton Parkway. At the first light take a left onto Red Cedar Street. Follow parking signs to the school.
From May River Road: turn onto Red Cedar Street. Follow parking signs to the school.
This year's Bluffton Village Festival media sponsors include Bluffton Today, Bluffton Breeze magazine, The Bluffton Sun, CB2 magazine, Hilton Head Monthly magazine, Lowcountry Weekly, 93.5FM/1130AM The Island, Radio Sol, 104.9FM The Surf , and WHHI TV.
For information call 843-815-2277 or visit blufftonvillagefestival.com.