Life-size oil paintings of "Goddesses in World Cultures" will be featured all summer (June 1 – September 1) at the Bluffton Branch of the Beaufort County Library System, 120 Palmetto Way, Bluffton. The work of artist and author Mary B. Kelly of Hilton Head, will display deities from Europe, Asia and the Americas. These also form the illustrations for Kelly's book Goddess, Women, Cloth, published in 2012 and available on Amazon and Kindle.
Kelly has combined painting and textile research since 1980 when she received a one year Faculty Exchange Grant between Moscow State University and The State University of New York. She has also received 3 Fullbright Research grants to further her work as Professor Emerita of Art. Kelly is author of a trilogy of embroidery and textile books; Goddess Embroideries of Eastern Europe, Goddess Embroideries of the Balkan Lands and Greek Islands and Goddess Embroideries of the Northlands. Her research is included in a recent three-volume work, Goddesses in World Culture, ed. Patricia Monaghan, published in 2011 by Praeger. She lectures and exhibits her work locally and throughout the northeast.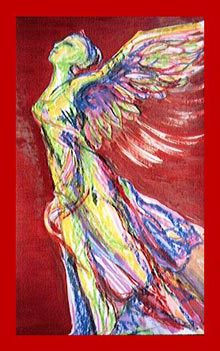 Related events sponsored by the Friends of Bluffton Library include:
Saturday, July 7th from 1 – 3 pm in the Library Meeting Room, Opening Lecture, "Goddess Women, Cloth" – an introduction to ritual textiles from around the world and the women who make them. Hands-on exhibition of worldwide textiles, book sale and signing of Goddess Women Cloth . Refreshments will be served.
Saturday, July 14th from 1 – 3 pm in the Library Meeting Room. Powerpoint Lecture "Stories and Inspirations behind the Goddess Paintings." Meet the artist as she discusses worldwide mythology, and symbolism in her goddess paintings and tells stories behind the figures represented in the Goddess Chapel, Shrine of the Black Virgins and Women With Wings Series. Refreshments will be served.
For Further information, please visit the websites below:
www.marykellystudio.homestead.com