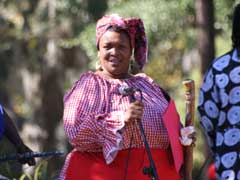 The Lands End Woodland, Inc. of St. Helena Island, SC will celebrate the 6th Annual Lands End Woodland River Festival on Labor Day weekend, September 3-4, 2010. The festival is a community celebration of the Gullah ancestry and traditions of the people of St. Helena Island through music, storytelling, performances, crafts, and food. The Lands End Woodland today represents one of the best examples of land conservation by a group of African American families in the South.
The River Festival has become a multicultural celebration and a favorite event for families and visitors from surrounding communities looking to enjoy cultural festivities over the long holiday weekend.
On Friday, September 3rd, beginning at 5:00 p.m., a good ole' fashion fish fry will include music on the riverbanks. On Saturday, September 4th, from 11:00 a.m. to 6:00 p.m., visitors will be entertained by gospel choirs, dancers, musicians, and storytellers. There will also be health and safety exhibits, crafts, and food vendors selling a variety of hand-made goods and serving a "taste of Gullah."
In 1920, founders of the organization, forty-seven descendants of African slaves purchased 328 acres of the former Baker Plantation on St. Helena Island to preserve it for the recreational enjoyment of the community. Today, the Lands End Woodland, Inc. is a not-for-profit organization maintained by a small band of descendants or heirs of the original land owners. It is the oldest registered landowners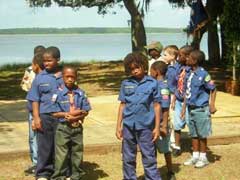 association owned by African Americans in South Carolina.
In 2002 in the Capitol Column, Congressman James Clyburn said, "I applaud the efforts of the Lands End Woodland Club, who knew the dangers of partitioning and took the necessary action to insure the deed was clear. They went to great lengths to protect their 328 acres. This is happening to slave descendants throughout the South. As the land is lost, so too is the Gullah culture that once dominated these islands." The Lands End Woodland, Inc. has been good stewards of land conservation for 90 years, a remarkable achievement. The Woodland is working on becoming a tourism destination for visitors to enjoy hiking, fishing, hunting, camping, scouting, and private beach parties.
This event is free and open to the public! Parking will be available for cars ($3), vans ($10) and buses ($15) on the grounds. The Woodland beachfront property is located on Lands End Road, six miles south of Penn Center on Martin Luther King, Jr. Drive on St. Helena Island. For more information, please call (843) 838-4503 or (843) 838-2474.