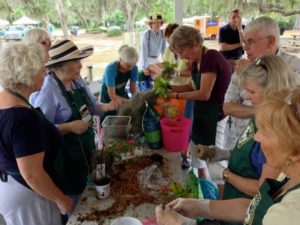 It's baaack.The 2023 schedule for Beaufort's own Lunch and Learn presented by the Lowcountry Master Gardeners Association, is filled with new and interesting lectures and classes led by some of the Beaufort area's most experienced and talented gardeners, designers and entrepreneurs.
Newcomers especially appreciate the tips and know-how of these class leaders, and everyone really appreciates the door prizes of books and plants; mostly donated by the attendees and presenters. Sandra Educate, who produces Lunch and Learn, estimates that thousands of plants have been awarded since the inception in 2009.
Plants of present donations are often offspring of plants awarded in prior years.
Classes are free. Just bring a folding chair around noon to the area around the
Gazebo at the Port Royal Farmers' Market the first Saturday in April. No registration is necessary. Come early before the Market closes and take advantage of the great variety of food, produce and plant vendors. The classes continue every Saturday until the last of June.
| | | | |
| --- | --- | --- | --- |
| | | | |
| | | | |
| | | | Gardening Repurpose for Styrofoam Containers |
| | | | |
| | | | |
| | | | |
| | | | |
| | | | |
| | | | |
| | | | |
| | | | Reliable Perennials  for Fall Color |
| | | | Citrus for the Lowcountry |
| | | | |