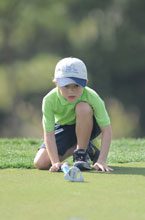 Avid golfers will tell you there's no finer place than a golf course for kids to gain life skills and the leadership abilities they'll need to make their mark on the world. Knowing this, and knowing the challenges involved with creating affordable community-based junior golf programs, The PGA Tour of America helped created The First Tee in 1997. Blending instruction on the game's fundamentals with an eye on showing young players how those fundamentals apply to their lives, The First Tee spread quickly.
At last, this invaluable program that has touched so many young lives has reached the Lowcountry. Operating out of the Joseph B. Fraser Golf Learning Center at 151 Gumtree Road next to the Boys & Girls Club, The First Tee of The Lowcountry is taking the wildly successful blueprint of The First Tee and applying it on Hilton Head Island and beyond, with classes in Bluffton, Ridgeland and Parris Island.
On area golf courses, local youth will learn how the skills learned on the course apply to their everyday lives through nine core values: honesty, integrity, sportsmanship, respect, confidence, responsibility, perseverance, courtesy, and judgment. Instruction goes beyond 18 holes, with the program keeping one eye on the greens and one eye on the student's future.
"It's really about giving these kids the tools they need to develop their own leadership skills," said The First Tee of The Lowcountry Executive Director Brady Boyd. "We've seen what tremendous value this program brings to other areas, and we're very excited to replicate this model here.
At the 13 acre public facility on Gum Tree Road, the public and students can access the six-hole par-three walking course. The only public course on Hilton Head Island, this is the perfect spot for beginning golfers and seniors who desire the short game experience, as the facility provides an opportunity for everyone to learn or continue learning the game of golf. In addition to the course, there is a nine-hole disc golf course (perfect for tournaments) and a fishing pond with platforms (perfect for catch and release fun). 
The First Tee of the Lowcountry will host a Community Grand Opening on Sunday, April 23rd from 2-5pm at their new facility. The entire Lowcountry is invited to enjoy the facility built by the community, for the community, with disc golf demos, fishing, golf demos and music by Cranford Hollow. Food and beverage will be available for purchase from Local Pie.
Visit http://www.thefirstteelowcountry.org/ for more information or on facebook at https://www.facebook.com/FirstTeeoftheLowcountry
 To play the facility, call 843.686.2680