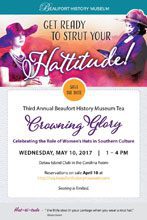 The Beaufort History Museum's Third Annual Spring Tea is titled
"Crowning Glory – Celebrating the Role of Women's Hats in Southern Culture."
   Patrons are invited to wear their favorite hat and to "Strut their Hattitude" as they savor delicious traditional delicacies,
sip tea, learn about the fascinating allure of fashionable hats from celebrity speakers, enjoy a Parade of Hats and bid at a silent auction featuring trips, dinners and other attractive items.
            "Hats are really the stars this year," says BHM Board President Carol Lauvray. 
"We'll take a look back at how meaningful church hats were and are, especially in the African American community, where they held a special significance.  We will also spotlight other occasions where hats play a key role, such as South Carolina's legendary steeplechase thoroughbred horse races in Elloree, Aiken and Camden.  Southern women just know how to dress for a party! We are encouraging everyone to wear a beautiful hat and join in the festive spirit of the Tea."
            The Tea is scheduled for Wednesday, May 10, from 1-4 pm at the Dataw Island Club's scenic Carolina Room. Reservations can be made at http://tea.beauforthistorymuseum.com.  Individual tickets are $60 and tables of 10 are available for $500 (see the website for restrictions and instructions to reserve a table.) Seating is limited. Proceeds benefit the projects of the Beaufort History Museum.
            For the first time the Museum is hosting a silent auction at the Tea to include trips, dinners, cooking classes, tastings, luxury services and other attractive items available for bidding. A preview of the auction items will be posted on the Museum's website with a "Buy it Now" option. Guests will also be able to view the items, choose the ones they like and then bid with cash or credit cards at the event.
            The principal speaker at the Tea is celebrity shoe designer and milliner Etu Evans, who will be coming to Beaufort from New York. His grandmother and mother, both of whom had extensive collections of church hats, jewels and shoes, influenced Evans' path in the fashion industry.
            An internationally prominent designer, he studied millinery at New York's prestigious Parsons School of Design and the Fashion Institute of Technology where he graduated with an Associate's Degree in Footwear and Accessory Design.
Evans' hats have been sold in his Harlem boutique and worn across Europe and Japan and have been featured in various national television shows and publications.  For a featured auction item he will offer one lucky bidder a consultation on the most flattering hat styles and correct size for the shape of her face and stature. 
            The famous Goorin Brothers Hat Company, founded in 1895, which has stores across the U.S. and in Canada with local shops in Savannah and Charleston, will also be a part of the program.  Hats and accessories will be on view along with advice on how to choose the perfect hat.
          The Clark Troutman Group, Merrill Lynch Wealth Management is sponsor of the Third Annual Beaufort History Museum Tea along with Live Oak Builders and the Carolina Cup Racing Association. Additional sponsorship opportunities are available and may be arranged by contacting Lauvray by email clauvray@beauforthistorymuseum.com.
            Beaufort History Museum, located in the historic Arsenal, has evolved to focus specifically on the history of the Beaufort District. It strives to manage and display artifacts and documents held by the City of Beaufort, telling the compelling stories of this area from the early 16th Century until modern times.  The Arsenal address is 713 Craven Street. BHM's hours of operation are 10:00 AM – 4:00 PM Monday – Saturday.
            To join the Museum please visit the website at www.beauforthistorymuseum.com. To learn more about becoming a Volunteer Greeter or Docent please contact Lorrie Burleynoles at lburleynoles@beauforthistorymuseum.com.