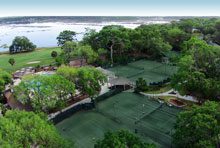 The USTA has announced that the Dataw Island Club Tennis Center in St. Helena Island, S.C., is one of just 12 winners in the 36thannual USTA Facility Awards program, which recognizes excellence in the construction and/or renovation of tennis facilities throughout the country. The Dataw Island Club Tennis Center will be honored at the Next Generation: A Tennis Innovation Workshop at the Renaissance Orlando at SeaWorld in Orlando, FL, Oct.11-15.
Dataw Island Club Tennis Center is home to an active social and USTA-playing community, with more than 20 USTA League Teams each year. The Club's annual USTA Dataw SPLASH! Tournament, held in June, draws competitors to the Carolina Coast from South Carolina, North Carolina and Georgia. The event, featuring local Special Olympics athletes, benefits SOAR Special Recreation and the local Special Olympicsorganization.
"Great tennis facilities like the Dataw Island Club Tennis Center help us to grow the game at the grass-roots level, and we are proud to recognize them for their ongoing impact on the sport of tennis," said Kurt Kamperman, USTA Chief Executive Community Tennis and the USTA National Campus. "€œDataw Island Club Tennis Center has embraced many of our tennis initiatives and kept the sport at the forefront of its community each year."€
The Dataw Island Tennis Center is led by Warren Florence, who is also the Club's head
teaching pro. His mantra is, "€œAt Dataw, tennis is fun!"€ And fun it is! Florence brings a vigor to the Club that energizes and motivates players of all abilities and ages, from beginner to highly experienced.
Florence credits his team – and teamwork – with the success of the Dataw Island Tennis Program, stating, "It's all about the team and anticipating needs. I view Dennis (Johnson) and Sara (Bruns) with great importance as the faces of our program and facility. If we're in sync and having fun, it translates to our members and guests."
Throughout the school year, Florence, his staff, and volunteers also work with local Special Athletes and their schoolmates through an on-site educational program, which demonstrates the heart of the Dataw Island Tennis Program – teaching, fun, and friendships.
ABOUT THE DESIGNATION:
To be considered for an award, facilities must be under the jurisdiction of a park and recreation department, an educational institution, a nonprofit corporation or be a private or commercially owned and operated facility that offers both USTA and public programming designed to help grow tennis.
Facilities were judged on the following criteria: overall layout and adaptation to site; excellence of court surface and lights; ease of maintenance; accommodations for players, spectators and press/officials; aesthetics; graphics (including the use of signs and landscaping); amenities such as casual seating for spectators, food services and social areas; and the facilities'€™ participation in USTA programs.
Nominated facilities were voted on in the following categories: Public Courts that are either small tennis centers with 2-10 courts or large tennis centers with 11 or more courts; Educational Institutions; and Private Facilities that support the USTA and other "€œgrowth of the game"€ programs open to thepublic.
All 2017 award winners will receive a wall plaque and an all-weather sign, which can be mounted at the facility. Certificates of award will be made available to park and recreation departments, schools and those professionals responsible for the design, construction and maintenance of the facility. In addition, a one-year complimentary membership to the USTA will be awarded to each winningfacility.
The 2017 USTA Facility Awards Program winners are:
Private Facilities
Dataw Island Club Tennis Center, St. Helena Island, S.C. Overland Park Racquet Club, Overland Park, Kan.
Bentwood Country Club, San Angelo, Texas (Featured Facility) Cape Fear Country Club, Wilmington, N.C.
Public Courts: Small Tennis Centers (2 to 10 courts) Ida Stone Jones Community Tennis Center, Bristol, Tenn. Huether Family Match Pointe, Sioux Falls, SD
Public Courts: Large Tennis Centers (11 or more courts)
Cooper Creek Tennis Center, Columbus, Ga. Bitsy Grant Tennis Center, Atlanta, Ga.
Rancho Penasquitos Tennis Center, San Diego, Calif. Upper Main Line YMCA, Berwyn, Penn.
Peachtree City Tennis Center, Peachtree, Ga.
Educational Institution
Rockingham Community College Tennis Courts, Wentworth, N.C.