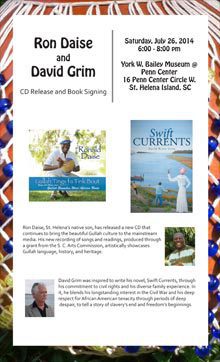 Ronald Daise's new CD, Gullah Tings fa Tink Bout, and David Bruce Grim's new historical novel, Swift Currents, have much in common. Each project fosters understanding of Gullah Geechee, African American, and South Carolina history, culture, and language.
Each incorporates stellar storytelling. Both CD and book lead listeners and readers along an emotional journey and were created by independent producers. An autograph/release event will be July 26 from 6-8 p.m. at the Penn Center Y.W. Bailey Museum, St. Helena Island. It is open to the public.
Daise, a native St. Helenian, is an author, performing artist, and Vice President for Creative Education at Brookgreen Gardens, in Murrells Inlet, SC. He also is the former chairman of the federal Gullah Geechee Cultural Heritage Corridor Commission, a Penn Center 1862 Circle inductee, and co-star of TV's award-winning "Gullah Gullah Island."
"My CD is a celebration of Gullah Geechee culture through original songs and recordings," Daise says. "Many of the songs were inspired by the spirituals of my childhood. I heard these tunes from my past when I traveled to Ghana and Sierra Leone, West Africa, and used them to craft new songs that tell about my experiences seeing firsthand connections with my culture. The CD artistically informs about cultural connections spanning from Africa, prior to the Transatlantic Slave Era, to today. These include language, music, food ways, crafts, beliefs, the tragedy of enslavement, the importance of family, the resilience of survival, and rice heritage."
Musical genres on the CD include traditional spiritual, blues, stomp and clap gospel, Gullah Geechee/West African pop, and a Gullah Geechee/West African/Caribbean blend. The recording project was funded through a One-Time Artist's grant by the SC Arts Commission.
David Bruce Grim, of Lady's Island, enjoys life in the South Carolina sea islands, where actual events depicted in Swift Currents occurred. A member of the Unitarian Universalist Fellowship of Beaufort, Grim volunteers extensively on social justice matters, currently serving on the Penn Center Board of Trustees. For more than 30 years, Grim worked in federal civil rights enforcement, research, and congressional liaison, seeking solutions to problems caused by discrimination.
"My professional and personal commitment to civil rights, combined with my lifelong interest in the Civil War, motivated me to write a story about freedom from slavery here in the Lowcountry 150 years ago," Grim said. "In Swift Currents, fictional characters participate in historical events as the Civil War unfolds. These characters interact with actual individuals who played significant roles at this time and place in history, including Harriet Tubman, Laura Towne, Clara Barton, Charlotte Forten, Thomas Wentworth Higginson, Robert Smalls, and Robert Gould Shaw. The slaves/freedmen communicate in a Gullah language made as authentic as possible."
The historical novel, self-published through iUniverse, is based on actual events from 1861 to 1863. Swift Currents describes the slaves' transition from bondage to freedom through the lens of Callie and her two brothers. As they and others pursue education, work for wages, fight for freedom, and become landowners, their lives intersect with civilian and military authorities. The story seeks to help the nation come to terms with its racial history and serves to provide a greater understanding of shared stories, thus lessening the inherited prejudice of generations.