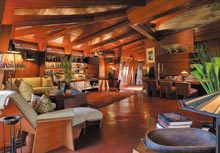 Frank Lloyd Wright's only home in the South Carolina Lowcountry, Auldbrass, is now on tour every year. The privately-owned home was previously only open for public tours every two years, but that's changed. The Beaufort County Open Land Trust has teamed up with local event planner, Ashley Rhodes, to host the Auldbrass Plantation Tours annually! 
The 2018 tours will be held Friday, November 9, Saturday, November 10 and Sunday, November 11; with daily tours from 8:30 am – 5:00 pm.  Tickets are $175 per person and are being sold through EventBrite.com under "Auldbrass Tours 2018."  Direct access to the event can be found at: https://www.eventbrite.com/e/auldbrass-tours-2018-tickets-47559664236
Auldbrass was built in 1939 for C. Leigh Stevens, A Michigan industrialist. Wright famously designed the residential structure without any right angles. He was supposedly inspired by the lean of the live oak trees found throughout the local region. The Frank Lloyd Wright Foundation describes the property as a "4,000-acre tract of land on the banks of the Combahee River, the plantation is one of the largest and most complex residential projects Wright ever undertook." Wright is arguably the most famous architect in American history. Auldbrass Plantation was placed on the National Register of Historic Places in 1976 and is one of only two buildings Wright designed in South Carolina. The other is an additional residential project called Broad Margin upstate in Greenville.
Proceeds from the tour benefit the Beaufort County Open Land Trust.