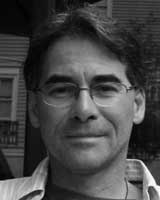 A Conversation with Gary Sinise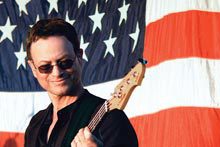 Author's note:
As this issue of Lowcountry Weekly hits the streets and the giant pneumatic tubes of the internet the 3rd Annual Lt. Dan Weekend (LDW3) gets underway. The event to benefit Wounded Warriors and their caregivers is named for Gary Sinise's Oscar-nominated roll of Lt. Dan Taylor in 1994's Forrest Gump (filmed in and around Beaufort). The original event – a waterfront concert by Sinise and his Lt. Dan Band – was attached to Beaufort's 2010 Shrimp Festival. The overwhelming hordes of fans seemed to merit a stand-alone Lt. Dan-themed weekend, and 2012 marks the the band's third consecutive appearance in Lt. Dan's figurative place of birth. I spoke to Sinise by phone from the set of CSI: New York a few days before he was due to fly in for the show. It was his first trip back to Beaufort since filming Gump. The following was originally published September 29, 2010.
"People just don't have high expectations from an actor with a band. The goal is to always surprise them."
–       Gary Sinise
The Wrath of Grapes
Long before Lt. Dan there was Tom Joad and the "little theater company" that took Broadway by the throat, but I'm getting ahead of myself. I'm standing in line at the discount ticket booth in the middle of the maelstrom that is New York City's Times Square circa 1990. This is the last stop on a long theater weekend in the Big Apple and once again we're hoping to score some of the hottest tickets in town, the Steppenwolf Theater Company's production of John Steinbeck's "The Grapes of Wrath." A few nights before we paid a ridiculous amount of money for a spectacularly forgettable evening with "The Phantom of the Opera." I believe Andrew Lloyd Weber actually negotiated a deal with the city making this a requirement for all out of town visitors back in the day. There was no Sarah Brightman and no Michael Crawford, but each audience member was actually assigned a personal souvenir vender, as I recall.
The next day was no better as once again tickets to the Steinbeck show disappeared faster than free hair mousse at a Flock of Seagulls concert. I was eventually talked into an off-Broadway show billed as "The next Rocky Horror Picture Show!" A couple of those words were right. It technically qualified as "show" and was indeed a horror. Two decades later and I still can't quite scrub away the memory or find a meaning. I am only left with the "Why?" "Off Broadway" was way too close to Broadway for this little bit of theatrical Ebola. Come to think of it, Ohio would have been too close.
The weekend was looking grim. I needed something substantial – a legitimate Broadway experience, something that smacked you in the face with the stunning possibility of what live theater can accomplish and inspire when it's fearlessly produced and acted. I am told "Grapes" is that kind of production.
"Hey, I got the last ticket," says my brother. He's standing there holding it up looking all at once conflicted, guilty and really, really pleased. My brother is an actor. People behind me, who have been standing in line for an hour or more, fall out and stumble back into the urban chaos muttering vague epithets. I do not mutter mine. And that was it, my last shot at seeing what has since become a legendary theatrical production of the quintessential Great American Novel by a vital new force on the American stage. To this day my brother still refers to it as "amazing."
The upstart Steppenwolf Theater Company of Chicago had already forged a reputation off-Broadway with Sam Shepard's True West. The show starred two up and coming young lions of the Windy City theater scene, John Malkovich and Gary Sinise. Sinise – one of the three founders of Steppenwolf – also directed and won an Obie (the off-Broadway equivalent of the Tony) for his effort. Broadway took notice and so did Hollywood.
Six degrees of CSI
In the mid 1980's French Connection director, William Friedkin, was looking to make a comeback with a gritty crime drama called To Live and Die in L.A. Friedkin wanted unknowns and sent casting director Bob Weiner on a talent quest. Sinise was offered the role of rogue Secret Service Agent Richard Chance but recommended that Weiner take a look at his pal William Peterson instead. Peterson got the job and ultimately went on to headline as Gil Grissom in the original CSI: Crime Scene Investigation for nine seasons. In the interim, Peterson was instrumental in bringing Sinise into the CSI fold with the second spin-off series CSI: New York. Peterson retired Grissom after the 2009 season and promptly returned to Chicago where he is [at this writing] an official ensemble member of the Steppenwolf Theater.
Sinise's career took a more roundabout path. Before bringing the Joad family to Broadway he continued to hone his skills in the director's chair both on stage and behind the camera. In the late 1980's he helmed two episodes of Michael Mann's critically acclaimed but short-lived Crime Story TV series and made his feature film directorial debut with Miles From Home. The movie starred Richard Gere but Sinise fleshed out the cast with a Steppenwolf ensemble that included Kevin Anderson as Gere's brother, company co-founder Terry Kinney, Malkovich and a pre-Roseanne Laurie Metcalf as an "Exotic Dancer." The Tony-nominated production of "The Grapes of Wrath" led to another Steinbeck project, this time on film with Of Mice and Men. Once again Sinise pulled double duty directing the picture and taking on the role of George. He cast his "True West" partner Malkovich as the gentle, doomed Lenny and convinced Oscar winner Horton Foote (To Kill a Mockingbird) to write the screenplay.
"Careers, like rockets, don't always take off on time. The trick is to always keep the engine running."
– Gary Sinise
The rocket finally took off in 1994. On TV Sinise headlined the blockbuster mini-series adaptation of Stephen King's The Stand. And then a little movie shot right here in the Lowcountry changed everything. Sinise's portrayal of the physically and emotionally scarred Vietnam veteran, Lt. Dan Taylor in Forrest Gump, earned him an Oscar nomination and launched a high profile film and television career (Apollo 13, Ransom, Truman). But Lt. Dan turned out to be more than just a character left to fade gently into the cinematic mists after the wrap party and awards shows. It's no coincidence that Sinise's character on his hit CBS series CSI: New York is named Mac Taylor and Lt. Dan has long served as a touchstone for the actor's other role as humanitarian.
Along with his involvement in working with disabled veterans and countless USO tours, he is also the co-founder with Seabiscuit author Laura Hillenbrand of Operation International Children (formerly Operation Iraqi Children). Over the last five years the organization has worked with troops to deliver more than a quarter of a million school supply kits, half a million toys and thousands of other necessary items to children in Iraq. The OIC is currently expanding these efforts to Afghanistan and other countries.
Gary Sinise and the Lt. Dan Band perform for the 16th annual Beaufort Shrimp Festival. It is the first visit back tot he Lowcountry for Sinise since shooting Gump, somehow fitting that the film celebrates it's 16th anniversary next year. After a series of scheduling snafus and miscommunications I spoke to Mr. Sinise by phone from the set of CSI: New York.
The Interview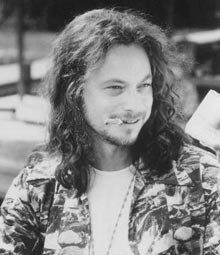 Mark Shaffer: Did you ever have a sense that this character, Lt. Dan, would take on a life of its own?
Gary Sinise: I did not. You know, I've been involved with Vietnam veterans groups off and on over the years going back to the early 1980s and very much wanted to play that character when it came up. I just felt that I was personally connected to many of those veterans and wanted to pay tribute to them through Lt. Dan.
After the movie came out and was so well-received I was contacted by the Disabled American Veterans organization and they wanted to bring me to their national convention and introduce me to their membership which is made up of disabled veterans going back to World War II and all the way up to today. This was back in 1994, about a month after Gump came out. I went to that convention and was very moved by the people I met and how much they appreciated the portrayal of Lt. Dan and then I started getting involved with out active duty folks after September 11th trying to do what I could to support them and they were all calling me "Lt. Dan" all the time. I'd go into the hospitals and see somebody with no legs and they'd say, "Hey, Lt. Dan, look at me!"
MS: So at this point it's just synonymous.
GS: Right. After I started going on these USO tours I decided to take some musicians with me and I knew some guys I played with just for fun. So the troops are calling me "Lt. Dan" all the time – this seemed to mean something to them and they seemed to have an appreciation for that character and it's played a part in my support of the Disabled American Veterans – so I decided to embrace that as something that was given to me to do something with. And the band became "Gary Sinise and the Lt. Dan Band." People seem to appreciate the story of that character which is one that goes through tragedy and adversity and comes out on top and I think that's an important lesson.
MS: It's definitely a term of endearment. You formed the band back in 2003. Was 9/11 the event that prompted you to call the USO and say "Get us out there with the troops"?
GS: Yeah, September 11th. I hadn't been involved with the USO prior to that. I was involved with the Disabled American Veterans and some Vietnam veterans groups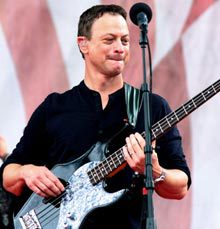 and I have veterans in my family, but I had not pitched in anything for our active duty folks. When we got hit on September 11th and started deploying our troops, like so many people I was just in agony over what had happened to our country that day. I met so many people in New York City – firefighters and police officers and others who had lost some family member – I just wanted to do something, not sit back and suffer. I wanted to be active. So I called the USO and said "Send me to someplace where I can support the troops." I started going on these tours and then I asked them if they'd let me take musicians and they did. In 2004 we did the first overseas tour with the band in Korea, Singapore and Diego Garcia. Then three months later we did a US tour of bases around the States. Now, I've played on so many bases I've just lost track.
MS: I love this quote of yours: "People just don't have high expectations from an actor with a band. The goal is to always surprise them."
GS: (chuckles) You know, I think people really will be surprised if they've never heard the band before. They're going to get a hell of a rock show. It's really a fun show. It's all cover tunes. You can't go wrong when you're playing twenty-five great songs. By the end of the show the crowd is up and feeling good and that's the whole purpose.
MS: A little something for everyone?
GS: Yeah.
MS: So how did you go about putting the band together and while we're at it, do bass players get enough respect?
GS: (Laughs) Well…that depends upon what kind of bass player you are, I guess.
MS: You've been playing for a while now, since you were a kid.
GS: Yeah, I had my first guitar in fourth grade and then played in bands on and off well into my early twenties. I started a little theater company when I was about eighteen years old and so I was playing in bands and doing the acting. Eventually I got so busy with the theater company that ten years later I realized I hadn't played at all (laughs). I'd just been acting.
MS: That begs the question – going back to that quote – are you an actor with a band or a musician with ridiculously successful acting career?
GS: (Laughs) Oh no, I am an actor with a band. As much as I'd like to think of myself as a musician, I'm an actor with a band – a very good band.
MS: That almost sounds like the title of a play: "Actor With a Band."
GS: There are so many actors with bands out there we should have "Battle of the Actor Bands."
MS: Don't mention that to anyone involved in reality television.
GS: (Laughs) Oh, they'll come up with it eventually.
MS: How did you become involved in the Beaufort event?
GS: I'd known some of the folks with The Independence Fund – I did a fundraiser in Texas a couple of years ago to raise money for some of our wounded soldiers. And when this chance came up to raise money for our wounded at the Shrimp Festival in Beaufort, I thought well this is perfect. I mean you've got Gary Sinise and the Lt. Dan Band coming back to Beaufort where Lt. Dan was created.
The first scene I shot in the movie was shot in Beaufort. It's the scene where the shrimp boat crashes into the dock and destroys the dock. We shot that there and all the shrimping, all the Vietnam stuff was shot there. So much was shot there that when this opportunity came up I just could not say "no." This is perfect. It's right in my mission to try and help out organizations that are trying to do good things for our soldiers and service members. We just want a huge crowd of folks to come out and have a good time with the band and support these wounded veterans and raise some good money
MS: I want to switch gears for a moment. I have never forgiven my brother for snagging the last ticket to a matinee performance of your production of "The Grapes of Wrath" on Broadway back in 1990. I never got to see that show. I believe it's the 20th anniversary of "Grapes" and the 35th season of Steppenwolf – any thoughts on those milestones?
GS: Wow, it's been twenty years since we did "The Grapes of Wrath" on Broadway? You're right. We actually opened in 1988 and closed it in September of 1990. So that's where we find ourselves right now: twenty years ago we closed that show on Broadway and taped it for PBS.
MS: Right. It's still an outstanding production. And thirty-five years for Steppenwolf, that "little theater company" you mentioned earlier.
GS: (Laughs) I actually started it in 1974 so it's a bit older than that – so thirty-six years.
MS: You're actually older than Saturday Night Live.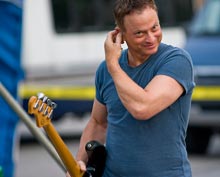 GS: (Laughs) Well, you know when they started doing their show in 1975 and we were just gearing up and getting going. We'd spend our Saturday nights all huddled around the television watching their show.
MS: Didn't we all? I know you're still very passionate about theater. How is live theater still relevant in this digital age of instant gratification?
GS: It's unique because now it seems like a tremendously different experience. We watch so much on our iPods and cell phones and everything else that going to a play is like "Wow! That's so cool." If it's a good play, a good musical, live music, live performance right in front of your face there's nothing else like it. It's always going to be unique. Just getting people into the theaters to sit down is an expensive proposition if you're going to Broadway or something. But, boy, you come out of a great show fired up. The live experience is very unique, very unusual.
MS: Which is what you get with the band.
GS: That's what I love about the band. I can't do live theater right now. So getting up on stage thirty or forty times a year in front of these huge crowds, it's tremendous. When I was a kid playing guitar I always dreamed about being in a rock band in front of those big giant crowds. Well, we do that now and it's great. We play for thousands of people out there.
MS: How many thousands do you think you've played to over the years?
GS: They vary in sizes, the largest being two hundred thousand. We came off of our first European USO tour and flew right from Germany or England – I can't remember which – right to Washington D.C. where we were a part of the national Memorial Day concert in 2005. They get two hundred thousand people sitting out on the lawn in front of the Capitol and here we are playing for them. We've played for about a hundred thousand on the beach in Chicago at the air show and fifteen or twenty thousand here and there, just huge seas of people who come out to see the band. Originally people were just a little bit curious about this actor with a band but now we've played so many times and played so many places that people know the band and it has a good reputation for being a fun show and people always have a good time. And if they don't know anything about the band before they come, they're going to leave feeling good and with a new appreciation for the musicians and the band.
MS: Sadly, you won't really have time to do much more than play the gig.
GS: Unfortunately I'm on such a tight schedule with CSI: New York I'm going to be flying in, playing the show and pretty much flying out. There's another event up in Charleston the next day, but I'm really glad that I was able to work this schedule so I could come down their and raise this money.
MS: You brought up CSI and as Chairman of the Beaufort Regional Film Commission I'm duty-bound to pitch a concept: since Beaufort is halfway between New York and Miami we believe Mac Taylor and Horatio Caine should team up on a crossover CSI here. We think the Lowcountry – Beaufort in particular – is the perfect location for an episode or two.
GS: Ah…(pause)…well, there you go (laughs). That's quite an idea. I would love to do that.
MS: Let's make it happen. Our people will talk.
GS: Okay, you write the script and send it in. (More laughs) If they buy it I'll be there.
LDW3 UPDATE: Gary Sinise and the Lt. Dan Band play Chambers Waterfront Park in Beaufort Saturday, September 15th 2012. Go online for more information:
www.ltdanband.com
www.ldw3.com
www.steppenwolf.org
Mark Shaffer's email address is backyardtourist@gmail.com