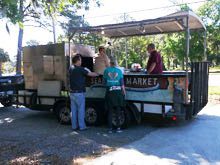 A new director and new location sees the nonprofit through tough times
By Mindy Lucas
Lori Opozda has been busy lately. Very busy.
   Despite businesses closing and events cancelling due to the coronavirus outbreak, HELP of Beaufort's spring fundraiser – an Easter ham sale – was in full swing recently.
   In fact, Opozda, who is the non-profit's relatively new director, said the ham sale had received such a response from the community, the organization ended up ordering double the amount of ham.
   "We set out to do just 100, but actually ended up doing 220," Opozda said by phone the day before Easter.
   The organization, which started delivering meals to the homebound in 1974, has increased its fundraising efforts in just the last few months. While HELP already did a December fundraiser selling Boston Butts for holiday dinners and parties, the ham sale was a first.
   It had also planned a 5K walk/ run for May but had to postpone the race due to the pandemic, Opozda said.
   "Everything is up in the air," she said.
   Like a lot of the area's nonprofits and social service agencies, HELP of Beaufort has suddenly found themselves having to adapt to the "new normal" as people are calling it, though ironically there is nothing normal about it. 
   But if anyone is up to the task, it's Opozda.
   In just the four months since she began serving as HELP of Beaufort's executive director, she has seen the organization through a move to a more visible location, new fundraising initiatives and expanded services.
   Having started with HELP as a volunteer, Opozda first worked for the organization as a pantry volunteer, a job she did twice a week for two years. She then moved to Head of Pantry and became a board member for the organization as well.
   After HELP's former executive director decided to return to her home state of New York, Opozda stepped in as interim director and in December of 2019, she was officially named executive director for an organization she had come to know and love.
   It's a role she "kind of fell into," she says.
   "It just came natural to me, since I had been involved with it for so long," she said.
But for both Opozda and the organization, the biggest challenge had only just begun.
A natural born leader
   Opozda will tell you she has no formal training or education in nonprofit administration. But natural born self starter and problem solver, Opozda previously worked for an animal rescue organization, in her hometown of Acushnet, Massachusetts, where she also built a successful dog grooming business from the ground up.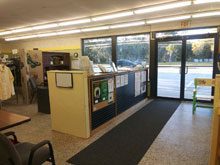 About eight years ago, after growing weary of the weather and looking for a change, Opozda and her family started looking for sunnier places to relocate. 
   She and her husband fell in love with the Lowcountry after a visit to the area, so the couple along with Opozda's mother and stepfather made the move to Beaufort in 2012.
   Shortly after the move, however, tragedy struck. Opozda's mother was diagnosed with lung cancer. Her stepfather already had the disease and Opozda began caring for them both full-time. 
   Tragically the two passed away within months of each other only a year after the family's move to the Lowcountry.
   After the loss, Opozda found herself at HELP of Beaufort, donating some of her parent's clothes and personal effects. It was a visit that would soon change Opozda's life.
   While dropping off the items, she saw people who were picking up food and realized there wasn't just a need for clothing.
   "There was a need for everything really," she said.
   After that first eye-opening visit, Opozda began adding extra items to her own grocery list and donating them to the organization's food pantry on a regular basis. Before long, she was volunteering at the pantry twice a week. 
   At first, she says, she just wanted to work behind the scenes sorting clothing, but the organization needed help in the food pantry as well, so Opozda jumped in to help.
   "It isn't something that I thought I wanted to do at first, but I ended up in the pantry and realized it was a better fit for me," she said.
   That's why today, HELP of Beaufort encourages all of its volunteers to try out every area of the organization's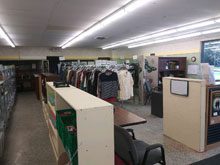 services – whether its sorting clothes, organizing donations of food or interacting with those who come in with specific needs.
   "They might find out they like doing one thing over another," she said.
Coronavirus hits the Lowcountry
   Opozda and her staff first noticed the impact of the coronavirus outbreak around mid-March.
   "We started seeing an increase in the number of new clients and the number of unemployed people coming in," she said.
   The organization is used to helping those in need, but the effects of the virus on the community have been unprecedented, Opozda said.
   "We are seeing those from the service industry – waitresses, hostesses – and all the other businesses that have had people to get their hours cut," she said. "It's affected all walks of life."
   In addition, HELP of Beaufort – which provides free clothes and food through its food pantry – has started seeing whole families in need as opposed to individuals, which had been more the norm.
   The organization has also seen a 30 percent increase in volunteers, an increase Opozda attributes in part to the new locationon Ribaut Road.Just being in a more visible location has given the organization more exposure, she said.
   "People who have lived here forever had never heard of HELP of Beaufort until we moved over here," she said.
   In addition, many of the new volunteers are those who have recently lost jobs or had their hours cut, she said. 
   The organization has also had to adapt its services to respond to the needs of the community during a time of social distancing and staying at home.
   While those in need still have to complete paperwork to be eligible for food services,since HELP of Beaufort's food pantry is regulated through the United States Department of Agriculture, the organization has set up some outdoor bins for those with immediate needs or who prefer to grab and go. There are also racks of clothes, anyone can access, Opozda said.
   And HELP of Beaufort is continuing with its Mobile Meals program, though it too had to be tweaked considerably to comply with changes caused by the outbreak. The biggest change, Opozda said, is the frequency with which meals, once delivered every day, are now delivered.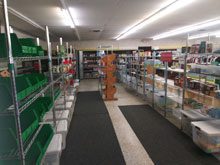 Clients now receive a five-day grocery allotment once a week. The adjustment was designed to cut down on the recipient's exposure to the program's volunteers.
   While those who are homebound or who rely on the meals looked forward to the daily social interaction a delivered meal presented, Opozda says they have been very understanding about the situation.
   "It's going to be tough," she said. "But we're going to keep the program going."
   When Opozda stepped into the leadership role in December, one of her main goals was to increase the organization's fundraising efforts.
   She has a "great team" now of fundraisers and hopes to carry on with their efforts to help the community. It's more important than ever, she admits.
   "We're going to get through it," she said. "But it just takes time and it takes the whole community to get through it."
Want to Help?
HELP of Beaufort is dependent solely upon church, business and individual donations and grants. For more information on the organization or to learn how you can help, call (843) 524-1223 or visit www.helpofbeaufort.org.