Everyone's Invited!
Wednesday, June 18th, 6pm ~ the Annual Meeting of the Arts Council of Beaufort County
Please join ACBC to honor this year's six Arts Award Recipients.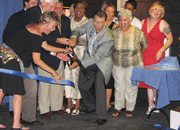 The Annual Meeting will also include a short visual report about the many ways ACBC nurtures the arts here and now, opportunities to meet ACBC staff, boardmembers, and supporters, a reinstated art auction, and refreshments.
ACBC's six Arts Awards recognize the hard work that goes into Beaufort County's creative economy. The award itself was created by Hank Herring. Michelle Maynard, Arts Educator of the year, will not be able to attend the event (she'll be at an arts-in-education class,) but she did have this to say: "I am so honored to be nominated for this award. I feel that the arts are a very important part of education, it nurtures creative problem solving, confidence, and cultural sensitivity. I am so excited to be working with arts integration because I believe that it is very effective. When the arts are integrated with other subjects, students can make more connections to their learning and become so enthusiastic about learning."
City of Beaufort Mayor's Award for the Arts~ Eliza Hill, City Parks Superintendent
Ms. Hill contributed much to ACBC's Big Swim mermaid project, and the beauty of her landscaping throughout Beaufort is art through nature.
Town of Port Royal Mayor's Award for the Arts ~ Van Willis, Town Manager
Mr. Willis has an advanced understanding of the value of the arts in the community, and has worked hard with ACBC to present the free Street Music on Paris Avenue series.
Town of Hilton Head Island Mayor's Award for the Arts ~ Bob Masteller
Mr. Masteller's lifetime achievement is sharing the joys of jazz with everyone, including young people.
Business Partner of the Year ~ 303 Associates
303 Associates has shown its commitment to the arts by consistently supporting ACBC and the Beaufort International Chalk Festival.
Arts Educator of the Year ~ Michelle Maynard
Ms. Maynard has magnified the arts at St. Helena Elementary School through her talents as an artist and her skills as an educator.
Volunteer of the Year ~ Etta Mann
Ms. Mann's hard work makes the Harlem Renaissance Gala an arts & cultural treasure not to be missed.
ACBC's office is at 1111 Boundary Street, in uptown Beaufort across from the Boys & Girls Club. Look for Blue Moo and Sadie the Sea Island Quilter out front. 379-ARTS, www.beaufortcountyarts.com.