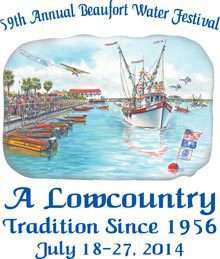 William Rhett, III designed this year's logo as a tribute to Water Festivals past and present.
When the 2014 Water Festival committee asked William Rhett III to design this year's logo – the one that will grace tee-shirts all over Waterfront Park – they didn't give him any strict marching orders. The Festival's theme, "A Tradition Since 1956," was to be the guiding principle – beyond that, Rhett had free reign.
"We all thought it would be fun to incorporate parts of the first Water Festival with stuff from present-day," says Rhett, a fifth generation artist whose family has been in Beaufort since the 1600s. "What I ended up with was a design where the whole left side is 1956 and the right side is 2014."
Rhett's Uncle Claude McLeod provided hundreds of photographs from Water Festivals past to help Rhett in his research. Elements like wooden boats and an old-fashioned airplane are whimsical tributes to that first festival in 1956.
And there are other special touches everywhere, many of which are personal for the artist. For instance, the wooden boats lined up along the 1956 sea wall bear the names of Rhett's friends and family members. The large shrimp boat on the right reads "Pickle" on one side – Rhett's mother Nancy's nickname since childhood – and "Peggy" on the other, a reference to Commodore Brandy Gray's mother. The three flags on the shrimp boat bear the names of three past commodores who died over the last year or two – Sammy Gray, Ray Kearns and John Gentry.
"I wanted to include that as a surprise for Brandy," says Rhett. "She worked with John Gentry during the 2012 Festival, and they were very close. She really looked up to him. So I wanted to do that for her."
The crowd along the sea wall took quite a long time to paint, Rhett says – "probably 30 minutes to an hour per person" – because most of them are actual Beaufortonians he knows.
"I'm not going to name names, but lots of people are going to see themselves in this design. I got pretty detailed with some of them."
This is Rhett's second Water Festival logo – he also designed the one in 2012 – and he says it's "an honor and a privilege to be asked again." At age 30, he can't imagine Beaufort without this annual tradition he grew up with. "For me, Water Festival represents the epitome of summertime in Beaufort," he says. "It doesn't get any better than this."
The original painting of the 2014 Water Festival logo will be on display at Rhett Gallery on Bay Street throughout the week of the festival, along with the painting he did for the 2012 festival. When asked whether either would be for sale, William Rhett replied, "Um… that's a definite maybe. I'm pretty fond of them."
 
The 59th Annual Beaufort Water Festival runs July 18 – 27 in Waterfront Park. For more information and a complete schedule of events, pick up the Official Water Festival Guide in this issue of Lowcountry Weekly or visit www.bftwaterfestival.com