My great friend from high school, Kent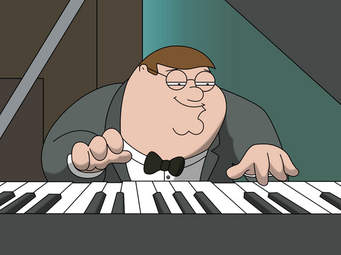 Speight, and I are trying fairly late in life to spool up a new hobby, a creative outlet ensconced in the arts. We played in every band our Wisconsin high school had (clarinet for me, trumpet for Kent), from concert band to stage band. He became an attorney, I worked in aerospace, and our creativity diverted as we earned a living.
Recently, after reading mountains of short stories, I challenged myself to write one myself. I stalled for a long time before finally penning "Them Peaches,"€ published here recently. I'€™ve even started another one. Will wonders never cease?
Kent went farther out on a limb. As a successful lawyer in Redwing, MN, he took up the piano. We got to talking about what this senior desire to get more creative was all about. Our exchange went like this.
JS: Hey old buddy, thanks for chatting with me about this "€˜new artsy hobbies for old timers"€™ gambit. This should be fun. How and why did you decide to take up the piano? Did you have one in the house already that you kept bumping into?
KS: Actually no and there are many reasons. I think that life diminishes us, that it'€™s an accumulation of losses. Not just our glasses or remotes. Our friends, our family members, our own physical capabilities. So we need some gains, to offset some of our losses. This really drove me to take up the piano at such an august age. It seems like a good way to at least maintain some of my dwindling faculties. I've read countless articles stating that playing the piano is great for preserving the neural pathways that connect the brain to the body.
A prime example of this is my friend, Ken. Smart guy, ran a very successful IT business. Had everything going for him. Then he contracted Lewy Body's Disease, which is kind of like severe Alzheimer's with hallucinations. Terribly debilitating. Enough that he'€™s in a nursing home even though he'€™s much younger than I am. However, every Thursday night the guy plays piano at the bar in a local hotel. And he can still play better than almost anyone I know. Ken tells me that when he'€™s playing piano the Lewy symptoms go away. No physical or mental infirmities. No hallucinations. He'€™s the good old Ken again. Isn't that a great reason to take up a hobby that keeps the mind and body active?
And to some extent music completes me. I knew I'd never be able to practice a wind instrument enough to regain any proficiency, so I decided to buy a piano. Then I cut off two fingers with what my wife lovingly calls my "lack of skill saw." So, I thought the idea of playing the piano was over. However, after they sewed the fingers back on and about 10 years of learning to use new appendages I decided to try again. And the fingers works well enough to play. I'm not Ken but the parts are working well enough to get me where I want to go musically.
How about you? Where does the writing (fiction or otherwise) inspiration come from?
JS: Whew, I can'€™t top you there [slowly counts fingers]. But a couple things came together. I've been writing seriously my entire adult life. More articles and reports than you could shake a stick at. Not long ago, I started reading more fiction, especially short stories. They'€™re easier to digest. Some of the stories seemed great, some awful. But I thought, hey maybe I could do this. How hard could it be [famous last words] and if I stink, it can stay a secret.
And there'€™s this. I talk to our dogs when we go for walks. Sometimes I make up stories. They're great listeners, at least when there aren't any squirrels or birds distracting them.
Hey what was the hardest thing for you about getting started?
KS: Playing a piano is hard work. I'm used to working hard to get where I want to go. But learning a new skill tests my patience and frustration levels. It'€™s important to try to do my best. I recently sat through the recital of three high school seniors who take lessons from my piano teacher and they really put me to shame. So, it'€™ll be a long road and require some stubbornness.
OK, along those lines, where does fiction come from? When and where does your inspiration hit you? In the shower? Driving your trusty Audi? Visiting places you want to write about?
JS: Actually nonfiction – €"my forte – €"is pretty easy and fun once I get started. When an idea pops into my head -€" this can be anytime and anywhere – I make notes, do some research, and go from there. With lots of revisions. Likewise for fiction, the key thing is to just get off my butt, start writing and not worry about it. Forget about people's reaction for a minute, just grab something I find interesting that I figure other folks may find stimulating. Or at least entertaining. The actual writing basically happens on autopilot.
Hey before I forget, what kind of feedback are you getting?
KS: Actually the most worrisome thing is that some friends seem to think they need to hear me play. This is not a professional gig. I'm not planning on playing bar mitzvahs or weddings anytime soon. No album deals are in the works, that'€™s for sure.
Since I don'€™t really allow anyone to listen to me play, fortunately, I'€™ve been able to keep potential critics at bay. Most people are too polite to tell me I'm an idiot to start playing the piano at this advanced age. Actually they'€™re encouraging. It'€™s like taking pity on an old person crossing the street. "€œOh, isn't that nice. Kent can still do that without a walker."

At our age any challenge is good. But I'€™ve been told to lower my expectations. So, I try to set achievable goals. Why, just this morning I decided to go to the bathroom outside of my pants. I thought that was a good goal.
How about you?
JS: [Sneaks a downward glance.] The feedback has been good, and we've shared it. Sometimes I irritate someone with a political piece, but that's expected. Especially in these divisive times, right?
So what'€™s next for you, any more new hobbies on the horizon?
KS: I don't have a next act. I'€™m just trying not to lose too much ground. I used to be able to run marathons. Now, I'€™m pleased if I can make it to the fridge. But seriously, at this stage I would like to be around to enjoy and assist my family as much as I can. We'€™re lucky to have a pretty close relationship with our kids and grandkids. I think it's tough to manage this world, and I'€™m worried especially about our grandkids. It'€™s a goal of mine to give as much back to my family as I can. They've made my life what it is and I want them all to have every chance to get what they want.
JS: Wow, you've topped me again . . . don'€™t pull out that trumpet, man! Next for me is . . . maybe flower arranging. It'€™s a little dippy for crusty old me but I love the results. Even if they sorta droop in a week. Hopefully my writing lasts longer than that. Maybe I should write about flowers, eh?
KS: Or about my piano playing. I might need a publicist someday, "bud"!