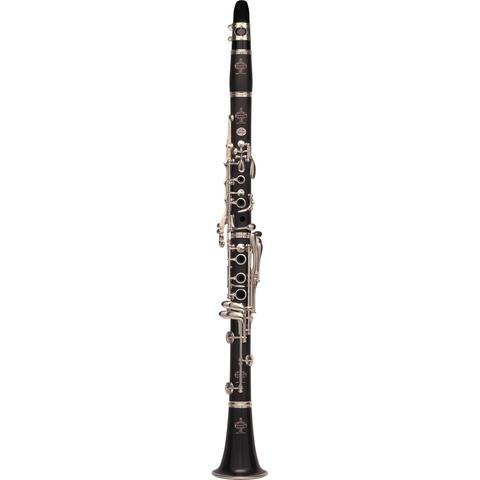 "Dear Diary: There is an older man who stands at the corner of Stockholm Street and Knickerbocker Avenue in Brooklyn selling churros every day.  'Two for a dollar,' he says to those who pass by. He keeps the churros in an empty cooler. It's the dead of winter, and the winds from the polar vortex are causing branches to tap at my window.  Looking out, I see frozen puddles, and litter lining the curb.  An empty chip bag would shatter like glass if it was picked up and dropped.  I take a sip of coffee.  'Oh my God,' I think, 'the churro man.'" – Cameron Gleason, The New York, 3/18/19
Teamwork is a vaunted process. We revel in our favorite sports teams, from kids' soccer to high school and college basketball to pro football, basketball, baseball, hockey.  We celebrate work groups, think tanks, corporate and school boards, and even congressional oversight committees, sometimes.  
So what's this about clarinets, one no less.  Are we talking solos? Well, not quite.  Remember Glenn Miller, the great big band leader? Yes, he played trombone … but wait.
Alton Glenn Miller 1904-1944, was a musical juggernaut who recast big band music of the 1930's and 40's. Born in tiny Clarinda, Iowa, population then about 3,500, Miller was a somewhat irritable fellow who rose to fame on his titanic talent for composition, arranging, and anticipating the public's taste in music.  (His classic good looks hurt didn't hurt, either.)  Good enough on trombone to carve out a career as a sideman, Miller had grander ambitions and with several other bands under his belt, he made a dramatic bet in 1938. The Glenn Miller Orchestra was just what Depression-era Americans wanted to listen to. And dance.
What powered his sales past his peers, like Benny Goodman, Artie Shaw and Duke Ellington was his reimagining the instrumentation of his band. He added the great Marion Hutton as his "girl singer" (as they were called back then) but more significantly, a clarinet to the saxophone section, playing an octave above his tenor reed-mates. That talented clarinetist was Wilbur Schwartz (1918-1990).  Schwartz played with Miller from 1937-1942, and was featured on all Miller's ballads.
Even today, older fans in particular love to dance to Glenn Miller's "Moonlight Serenade," his signature song.  Moonlight is so luscious, so hypnotic, so enticing that it endures as an American landmark. Open the lens further on Miller's success and the numbers are astounding.  Upon the band reaching New York, they were featured below the dance band comedy gig of Freddie Fisher and His Schnickelfritzers(seriously).  But that didn't last long.  Before his death in a plane that went down in the English Channel while Major Miller served in the U.S. Army, his band notched 16 number one and 69 top ten hits.  By comparison, Elvis had 40 top ten hits and The Beatles 71. Miller also racked up three posthumous #1 albums.
Still not impressed?  For January 24, 1942, Glenn Miller and His Orchestra had five of the top ten hits on Billboard: Chattanooga Choo Choo (#1), Elmer's Tune (2), White Cliffs of Dover, Everything I Love, and the incomparable String of Pearls. Always driven to succeed, Miller had a clear mission:
"A band ought to have a sound all of its own. It ought to have a personality.
I haven't got a great jazz band and I don't want one. Some of the critics, Down Beat's among them, point their fingers at us and charge us with forsaking real jazz . . . It's all in what you define as 'real jazz.' It happens that to our ears harmony comes first."
By most accounts, adding that one clarinet to the sax section helped light the band's fuse.  Major Glenn Miller died in 1944 on a flight from London to Paris to rejoin his band.  His posthumously awarded Bronze Star the following year read, in part,
"Major Miller, through excellent judgment and professional skill, conspicuously blended the abilities of the outstanding musicians …into a harmonious orchestra whose noteworthy contribution to the morale of the armed forces has been little less than sensational…  His superior accomplishments are highly commendable and reflect the highest credit upon himself and the armed forces of the United States."
Another individual, this one contemporary, also captured the public's attention, even awe. He doesn't play clarinet, he plays with our hearts. Meet Thomas Panek, 48, blind since his twenties.  Panek is the CEO of Guiding Eyes for the Blind, a Westchester County (NY) charity that trains guide dogs for the blind. He made history recently as the first blind person to compete in the United Airlines New York City Half Marathon and finish (13.1 miles in 2:20) without a human to guide him. He trained three Labrador retrievers for months to come along, on a leash of course—Gus, Westley and Waffle.  Speaking of Gus, Panek said "It's a little emotional for me because he's been there with me the whole time."
Panek started the Running Guides Program four years ago when former Marine Richard Hunter, also blind but wanting to start running again, suggested it. The running guide dogs are carefully trained to look for obstacles and keep their running partner safe. I couldn't help but think of my two Yorkies when learning about Gus and company. Dixie is my goodwill ambassador, greeting anyone over about four feet tall (she doesn't really know what kids are) with tail wagging and a ready lick or two.  Lady, all 7.5 pounds of her, barks at any stranger getting to within spitting distance of me. That's her job, guard dog, though I can't imagine her guiding me through a race unless snacks were up for grabs and she could ride on Gus's back.  
According to Panek, "Although many people run with running clubs, at the end of the day you're running your own race. And when you're tied to another person, it's no longer your own race. The independence isn't quite there." I don't know if he ever played clarinet, but his charity and kind heart play a very special song that we can all hear and be inspired by.  
By now most of us are wary of many politicians' motives (get re-elected) and behavior (deceitful, all hat no cattle, extreme). One leader at least sets the bar pretty high, Prime Minister Jacinda Ardern of New Zealand. The rancid killing of 50 Muslim worshipers in Christchurch on March 15 was followed five days later by Ms. Ardern announcing a ban on all military-style automatic and semiautomatic weapons, high capacity magazines and parts that can convert conventional weapons onto any of these. She also visited victims' families and spoke to school children affected. Hear that, U.S. Congress? You've had over six years to respond to Newtown, for example. PM Ardern moved in under a week.
My church's choir often fields six women fronting five men. When they added a sixth man last week, a tenor, their sound rose and filled the air ever more grandly.  A few weeks ago they reached twelve with a seventh woman and it happened again.  
One clarinet, one sightless runner with a big heart, one politician leaning forward, one choral singer, and one churro man. I guess they're all great musicians, lifting the orchestras of life around them. And all the rest of us.