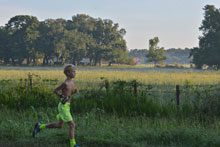 Imagine driving from Hunting Island State Park to Bluffton to go shopping. Now imagine running that distance. That's 50 miles.
There's an epic race in Beaufort,Cremator Ultra, that's 50 miles with 50 participants. They're chosen by lottery…yes, there are more than 50 people who want to do this (crazy)! Tim Waz with Grounded Running spends part of his Christmas Eve drawing the lucky winners who attempt, not only running the distance, but in Beaufort's steamy July. You must have experience in ultra- racing and, of course, be healthy enough to take on the challenge.
Gavin Moore was one of those lucky draws on December 24, 2019. Gavin is 12 years old and holds several state records. He met with other runners at Grounded Running on Sunday, July 12 that 6:00 a.m. to run to a building on St. Helena 12.5 miles from where he began, turned around, headed back to Grounded Running with 25 miles under his belt only to turn around and do it all again. Gavin's time was 7:49:40 finishing and winning the race in the heat of the day. Ryan Dunn finished up in Second place with Sally V taking first in women's and third overall.
Congratulations to all of the runners!
Above: 12-year-old Gavin Moore running the Cremator Ultra. Photo by Susan Trogdon