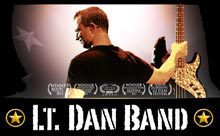 September 14 to 18, 2011 marks the 2nd annual Lieutenant Dan Weekend, a four-day event that honors severely wounded veterans from the wars in Iraq and Afghanistan. From Beaufort to Ridgeland, Hilton Head to Fripp Island, Bluffton, Lady's Island, and Parris Island, neighbors and merchants have banded together earning money for this worthy cause.
In March 2011, the Independence Fund, sponsor of the Lieutenant Dan Weekend, needed $75,000 to make the 2nd annual Lt. Dan Weekend possible. As of September 1st, over $180,000 has been collected in cash and in-kind donations, thanks to the tireless efforts of volunteers, the generosity of residents and merchants, and corporate donors. The organization hopes to reach $300,000 on the 300th anniversary of the City of Beaufort and several major events will help achieve that goal. Fundraising aside, the Lieutenant Dan Weekend is a much-needed retreat for wounded veterans and their loved ones – a chance for them to relax and bond with fellow patriots …
On September 14, 2011, the veterans, their families and caregivers will arrive at Palm Key in Ridgeland, SC, where they will be welcomed with open arms by owners and volunteers who will make their stay a memorable one. That evening, local favorite Shannon Tanner will perform a concert for the honored guests. During the next four days, they will enjoy true southern hospitality including lodging, meals, live entertainment, and a variety of recuperative programs. The nearby HUSPA Plantation will also offer leisure activities for the adults and their children. For the sake of our wounded veterans, events at Palm Key are private during the Lieutenant Dan Weekend, but members of the press are welcome to preview the facility prior to the 14th. Contact Judy Rigg at (843) 726-6524.
On September 15, 2011, the veterans will continue to enjoy the pristine Lowcountry setting in Jasper County, but that evening they will travel to the City of Beaufort for the Conflict Zone Photographic Exhibition followed by a screening of the award winning documentary, "Lt. Dan Band: For the Common Good."
The Conflict Zone is a groundbreaking look at war through the lenses of the world's leading combat photographers with proceeds to help injured troops and journalists. Within the past few months, this exhibition has been on display in Chicago and Philadelphia. Most recently, the Conflict Zone was featured at the National Press Club in Washington, DC. Although the display on September 15th is for the veterans and by-invitation-only guests, the exhibit will be open to the public at the Loft in Beaufort's City Hall from September 16 to 23. A separate press release will provide more details about the Conflict Zone exhibition. Visit www.conflictzone.org.
After the reception at City Hall, veterans will travel to the H. C. Chambers Waterfront Park for the free screening of "Lt. Dan Band: For the Common Good", hosted by the Producer and Director, Jonathan Flora. The film will start at 8:00 PM and is open to the general public. In February, 2011, Beaufort Film Society awarded the filmmaker with the Santini Patriot Spirit Award for his portrayal of American military in the documentary. Academy Award winning Actor Tom Hanks commented, "Jonathan Flora has captured it all in this moving tribute to our men and women in uniform and their families." Gary Sinise, who played Lieutenant Dan in the Tom Hanks' movie Forrest Gump, is featured in this documentary as he travels throughout the world with the Lt. Dan Band to support those serving in our military. Visit www.ltdanbandmovie.com. A separate press release will provide more details about Jonathan Flora and his film.
the Lowcountry takes place at 8:30 PM at the Henry C. Chambers Waterfront Park. A movie comes to life when Gary Sinise and the Lt. Dan Band take the stage in front of 150 wounded veterans and their loved ones. The concert is open to the general public for a modest ticket fee, and all proceeds benefit our wounded veterans. Ticket sales are available on-line at www.LDW2.com and cost $25 per person or $15 for members of the military. They may also be purchased that night at the Waterfront Park. The sponsor has created a Web link so people can purchase a concert ticket that will be given to a local service member: http://www.active.com/donate/localtroop. Gates will open at 5:00 PM for food, beverages, and LDW2 souvenir purchases. Short films and a warm up band will begin at 7:15 PM. Ticket holders are encouraged to bring folding chairs or blankets for seating, but no coolers, strollers, etc. The folks who attended last year's concert still rave about Gary and the Lt. Dan Band.
Earlier that day, the 2nd Annual Lieutenant Dan Golf Classic will take place on the beautiful Parris Island "Legends" course. Golfers will be teeing off with the background of a double graduation taking place barely a three wood away on the Parris Island parade deck. What better way to honor our severely injured veterans and the most recently forged Marines who will be joining the ranks of some of the most honorable warriors of any age? For more information, visit www.LDW2.com and click on the GOLF tab.
On September 17, 2011, a Lt. Dan 5K Run will kick off at 8:45 AM, just minutes before the start of the parade celebrating the 300th anniversary of Beaufort, SC. Event organizer, Randy Wentworth, anticipates 800 runners will line up on Bay Street and take off just ahead of the parade. The run takes place on the parade route, around the National Cemetery, and ends in a spot where participants can enjoy the final display of floats depicting Beaufort's history since its inception in 1711. Registration fee is $30 per person. Sign up online at www.LDW2.com and click on 5K.Last minute registration will be accepted at Bay & Bladen Streets.
On September 17, 2011, a Lt. Dan Bike Ride will take place at the Marine Corps Air Station. Cyclists can support and ride with the wounded heroes who have given so much for us. The ride will be open from 10:00 AM to 1:00 PM on the self-contained 11-mile loop within MCAS. Event organizer, Tammy Buchanan, describes the flat course with no traffic as an ideal place to ride for cyclists of all levels. Depending on ability, bikers are welcome to complete the circuit once, twice, or three times. Registration fee is $35 per person or $20 for active duty military personnel. Day of race registration will be $40.00. Register online at www.LDW2.com and click on Bike Ride.
Also on September 17, 2011, Lowcountry locals, wounded veterans and families, LDW2 volunteers, and Beaufort visitors will line the streets in the historic district for Beaufort's 300th anniversary parade. Lieutenant Dan, a.k.a. film star Gary Sinise, will serve as grand marshal and he will share his ride through downtown Beaufort with two Medal of Honor recipients, Jay Vargas (USMC) and Drew Dix (USA). Fire Engine 343, named in honor of the 343 firefighters who died at the World Trade Center, will be another parade feature … one that reminds us of those who sacrifice so much for our freedom.
The week marks the 10th anniversary of the terrorist attacks on the United States, the catalyst for sending American troops to war in Iraq and Afghanistan. The Lieutenant Dan Weekend is an initiative created by the Independence Fund, a 501c(3) non-profit and all-volunteer organization for the benefit of our severely wounded troops and their families.
The Independence Fund Founders thank LDW2 supporters:
Adams Outdoor Advertising
Air Compassion for Veterans
Allprint Custom Tees
American Airlines
AMVETS Post 70
Armed Forces Insurance
Battery Creek MCJROTC
Beaufort City Staff Members
Beaufort County Council
Beaufort Film Society
Beaufort Inn
Bella Luna Cafe
Berry Island Café
Big D's Royal Tees
Blue Cross Blue Shield of SC
Boston Scientific
Blackstone's Café
Budget Print
Chick-fil-A Beaufort
City Loft Hotel
Clemson University Operation Military Kids
Complete American Pawn
Country Morning Bakery
Custom Audio
Drysdale Entertainment
Fripp Island Independence Fund
Forgotten Sons Motorcycle Club
Gary Sinise Foundation
Hargray Communications
Hilton Head Outfitters
HUSPA Plantation
InStil Health
International Spa Institute
Jack Carter's Lemonade Stand
Lipsitz Stores
Lowcountry Habitat for Humanity
Lowes – Beaufort
M2 Lease Funds
Marine Federal Credit Union
Marine Rescue Squadron – Ridgeland
McDonalds – Beaufort
McDonalds – Lady's Island
Monett Foundation
Navy Federal Credit Union
New South Shirts and Kazoobies
Palm Key Catering
Palm Key Owners
Palmetto Breeze
Palmetto Electric
Parris Island Historical Society and Museum
Patriot Guard Riders
Plums Restaurant
PSAV Presentation Services
Quality Sales and Marketing
Rapid Refill Ink
Rochliss Foundation
Saint Helena Church
Saltus River Grill
Sea Eagle Market
Sea Island Best Western Motel
Seashore Vacations
Spring Lake Tennis Club
Sun City Buckeye Group
Sun City Quilters
Sun City Veterans Association
Supercycles and ATV
Sutcliff Golf Cars
Sweetgrass Restaurant and Bar
The Corps Store
The Groove Tones
Valley Crest
Walgreens – Beaufort
Waste Pro
W M Enterprises
and hundreds of individuals who have made generous donations for our wounded veterans, and hundreds of volunteers who have given up their time so willingly.www.LDW2.com… be part of it.
Buy a concert ticket, sign up for an event, make a donation. Our wounded veterans thank you.