Plums Inc. celebrated the grand opening of Bistro Patois with a record number of guests and supporters on Wednesday, August 5, at 21A-1 Market in the heart of the Habersham Marketplace in Beaufort.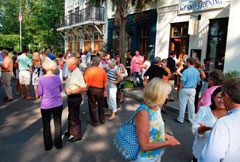 Guests toured Bistro Patois, mingled with staff and sampled menu items. Owner Lantz Price was presented with a personalized photo and official thank you from Congressman Joe Wilson's office in appreciation for the number of jobs his company has created in Beaufort County.
"We are proud to be able to say we've created over 100 jobs in Beaufort," Price said. "We have great products, talented people and the support of our community. We feel very fortunate."
Bistro Patois specializes in comfortable, approachable food prepared with the elegance of old French fundamental style. Offering a full wine list and select beers, Bistro Patois is open Tuesday – Saturday, 4 – 10 p.m. Reservations are encouraged and may be made by calling 843-379-2207 or visiting www.bistropatois.com.

The Habersham Marketplace is the heart and soul of the "Best Neighborhood Design in America" award winning town of Habersham located just minutes from Downtown Beaufort. This recently re-energized village boasts a collection of carefully selected iconic restaurants, retail shops, services and nightlife all created and operated by the "best of the best" local owners. The Marketplace is quickly becoming "The Lowcountry's New Destination" with weekly activities, seasonal festivals, farmers markets, and fun filled streets set in a safe walkable village complete with vibrant active patios and plazas.