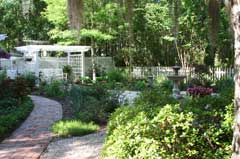 Save the dates, plant-lovers!  The Beaufort Garden Club's annual Garden-a-Day is just around the corner.
Like the "rite of spring," the Beaufort Garden Club is adding its final touches to one of Beaufort's most popular garden tour events. The tours run, Monday, June 7 through Friday, June 11;   9:30 am -12 Noon, daily.  The public is welcome.  Admission is FREE!
Over the years, Garden-a-Day has blossomed into the Beaufort Garden Club's "signature" event.  The past few years have been averaging 800-1,000 attendees per week … and growing!  It's not only Beaufortonians who enjoy these garden tour experiences, but guests from Bluffton, Hilton Head, and out-of-state visitors, as well.
This is a huge undertaking.  It's "all hands on deck," requiring total membership immersion to ensure a successful week-long endeavor.  Master Gardeners and club members will be present to direct guests and answer any questions that plant enthusiasts might have as they meander along the beckoning garden paths.
Under the able leadership of Carol Painter, Chairman of Garden-a-Day 2010, gardens have been selected for touring in the following areas: "The Point," "Newpoint," and "Brickyard."  Dates and garden locations are as follows:
Monday, June 7
Diane and Conway Ivy
501 King Street
"The Point," Beaufort
Tuesday, June 8
Nancy Pratt
310 Federal Street
"The Point," Beaufort
Wednesday, June 9
Charlotte and Lawrence Kay
Mises  Road
"Newpoint," Lady's Island
And
Lyn and Robert Lantz
Prescient  Avenue
"Newpoint," Lady's Island
Thursday, June 10
Barbara and Donald Donahue
2  Tidewater Way
"Newpoint," Lady's Island
And
Arlene and Richard Porter
14  Waterside Drive
"Newpoint," Lady's Island
Friday, June 11
Nancy and Carroll Crowther
18 Old Ferry Cove
Lady's Island           (Off "Brickyard")
It must be emphasized that without the consent of these generous homeowners, this fifteenth annual civic and educational service sponsored by the Beaufort Garden Club would not be possible.  To those participants who have opened their "secret gardens" for all of Beaufort to enjoy, we as a club and community extend our kudos of appreciation and thanks!
Spread the word!  Bring family, friends, and visiting guests to experience Garden-a-Day.  Be enthralled with these extraordinary Lowcountry environments, which nourish outstanding blooms, enveloping fragrances, brilliant colors, and exquisite foliage textures.  Stroll through the gardens at your leisure, lingering over the natural beauty that surrounds you.  Enjoy those individual artistic touches… the drama of statuaries, the hypnotic rhythm of gurgling fountains, and the whimsy of the garden angels that add their own impish joy.
As garden club women, who love to share their passion for all growing things… it is our hope that these fun-filled tours of Garden-a-Day fantasy will inspire YOU!  Start an herb garden; tie a lilting bell chime to a bough in your backyard; build a birdhouse; plant bright red geraniums in a white window box; introduce a water feature. Somewhere, add a new "dash of beauty" to enhance your own personal outdoor space or patio. Make it lovely…
See you next month in the gardens!