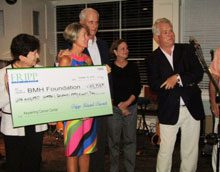 Each fall for the last six years, Fripp Islanders have come together in a herculean effort to raise money for Beaufort Memorial Hospital's Keyserling Cancer Center. This year they outdid themselves and raised over $113,000 for the not-for-profit hospital's cancer program. 
2015 Fripp for a Cure co-chairs Rich and Chris Assaf have never been prouder to call Fripp Island home. As the campaign began, residents who had survived cancer with the help of the Keyserling Cancer Center came forward to share their stories. 
"Each illness was different, but the results were the same," said Chris.  "The care they received at Beaufort Memorial was outstanding in every way, and their lives had been saved." 
Co-chair Rich Assaf recalls visiting the cancer center last year to learn more about the facility that the event was supporting. When he entered the lobby that morning he found his dear friend Bruce Reeder, who was undergoing radiation therapy for a malignant brain tumor. 
"Suddenly, everything was different," said Rick. "Fripp for a Cure was no longer about a medical facility, but about our friends and our family who would rely upon it in their times of greatest need."
Sadly Bruce passed away just days before the Fripp for a Cure events, but Rich and other island residents, including Bruce's wife Georgia, felt even more compelled to showcase the close connection between Fripp and the Keyserling Cancer Center.
"I was struck by the joyfulness at the closing event," said BMH Foundation Chairman Bill Harvey. "Bruce's friends turned his loss into positive energy and ended up making this an extraordinary fundraiser."
Hundreds of Fripp residents participated in a golf tournament (featuring hole sponsorships which paid tribute to neighbors who have faced cancer), a fishing tournament, and gala with silent auction.  All of the proceeds from these events remain here in the Beaufort area, supporting patient care and clinical research trials at the Keyserling Cancer Center, helping the community hospital stay up to date with the best possible therapies.
            The event has raised over $300,000 over the past six years, helping the Beaufort Memorial Hospital Foundation continue its tradition of underwriting at least half of all building, equipment and enhancements to the ten-year-old facility.
"Fripp for a Cure has jump-started the accumulation of funds we need to keep the Foundation's half of the bargain," said BMH Foundation Executive Director Alice Moss, noting the need to expand the cancer center and upgrade the technology in the next 2-3 years.
"We are in awe of the passion and the effort put forth by our Fripp Island friends to make such a significant impact," said Moss. "Their efforts are helping Beaufort Memorial continue to provide the very best care for our cancer patients."