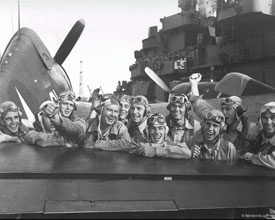 Tuba's back was sticky with sweat. His mouth was dry as every one of his senses concentrated on landing the plane. The F-14 roared across the stern of the carrier. Fourteen feet over the deck. Just where Tuba wanted it. Rosie's eyes darted left. She could see the LSO platform zoom past her. Then the carrier's tower on her right. The Tomcat slammed onto the deck. Tires screeched. The tailhook banged on the greasy metal deck sending sparks flying… It was well past midnight before Tuba, Rosie and the other Tomcat aviators had calmed down enough to fall asleep. They awoke the next morning at eight o'clock to begin work all over again. – Douglas Waller:
Air Warriors: The Inside Story of the Making of a Navy Pilot
(New York: Dell, 1998)
            As Veterans Day nears, we are moved yet again by the immeasurable service provided to Americans by our men and women in uniform. With a son serving as a corpsman in the navy, and having worked myself for a major defense contractor, I proudly offer a grateful salute this year. My special focus is on books that chronicle the stunning valor of our sailors and marines during the most pivotal of cataclysmic horror shows to have infested the planet, the great fulcrum of World War II.
            Seven remarkable books that help define our national legacy. Without these incredible veterans and the examples they set, none of us would likely enjoy the privileges and opportunities we savor today. The spirit of their devotion is scarcely more appropriately recognized and revered than on Veterans Day.
1) Alvin Kernan: Crossing the Line: A Bluejacket's Odyssey in World War II (New Haven: Yale Library of Military History, 2001)
Alvin Kernan, a hardscrabble smallish kid from rural Wyoming with outsized spunk and a sharp mind, joined the prewar U.S. Navy in 1941 to have a job and secure regular meals. Quickly thrust into WWII, Kernan served in wide ranging combat roles on some of our mightiest ships, including the carriers Enterprise and Hornet. His recollection of so many richly etched specifics of life at sea and on leave is remarkable, especially since he wrote this memoir nearly fifty years after he discharged with his $300 separation pay and the newly attained rank of chief petty officer.
            Beyond all the details of life as a weapons expert, paint chipper, mess hand, and member of heroic aircrews, Kernan's writing is both gripping and poetic. He spares us little, thankfully, of what it was really like on the hangar and flight decks, in the intense card games, and even in the water when his plane went over the side on a failed takeoff. Crossing The Line is a simply terrific read. We are very fortunate that Professor Kernan had the wherewithal to complete this wonderful personal book so artfully.
2) Ian Toll: Pacific Crucible: War at Sea in the Pacific, 1941-1942 (New York: Norton, 2011)
            Pacific Crucible is masterfully researched and written with balanced attention to both the Japanese and American gyrations leading up to and following December 7, 1941 at Pearl Harbor. The detailed narrative focused on the immediate aftermath of the horrendous, sickening attack on Pearl is gripping. Especially including Mr. Toll's description of FDR's agonized walk to the podium to address a packed, temporarily hushed Congress on December 8, his leg braces clicking loudly enough for all to hear. I had to put the book down for a moment and dial up this famous "infamy" speech on YouTube which brought a lump to my throat. The character portrayals are fascinating, the attention to political nuance and battle sequences alike masterful. And the author's treatment of the critical battle of Midway is superb. Mr. Toll is both a fine historian and a magnificent storyteller.
3) Ian Toll: The Conquering Tide:War in the Pacific Islands, 1942-1944 (New York: Norton, 2015)
            In the world of naval historians, Mr. Toll evolves in this sequel to Pacific Crucible as the human embodiment of a trifecta. He combines superb research with highly polished writing skills overlaid with a towering talent for integrating disparate threads and themes—including gritty details—into a majestic portrait of the core years in the Pacific war. The Conquering Tide includes 542 pages of text that are as richly textured and nuanced. One is tempted to devour this book quickly as it is entirely engrossing, and yet most passages are rich enough to invite multiple readings.
            Throughout the book one is struck by the fine balancing between coverage of all U.S. military services and both sides of the war—ours and the Japanese. While the U.S. Navy shines throughout like the beacon of freedom it was, the massive efforts and victories achieved by the marines, army and air force are given careful attention. The combat scenes are show stoppers. "From the decks of the American ships, the bombardment of Betio presented a dazzling spectacle. Orange-red muzzle flashes lit up the sea in a quarter circle to the south and west of the island. The shells whistled like freight trains and drew incandescent arcs across the night sky. The entire length of Betio blazed like a funeral pyre. Sheets of flame ascended hundreds of feet in the air… The marines cheered wildly at each successive blast."
            Our submariners are provided glowing credit for the sometimes relatively unheralded work they did, which was badly undermined by extremely poorly performing torpedoes early in the war. As Toll notes, "By war's end, the Pacific submarine force would sink more than 1,100 marus [merchant vessels], amounting to more aggregate tonnage than Japan had possessed on December 7, 1941. With fewer than 2% of all naval personnel, the submariners could claim credit for more than half of all Japanese ships sunk during the war, and 60 percent of the aggregate tonnage."
            All the top brass are given due attention, so fans of King, Nimitz, Spruance, Turner, Vandegrift and the rest on our side probably won't be disappointed, but special attention is also given to numerous more junior officers and rank and file sailors and airmen such as Alvin Kernan. Toll is a master at weaving diary quotes, letter excerpts, news media material and much more into his narrative. Famous battles that one suspects one already understood, such as those in the Solomons and Marianas, are brought to life with such vibrancy that one almost feels like taking a shower after each chapter to clean off the cumulative grime and, often enough, gore.   One thrills to the story of Lt. Ralph Hanks' exploits off Tarawa on November 23, 1943, when he became an "ace in a day" by
destroying five Japanese warplanes in his Hellcat. In one flight! One recoils, in contrast, at the details surrounding Enterprise's great Air Group Commander Edward "Butch" O'Hare's tragic loss in a confusing and complex battle a few nights later. One struggles to imagine Chicago's O'Hare Airport being named for anyone other than this Medal of Honor recipient.
            Not content to merely march through the Pacific war's string of battles and strategy iterations, Toll also provides fascinating insight into how in the world Japan even attempted to manage the flow of increasingly negative war information that eventually made the emperor appear to be stark naked in the face of an eventually overpowering Allied foe. Each peek we get is fascinating: "An independent writer who fell out of favor found that editors no longer took his calls or acknowledged his submissions. Recidivist offenders were hauled away to prison to be beaten, tortured, starved, and incarcerated indefinitely. A reporter whose byline appeared above an impertinent article might find himself drafted into the army and shipped to the front lines, without military training, the following day."
            Beyond all this, The Conquering Tide is replete with excellent maps, reference material and photos. The reader is transported to a time and place like no other in the hands of a master.
4) Ore J. Marion: On The Canal (Mechanicsburg, PA: Stackpole, 2004)
            Sergeant Marion was a wiry young man at the outset of the marines' initial effort to take a key airfield under construction by the Japanese at Guadalcanal. With our supply ships under intense enemy pressure, he and his small band were left with little ammunition, the clothes on their backs, outdated rifles from WWI and forced to scrounge a few spoons of maggot ridden rice a day to exist on. As they struggled to avoid being shot or blown up day and night, many of them lost a third or so of their body weight. They were filthy, rank, ragged and starved but they never relented. They gave the Japanese fits, held onto Henderson Field, and sailed into history in December, 1942 after one of the bloodiest slugfests ever fought.
            Nothing carried them farther in the Solomons when the navy was still getting its footing against the Japanese than their tenacious grip on thoughts of better days to come:
            "Luckily, most of us were young and naïve, and it seldom took much to raise our spirits again and give us back our natural and customary optimism. We had very few sound reasons to believe we were going to win, but we were young enough and optimistic enough to assume against all odds that we would see the campaign to its end and defeat the enemy."
            Marion spent thirty years in the corps, and never lost his sense of duty or, incredibly, his sense of humor. For a first hand, gritty look at the horrors and heroics of war, this book of remembrances—like Kernan's– is hard to beat.
5) James Hornfischer: The Last Stand of the Tin Can Sailors: The Extraordinary World War II Story of the U.S. Navy's Finest Hour (New York: Bantom, 2004)
            Last Stand is the most brilliantly researched and written combat book I have ever held in my hands. The story of the Task Unit 77.4.3 ("Taffy 3") sailors who found themselves in the gun sights of a vastly superior Japanese force but fought back with everything they had off the Philippines in October, 1944 is deeply, wrenchingly emotional. No one need ever wonder why this cohort of young Americans who fought through the horrors of WWII is referred to as "the greatest generation." For anyone interested in naval history or leadership or, for that matter, teamwork, this book is an absolute must. Americans today can consider themselves the direct beneficiaries of a group of sailors who all but rewrote the standards of courage and bravery under the most blisteringly hostile conditions imaginable.
6) Doug Stanton: In Harm's Way: The Sinking of the U.S.S. Indianapolis and the Extraordinary Story of Its Survivors (New York: Henry Holt, 2001)
            Few books I have ever read left as many tears streaking my face. Mr. Stanton's attention to detail and his superior research skills would be paramount here except for the beyond the pale story he tells. If ever a heroic crew and their captain were inadvertently left hung out to dry by their command, this was probably it. The USS Indianapolis, a flagship cruiser, was late in WWII given the secret mission of delivering the atomic bomb materials used to destroy Hiroshima and hopefully end the war earlier. That it did. After this historic delivery, however, the bottom fell out of the ship's mission. The captain was not properly alerted to the risks of enemy submarines as he headed for his next destination.
            The Indianapolis was subsequently torpedoed and sunk by the Japanese and the surviving captain and crew subject to unspeakable horrors as they clung to life in the Pacific. Virtually no food, fresh water or medicine, countless marauding sharks, blistering heat. The ability of the shrinking number of survivors to look after each other is heart wrenching, but it is also inspiring.                                                                          
            One writhes, however, at the apparent negligence of our otherwise marvelous Navy as the crew drifted for days with no rescue attempt made or even an acknowledgement of their having gone missing. Ultimately, a belated rescue effort was launched and a relative handful of brave sailors and their captain were brought to safety. Why Captain Charles Butler McVay III was later court martialed is hard to absorb, but it happened. His eventual suicide is a terrible reminder of the seemingly unending horrors of war. His sailors' valor, however, is a permanent testament to why we won the war. That is the true lesson from this book.
7) James Scott: The War Below: The Story of Three Submarines That Battled Japan (New York: Simon and Schuster, 2013)
            This remarkable book was my first exposure to the gifted Mr. Scott. Painstakingly researched and deftly written, "The War Below" is essential reading for WWII and history buffs but I hope it continues to reach a far broader audience.
            The patrol sequences, frequently ending in the acrid destruction of enemy shipping and warships, are thrilling and highly educational. One learns time and again of duty fulfilled that in fact went well beyond any call to arms. Scott's recounting of pharmacist's mate 1st class Thomas Moore performing an emergency appendectomy on young petty officer 3rd class George Platter while the skipper held the boat deep enough to minimize turbulence is simply over the top. This is a book to devour. And if you can get to the end – right through the passages about our men being tortured by the Japanese while in captivity –without being emotionally overcome then perhaps you should make an appointment with the Wizard of Oz to see if you can be granted a heart.
            America's "Greatest Generation" left a gleaming legacy that remains hard to surpass. These books, among many others, can leave no doubt that we are all in their debt, now and for all time. As Alvin Kernan wrote to me recently at age 90, "Sometimes I used to think that I wasted my youth locked up in iron ships but I know now that it was my big adventure and it has a reality still larger than anything else."
            To which I say, thank you Mr. Kernan for all that you and your generation did for all of us. Your youth could not possibly have been put to better service.

Jack Sparacino earned a Ph.D. in psychology from The University of Chicago and later worked as a post-doctoral research fellow at Ohio State University in the business school.  He is retired from United Technologies Corporation, Sikorsky Aircraft division and lives with his wife Jane and their two Yorkies on Saint Helena Island.  He tries his best to catch a lot of fish, especially when sons Jack and Greg visit, stay off ladders, read only great books and write clearly.  Sometimes he succeeds.