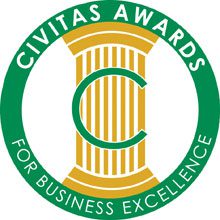 Every year since 2002, the Beaufort Regional Chamber of Commerce has presented the Civitas Awards. The awards recognize achievement in business, leadership, and service to our community. 
Civitas is more than a dignified award title.  It is a word with important meaning. During the Roman Republic, civitas were members of society, united under the law, with shared rights and a shared responsibility for promoting the common good. Civitas essentially means citizens.
The Civitas Awards recognize and honor those who fulfill the duties of citizenship at the highest level.

Duties of Citizenship 
What exactly are the duties of citizenship?  The U.S. Citizenship and Immigration Service lists nine specific responsibilities. Some, like paying taxes and serving on a jury, are required by law and are straightforward. But several are open to interpretation.  
For example, citizens are responsible to "stay informed of the issues affecting their community". Is staying up-to-date on local news enough, or are we compelled to explore the source of a story, ask questions, and learn for ourselves?
How about the citizenship obligation to "participate in the democratic process"?  Is it enough to show up at the polls on election day, or should you regularly attend council meetings and go door-to-door to promote a candidate you believe in?
The winners of the Civitas Awards are the kinds of people who take the duties of citizenship very seriously.

A Year for Citizenship from Everyone
2020 has already been a watershed year for citizenship. The health and economic impacts of COVID-19 have strained every business, every family, and every person. We've all been called on to stay informed, support neighbors, and make sacrifices. In 2020 we've all been challenged to be better citizens.
The Chamber will not hold our traditional Civitas Awards event this June due to social distancing guidelines and limitations on large gatherings. But it has never been more important to keep the 18-year tradition of recognizing citizenship going strong.  That is why we're celebrating our region's citizen leaders in a different way.
The Civitas Award Goes To… YOU!
Observing our community in action this spring, made it impossible to single out individuals, businesses or organizations for their civic leadership. There are just too many. This year, the Beaufort Regional Chamber is honoring all the contributions to our community made by thousands of people throughout the pandemic. 

This year, the Civitas Award goes to you. 
If you made the dining room your new office and kept on working, the Civitas Award goes to you. If you stocked shelves at a grocery store or pharmacy during the shutdown, the Civitas Award goes to you.  If you donned a mask and washed your hands hourly to keep your friends and family safe, the Civitas Award goes to you. If you cared for children so that first responders and health professionals to go to work, the Civitas Award goes to you. If you were up at midnight processing PPP loans for local businesses, the Civitas Award goes to you.
If you pitched in to make our community a better place during the past few challenging months, the Civitas Award goes to you.
Specifically, the Board of Directors of the Beaufort Regional Chamber of Commerce want to recognize the following honorees: 

Employee of the Year Award: Every Working (From Home) Parent and Teacher
You had your hands full balancing the demands of a busy workplace with the demands of raising children. Then COVID-19 hit and you suddenly have a third full time job: at home instructor. We saw how you stayed on top of their work task list while also parenting, teaching, coaching, cleaning, cooking and rarely getting out of the house. The Beaufort Regional Chamber thanks all the parents who stretched their days and their patience to stay productive at home while providing love, guidance and instruction to their children.   
Parents juggling the demands of working from home were not alone. While schools were closed, professional educators were hard at work revising lesson plans, preparing instructional materials, and supporting students and their parents with virtual learning. You learned on the fly how to teach remotely and we thank you.

Military Service Member of the Year Award: 2020 Graduates of MCRD Parris Island and their Drill Instructors
Remember the anxiety you felt during the early weeks of the pandemic? Now imagine that stress while being away from home enduring the toughest physical and mental challenge you have ever experienced. That's how newly minted 2020 Marines spent quarantine. 
New Marines don't make themselves. It takes a special breed of leader to inspire recruits to push themselves fully to reach their potential, and the job doesn't lend itself to social distancing. COVID-19 made the demanding role of Drill Instructors at Parris Island even harder. 
The Beaufort Regional Chamber salutes the 2020 Recruits and Drill Instructors of Alpha, Bravo, Charlie, Delta, Echo, Fox, Golf, Hotel, India, Kilo, Lima, Mike, Oscar, Papa and November companies who never lost sight of their goals or their commitment to national service.

Community Stewardship Award: All Clinicians and Health Care Workers
This spring we learned that heroes also wear scrubs. When fear and uncertainty dominated, our region's nurses, physicians, hospital custodial staff and other health professionals did not blink. They washed their hands, donned protective gear, and got to work preparing facilities, treating patients, and keeping our community safe and healthy. As the COVID-19 pandemic evolves, our health care heroes remain ready to respond.
The Beaufort Regional Chamber applauds the selfless dedication of the clinicians and health care workers at Beaufort Memorial Hospital, Naval Hospital Beaufort and all medical facilities across the region. This pandemic has taught us all how much we rely on you. Thank you. 

Regional Economic Impact Award: All Hospitality Sector Businesses 
You hardly think about your home's foundation until the earth starts to shake. Many in our region had a similar reaction as stay-at-home orders in response to the pandemic ravaged the hospitality sector. Food, lodging, attractions and retail businesses, primarily serving visitors, are a pillar for the Beaufort-Port Royal-Sea Island region. They employ more than 14,000 workers; generating a $1.4 million annual economic impact. 
Hospitality sector businesses and their employees bore the brunt of economic hardship from this health crisis. They felt the impact first and hardest, and they are showing incredible resilience and inspiring ingenuity in adapting to change. 
The Beaufort Regional Chamber is proud to recognize the hospitality sector as a cornerstone of the region's economy. Hospitality businesses need local support now more than ever; our region's economic health depends on their continued success and vibrancy.

Honoring our Partners
The Civitas Awards are impossible without the counsel, knowledge, and support of our sponsors and partners. Beaufort Memorial Hospital and Lockheed Martin made the 2020 Civitas Awards possible with their presenting sponsorships. We also thank Beaufort County Economic Development Corporation, Dominion Energy, Adams Outdoor, and Lowcountry Weekly for their support.
Since 1892, the Beaufort Regional Chamber of Commerce has been the unified voice of the business community. We are a non-profit, non-governmental organization comprised of employers working together to strengthen the region's economy and enhance the quality of life in Beaufort, Port Royal, Yemassee, and the Sea Islands.