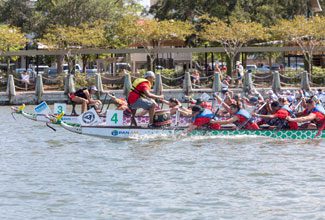 On Dragonboat Race Day, dozens of communities, businesses, civic organizations and clubs form teams to race 42-foot dragonboats in front of the seawall at Henry Chambers Waterfront Park in downtown Beaufort. It's all happening Saturday, June 22, and it's for a great cause – supporting DragonBoat Beaufort's cancer survivor mission: "Through the physical competition of dragonboat racing and the strength of camaraderie, DragonBoat Beaufort aims to provide cancer survivors with a total sense of wellness. Additionally, our OUTREACH program supports individual cancer patients who live, work or are treated in Beaufort County with needs they cannot afford or for which they lack coverage."
HISTORY OF DRAGONBOAT BEAUFORT

The beginnings of DragonBoat Beaufort were inspired by the documentary film "Awaken the Dragon"at the Beaufort International Film Festival in February 2012, which told the story of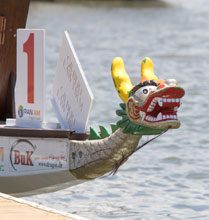 Dragon Boat Charleston's cancer survivor dragonboat racing team. Several people quickly agreed to start a dragonboat team right here in Beaufort. With no resources and no equipment, the first practice was done sitting on chairs and paddling with brooms in Waterfront Park.  All were sharing the same enthusiasm and desire to change ones' focus of recovery and individual fight to a focus of common energy and love, community spirit, camaraderie and winning as a team. Just a few months later and with only a few practices under its belt, DragonBoat Beaufort competed at the Charleston Dragonboat Festival. Thanks to generous sponsorship, Dragonboat Beaufort celebrated the christening of its first dragonboat "Braveheart" in June 2012 and its second dragonboat "Dragonfly" in June 2015. In 2019 the team acquired a 10-seat dragonboat. DragonBoat Beaufort consists of very active and dedicated folks from all different backgrounds and ages. They all share the same passion for the sport, the desire of fighting as a team, the compassion for one another and the long lasting camaraderie.  The mixed competitive team includes many cancer survivors, as well as supporters, who practice three times per week. You do not have to be a cancer survivor to join DragonBoat Beaufort. Interested in joining? Contact DragonBoat Beaufort at info@dragonboatbeaufort.org or visit our website www.dragonboatbeaufort.org.
HISTORY OF DRAGON BOATS
Dragon Boat Racing has ancient Chinese origins and its history has been traced back more than 2000 years. Dragon boat racing was held to avert misfortune and encourage the rains needed for prosperity, and the object of worship was the dragon. In Asia the dragon has traditionally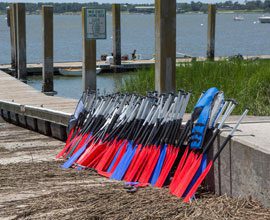 been a symbol of water and dragons were the controllers of rain, monsoons, winds, and clouds. Asian dragons were regarded as wholesome and benevolent, and thus worthy of veneration, not slaying. Legion, which dates back to 7th century AD, says that Qu Yuan was a poet and high-ranking official of the Warring States Period who was exiled from his state by a corrupt king. When he heard that his court had been destroyed by enemies, he drowned himself out of sorrow. It is said that villagers went out in the river with boats and drums to try to rescue his body and threw sticky rice dumplings (zongzi) into the water to prevent fish from eating his corpse, but they were unable to find him. This event is now celebrated by the Tuen Ng Festival, which is the fifth day of the fifth lunar month. 
Modern dragon boat racing started in Hong Kong in 1976. In 1991, the International Dragon Boat Federation (IDBF) was established along with a set of institutional rules and regulations governing the sport. Now, dragon boat racing is practiced in over sixty countries around the world, including China, who boasts 50 million dragon boaters. Today dragon boat racing has become the world's fastest growing water sport.
CANCER CONNECTION TO DRAGON BOATING
For many years women who underwent breast cancer treatment (surgical and/or radiological) were cautioned to avoid vigorous, repetitive movements of their upper extremities. It was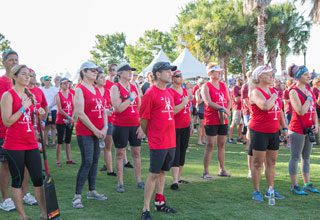 believed that this would increase their chances of developing post–breast cancer lymphedema, a chronic and debilitating condition characterized by swelling of the arm, neck, or breast. In the mid 1990s, a Canadian sports medicine physician questioning the exercise restrictions placed on breast cancer patients. In 1996 he recruited 24 women with a history of breast cancer to train as a dragon boat racing team. The physician chose to use dragon boat racing because it provides strenuous exercise for the upper-body extremities and trunk, it's associated with a lower risk of injury than weight-bearing exercises, and the workout intensity can be modified. He learned that no new cases of lymphedema occurred and several paddlers had improved upper-extremity range of motion. Since this time dragon boat racing has become associated with breast cancer patients, however, the sport has huge appeal to all people. DragonBoat Beaufort welcomes cancer survivors and supporters who are interested in dragon boating to get involved by contacting info@dragonboatbeaufort.org.
RACE DAY 2019 AGENDA (all times are tentative!)
Saturday, June 22 – Waterfront Park, Beaufort, South Carolina
7:30 AM  Captain's Meeting (all team captains will meet to go over the day's details, rules and how medals are awarded)
8:00 AM Opening Ceremony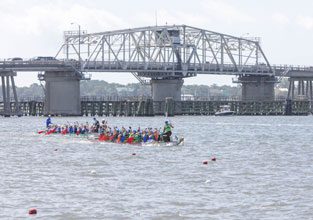 National Anthem by Velma Polk and Elaine Lake
Drummer's Parade
Carnation Ceremony
Dotting the Dragon's Eye
8:45 AM  First Marshalling Call
9:00 AM              Heat 1
10:30 AM             Heat 2
11:30 AM              Charleston Taiko Drummers
11:45 AM              Hospitality Awards
12:00 PM              Yoga
12:00 PM              Line Dancing
12:30 PM              Marshalling for Heat 3
1:00 PM                 Heat 3
3:00 PM                 Awards Ceremony

THE CARNATION CEREMONY
Everyone has been touched by cancer – either directly or through a friend or loved one. The Carnation Ceremony is designed for reflection, prayer, and celebration.  We remember the lives of our loved ones who have lost their battle, reflect on those who are currently in treatment and celebrate those who have survived. During the program all participants will hold a carnation high over their heads. As we wave the carnations to the rhythm of the music, our thoughts and prayers will be felt by our loved ones.  We will have tears: tears of loss, tears of joy, but mostly tears for a hopeful future free of cancer.  After the ceremony each participant will have the option to keep their carnation, throw it into the Beaufort River or return it to a member of Dragonboat Beaufort.  All returned carnations will be donated to a local retirement home. 
The Carnation Ceremony honors our loved ones who have faced the battle with cancer.  It allows us time to reflect on and celebrate the lives of our loved ones.  This ceremony means something different to each participant.  Everyone takes something different away from this touching and moving ceremony.  Join us and have your life touched by this poignant and meaningful display of love.
AWARDS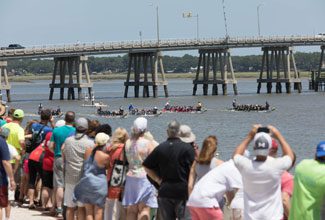 Best Tee Shirt Design
Best Tent Decoration
Best Team Spirit
Best Dressed Drummer
Most Money Raised by a Drummer on Race Day
Fastest Race Time
Fastest Community Team
Top Fund Raising Team
Top Individual Fund Raiser
Heartbeat of the County Cup – awarded to the fastest medical-based team
Hallelujah Cup – awarded to the fastest faith-based team
Hermes Cup – awarded to the fastest team sponsored by a fitness business
Gold, Silver and Bronze medals will be awarded to the top three teams in Division A, B, C and D as well as the Cancer Survivor Division and Senior Division (50 and older).
TAIKO CHARLESTON 
Taiko Charleston will be returning to perform during Dragonboat Race Day 2019 at 11:30 am.  We heard you and we are bringing them back. Don't miss this unique opportunity to experience Taiko drumming at its finest.
What is Taiko?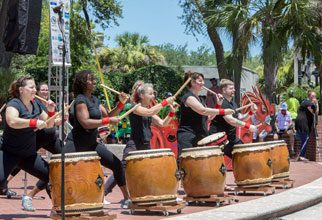 The rhythms of the heavy wooden Taiko drum have figured prominently in traditional roles from ancient times in Japan. On one end of the spectrum, during times of war, the Taiko's resonating pulse echoed through vast distances as both a call to battle and a tool of intimidation against the enemy. On the other end, Taiko was a component within the regional Japanese cycles of festival life rooted in the agricultural seasons. Within these festivals known as Matsuri, its role ranged from a pulse to sustain the tempo of celebration to an astounding range of elaborate and intricate forms of drumming and dance traditions. Taiko also was a significant element within the theatrical traditions of Kabuki and Noh.
During the last forty years, Taiko has gone far beyond its traditional role and emerged as one of the most energizing and innovative of Japanese art forms. Due to the vision and work of figures such as Oguchi Daihachi Sensei, referred to as the grandfather of modern day Taiko, and widely renowned groups such as Kodo and others, Taiko has come into its own as an evolving, creative art form exemplifying passionate musical expression, precision, power and grace. Although contemporary Taiko known as "Sosaku Daiko" or "Kumi Daiko" is rooted in and incorporates traditional elements of martial arts and dance, the expression and range of creativity is original and influenced by life today. Within the last two decades, hundreds of drumming groups within Japan and around the globe have formed as people are drawn by the intensity of the discipline and the unique camaraderie within a drumming group.
Taiko Charleston seeks to foster a diverse community of performers dedicated to physical, musical and creative excellence through the discipline of Taiko. We strive to honor the Japanese culture in which it is grounded and to connect and inspire across cultural lines through the power of this unique and vibrant art form.
The Taiko Drummers are sponsored by UBS The Bankhead Group.
DRAGONBOAT BEAUFORT OUTREACH 
Many cancer patients will agree one of the worst days of their lives was the day they were diagnosed. Emotions run heavy, as big decisions need to be made. The financial toll that a cancer diagnosis often brings can also be overwhelming. Some struggle to find transportation to
treatments while others don't know how they will pay this month's bills and their new co-pay. This is what our friends and neighbors face right here in Beaufort County.
The DragonBoat Beaufort Race Day Festival raises funds to help cancer patients that live, work, or receive treatment in Beaufort County. This is our one and only fundraiser and the money we raise stays right here in Beaufort County, which means that our loved ones, friends and neighbors can receive your assistance. 
Our all-volunteer force tries to be your good neighbor in a stressful time by assisting with the needs that insurance does not cover. In the past eighteen months DBB's Outreach Team has assisted 81 of our neighbors, some multiple times. Whether the need is as simple as gas to get to an appointment or help paying a mortgage, DragonBoat Beaufort can assist with the unforeseen expenses. We've assisted with groceries, utility bills, prescription costs, and even rides to get to treatment for those who can't drive themselves. 
Cancer does not discriminate by age, race, or gender. We assist patients that would never dream they would not be able to meet their basic needs but the expenses of treatment can quickly overwhelmed them. Cancer treatments can reduce your income, increase your expenses; or for many, both. Our Outreach Program works with the social workers at local hospitals to insure that we are the right organization to assist the patient. There are many charitable organizations in our area and we belong to the Community Service Organization to stay abreast of local resources.
30% received assistance with utilities
34% received assistance with housing (i.e. rent or mortgage)
20% received assistance with transportation (i.e. gas cards, car payments, repair work)
14% received assistance with medical costs (i.e. prescriptions, medical devices)
2% received assistance with food/groceries
DRAGONBOAT RACE DAY 2019 TEAMS
DragonBoat Beaufort has 30 teams competing at Dragonboat Race Day 2019! 
South Carolina: 24 teams

Beaufort County: 20 teams

Georgia: 2 teams
North Carolina: 3 teams
Florida: 1 team
There are 4 teams competing in the Cancer Survivor Division and 3 teams competing in the Senior Division (50 and older)
TEAM

LOCATION

BIOGRAPHY

Anna's Breast Friends

Bluffton/Hilton Head, SC

We are a team of friends, family and coworkers that have all been affected by CANCER in some shape or form. Anna is my sister, my little girl's Aunt and one of my very best friends. Everyone who knows her, loves her. She was diagnosed with Breast Cancer at age 35. We have all joined forces to give back to a great cause. This is our first year and we are very excited. I will warn you that we are all very competitive and will paddle with passion!

Beaufort Believers

Lady's Island, SC

We are Believers! This will be our third year helping support Dragonboat Beaufort. Dragonboat Beaufort has become a passion to all of us. To know that we can make a difference for so many cancer patients and survivors with your donations is extremely rewarding… To touch these peoples lives in ways you cannot imagine, or can you?? Lets keep the ball rolling and help us, help them.

Blazing Paddles

Bluffton, SC

 

BMH Spittin' Fireballs

Beaufort, SC

Beaufort Memorial Hospital

Charleston Paddle Club Firebreathers

Charleston, SC

We are a local non-profit group (501(c)3) located in Charleston, that is passionate about paddle sports, physical fitness, fellowship and protecting our waterways. Our regular events include weekly dragon boat team practices, outrigger canoeing, and various social and volunteer events throughout the year. Members of our amateur sports team, the Charleston Firebreathers, compete nationally in dragon boating events and internationally by representing Team USA.We welcome members of ALL AGES and SKILL LEVELS, and we especially love introducing this rapidly growing sport to the people of the Lowcountry! Whether you have been paddling for years or have never stepped foot in a boat, come out and join us! We promise you'll have fun!

Core 64

Beaufort, SC

Beaufort Water Festival Committee

Dragon Boat Atlanta

Atlanta, GA

Dragon Boat Atlanta is a group of breast cancer survivors and supporters whose goal is to increase awareness of breast cancer while promoting an active lifestyle during and after treatment.  This floating support group is dedicated to providing the Atlanta metro area with the tools to achieve the highest quality of life for survivors through rehabilitation and recreational exercise.

Dragon Slayers

Beaufort, SC

The Dragon Slayers, Habersham's community based DragonBoat Beaufort team comprised of 13 men and 12 women are all passionately dedicated to help provide financial and logistical support to Beaufort County residents during their battle against this insidious disease called cancer. Perhaps we're not the strongest team and we're definitely not the youngest team, but we are the best looking team. We are focused, we are one, and we are dangerous. 

Earthfit Warriors

Lady's Island, SC

We are a group of women who met through EarthFIT Body – Mind Transformation Center. We are mothers, sisters, daughters, wives. We are runners, weightlifters, Spartans, tough mudders, SURVIVORS.

Healing Dragons of Charlotte

Charlotte, NC

Healing Dragons of Charlotte, a non-profit, competitive dragon boat team launched in 2009, with a focus on cancer survivorship. We are mothers, daughters, fathers, sons, family, and friends with a common vision: To inspire, encourage and support survivors of ALL cancers to triumph over the disease. Our Mission is to use dragon boating to help survivors paddle for wellness, mental and physical health.

Holy City Silver Dragons

Charleston, SC

The Holy City Silver Dragons hail from beautiful Charleston, South Carolina and are members of Dragon Boat Charleston.  In their 5th year racing in Beaufort, this Senior Women's team is ready to show us once again how tough they are in the boat.  Don't be fooled by the term senior as these women are young at heart and raring to go.  They may be the Silver Dragons but they have their hearts set on a gold medal today.

JCB Paddling Diggers

Hardeeville, SC

The Paddling Diggers are all co-workers or spouses of co-workers from JCB. Coming together to have fun away from work. The team members work in different areas of the business from the General Manager, materials, purchasing, finance, accounting, production and engineering. Watch out for our awesome teamwork.

JDBC Mammoglams

Jacksonville, FL

We are the only all breast cancer team in Jacksonville, the Mammoglams, although we will have some supporters racing with us in Beaufort. This team likes competition, though feels they are winners before entering the boat. The Mammoglams live by the motto "We've won the battle…now let's paddle!" Our team has a mission: to introduce dragon boating to the Jacksonville community and get people engaged in a healthy lifestyle. We believe that true winners are people who support their community, engage others in becoming more physically fit in a positive environment, and reach out to people in a time of need. 

Lake James Healing Dragons

Lake James, NC

Our Mission is to inspire, encourage, and support survivors of all cancers  to triumph over the disease.  HEALING DRAGONS… paddle for health, wellness, mental and physical support, and to prevail over cancer.  The collective and corroborative efforts of the Team, Volunteers, Supporters, Sponsors, and Survivors strive to improve the quality of life, not only for the survivors, but for the families, through knowledge, education and friendship.

LCKC Dragon Boat

Gainsville, GA

Lanier Canoe and Kayak Club is a 501(c)(3) non-profit legacy program of the 1996 Olympic Games and is a premier location for flat water sprint canoe, kayak and dragon boat paddling. From our middle school racing league to moonlight paddles; there is something for everyone at LCKC.
The Gainesville, GA based LCKC Dragon Boat is making its first out-of-state appearance at Beaufort!
LCKC is the National Training location for Dragon Boat USA and hosts several corporate team buildings and dragon boat team camps for all levels per year. Paddlers for today's event range from local members of the 2018 ICF World Champions, those training to make Team USA as well as a couple of BCS paddlers and a few newbies. Lanier Canoe and Kayak Club; changing lives through paddling.

MOB Squad

Beaufort, SC

 

Nature Boy

Beaufort, SC

The Beaufort Leadership Class of 2018 including Alumni Members as well as friends and family have joined together to honor our friend and loved one Lt. Col Matthew Stover. On the morning of February 13th, 2019 Matt (aka Nature Boy) bravely succumbed to his battle with Cancer. Matt was an amazing Husband, Father, Son, Brother & Friend and consistently gave unselfishly to others. He defended his country with honor and integrity and was proud to call himself a US Marine. With heavy hearts we will be paddling without Matt this year but we will feel his breath in every breeze.

Orange Zone

Hilton Head, SC

Orangetheory's Orange Zone!Orangetheory Fitness combines three aspects into one workout: science, coaching, and technology. We're excited to bring the same passion we have for our workouts to our first ever Dragonboat Beaufort Race Day and their local Cancer outreach mission. Please support our team and this worthy cause!

Organized Chaos Ladies

Charlotte, NC

Organized Chaos is a nonprofit organization whose purpose is to increase public awareness of the amateur sport of dragon boating, to promote dragon boating for health and recreational benefits, to educate paddlers through practice and race curricula and to participate in paddling competitions throughout the United States and world.

Padawan Dons

Lady's Island, SC

 

Parish Paddlers

Beaufort, SC

This is the 3rd year that the Parish Paddlers have participated in DragonBoat Race Day. We are members and friends of The Parish Church of St. Helena. Our goal is to glorify God in Jesus Christ. One way we do that is by loving our community through our LOVE Beaufort ministry. We are proud to be supporters of DragonBoat Beaufort as they assist local cancer patients in a meaningful way by providing financial grants.

Rack Attack

Hilton Head, SC

Rack Attack was started at The Breast Health Center at Hilton Head Hospital with MUSC Hollings Cancer Center's Dr. Rochelle Ringer. We are dedicated to treating breast cancer patients in Beaufort County and have the only fellowship-trained breast surgeon in the area. We have personally seen the benefits of money raised by Dragon Boat Beaufort go to help cancer patients with their treatments.

Reel Nauti

Beaufort, SC

Reel Nauti began in 2018 in support of its founding member, organizer and paddler, Michelle Fraser. Michelle is a long-time Beaufort County resident and breast cancer survivor. She will tell you that fighting cancer is a team effort and cannot be overcome alone. Now healthy and in recovery, Michelle and the Reel Nauti team are determined to support others diagnosed with cancer. Paddles up!

Single Marine Program

Beaufort, SC

The Single Marine Program exists to improve the Quality of Life for single Marines and Sailors, single parents and geographical bachelors. SMP is also the forum to discuss new ideas, recommend changes and identify quality of life issues. The Single Marine Program Team is sponsored by The Rawls family.

Some Like It Hot!

Bluffton/Hilton Head, SC

Some Like it Hot is Racing for the 4th year in a row! Through the generosity of Linda Herczegh, owner of Good Health Unlimited/Hilton Head, and Jim Sauter, owner of Bluffton Pharmacy, our team is fully sponsored! Our original team was comprised mostly of Bikram Yoga devotees. This year we still have a lot of yogis but our team includes people from all walks of life who truly want to make a difference in our community! Most of us have been or will be touched by cancer. We are proud to be paddling like our lives depend on it in honor of loved ones while helping those in our own community!

St. Peter's Dragons

Lady's Island, SC

 

Swamp Dragons

Bluffton, SC

Swamp Dragons is returning again for our 6th racing event! We are a group of cancer survivors and caregivers competing in the senior division! We will be competing in the Senior Division again this year. We will be fundraising for those who are battling cancer or loved ones lost to cancer. Dragonboat Paddling is great for friendships and getting out on the healing rivers to gain back strength spirit again! Please join us either by paddling or by donation again this year! A huge thank you to our sponsor DiamondFilter.com again this year! Go Swamp Dragons!!!

The Awakened Dragons

Charleston, SC

 

Weichert Warriors

Beaufort, SC