Second annual New Year's Day event raises money for Friends of Hunting Island's education outreach programs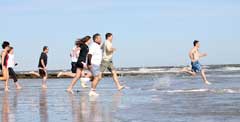 Friends of Hunting Island State Park (FOHI) and the Hunting Island State Park recently announced that they are jointly presenting the Low Country version of the ever-popular Polar Bear Plunges with the 2nd Annual Pelican Plunge at Hunting Island State Park Lighthouse (North) Beach on January 1st, 2010.
The scene earlier this year for the inaugural plunge was wet and wild: "Ready? Set. Goooooo!" shouted Hunting Island State Park Manager Jeff Atkins. And with that, upwards of 175 Pelican Plungers raced for the surf on the first day of 2009. In the days leading up to the event, temperatures had been almost balmy, but on Plunge day, the wind was whipping, the waves were pounding, and the water was an exciting 53 degrees. Estimates ran as high as 500 people total that came to the park either to plunge or cheer the intrepid souls on.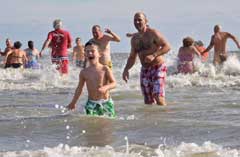 Not only did the inaugural event draw so many plungers and spectators to the park for "celebration," but just as important, the event raised over $3,000 for a very deserving charitable organization. Event organizers hope to match or even exceed that impressive total this year.
This second Pelican Plunge will see bathers of all ages jumping into the surf to greet the New Year. Donations will be raised on behalf of the "Discover Carolina" school program, which will be administered by the Friends and the Park. This program provides funding for educational learning opportunities at South Carolina state parks. Individuals and teams are encouraged to sign up sponsors to pay them to plunge. The first 50 registration forms submitted, pledging $50 total or more, receive a free commemorative long sleeve t-shirt, sporting the Peli logo. Last year's t-shirts sold out in a matter of minutes, so these folks will be guaranteed their shirt. In addition to free shirts, this year's top fundraiser will receive a fantastic South Carolina State Park-themed prize package
Hunting Island State Park is one of South Carolina's most popular parks with upwards of 1.2 million visitors a year. "This is all about fun," said Park Manager Jeff Atkins, "and we hope to introduce even more people to our beautiful park and all it has to offer while participating in such a worthy cause. Not only was last year's event great, it was a blast for everyone who came out. We are really looking forward to doing this a second time and for many years to come."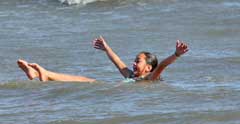 "The Friends are involved in so many activities and improvements at the park, so that when Jeff and his staff came to us with this idea in 2008, we signed up immediately," said Friends president, Bonnie Wright. "Hunting Island is a treasure right in our backyard and here is another exciting reason to enjoy it all year round."
Bathers and their cheering sections will gather for registration at the picnic area near the lighthouse beginning at 12:00 noon. There will be warm-up activities to including kazoo playing, Simon Says, and some stretching. Then a steel drum band will begin playing their sun and surf rhythms to get all the Plungers in the mood.
Schools, government offices, fire and police, Rotary Clubs and other organizations are invited to get friends and family to donate so as to entice as many as possible to take the plunge. When the clock strikes 1 pm it will be time for the first swim of 2010, however brief that may be!
Early registration is preferred but not required. For more information about the Pelican Plunge and registration/donation forms visit: www.friendsofhuntingisland.org For questions or to speak to the event Chairperson, phone Tom Valentino at 379-4895
About Friends of Hunting Island
The Friends of Hunting Island (FOHI) organization began in 1993, dedicated to helping the park enhance the unique natural wonders and educational opportunities that exist on the island. Friends has a current membership of nearly 750 families and we continue to grow, matching the park's increasing need for help initiating and maintaining various projects and functions which otherwise might be scaled back due to fiscal restraints in the state of South Carolina. We are a 501(c)(3) tax exempt, non-profit organization. Our members give many thousands of hours of volunteer time every year to educate, build, clean, beautify, and support this treasure and most-visited of the SC parks. Our non-profit Board of Directors meets every other month, and the annual membership meeting is held in December. To learn more: www.friendsofhuntingisland.org