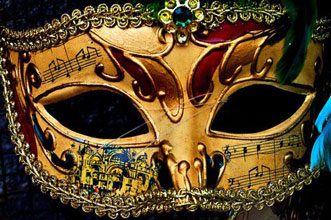 The Collaborative Organization of Services for Youth (COSY) Trust is hosting its very first, large fundraising event this fall. The COSY Trust Magical Masquerade Evening will be held on Friday, October 21, 2016 at 6:30 pm, at the St. Peter's Catholic Walsh-Palmetto Room on Lady's Island.
According to Judy Almand, Director of the COSY Trust, the group is hoping the event will draw over 225 supporters. A variety of local restaurants will be set up as food stations, including Saltus, Bojangles, Bricks, Pluff Mudd Coffee and The Cookie King Robert Merten, who also serves as the President of the COSY Trust. Beer and wine will also be served.
The magical evening includes a live band, magic acts, door prizes and local young Django Jazz musician Chris Jenkins. There will be contests for the best COSY-themed mask, with prizes for Best Male Mask, Best Female Mask and Best Couple's Masks. An assortment of hand-made, one-of-a-kind masks will also be available for purchase. A Silent Auction will also be held, featuring a variety of items on which to bid, including autographed sports memorabilia and books from Lowcountry authors, artwork and photographs from local artists, jewelry, golf for 4 at Dataw, a Cookie King gift basket, a cruise for 4 out of Hilton Head and much more!
Tickets are $60 per person or $100 per couple. Checks should be made out to CCF COSY Trust and mailed to P.O. Drawer 1228, Beaufort, SC. 29901-1228. Tickets will be mailed out when checks are received.
The COSY Trust is the fundraising arm of the Collaborative Organization of Services for Youth, a unique social service non-profit, which is currently serving 130 at-risk youth in Beaufort County, South Carolina. The Director of COSY Fred Leyda said the organization was formed 20 years ago to bring together key agencies in the county, to work with youth in crisis in a collaborative way. Twelve agencies, representing a wide variety of disciplines, working as a team with each identified child and his/her family, are currently part of COSY which is funded by Beaufort County and other government funding.
Because COSY is funded by the county and other government sources, COSY money can only be spent on certain therapeutic services. The COSY Trust was formed to raise donor awareness and funding to help youth in crisis in other ways that COSY cannot. For example, money from the COSY Trust can pay for dance or music lessons, karate classes, summer camp, programs at the Y, etc. – all services and programs that can help raise a child's self-esteem and add to his/her quality of life. COSY has seen this extra care make a huge difference in the child's progress.
The COSY Trust board is currently comprised of Mr. Merten, Celeste Hunt (Vice President), Sally Bishop (Trustee), Marcel Collins (Trustee), Shawn Hill (Trustee), Leah Kidwell (Trustee) and Jan O'Rourke (Trustee).
Since the COSY Trust was formed as a fund at the Coastal Community Foundation which is a 501(c)(3), all donations to the COSY Trust are tax deductible.