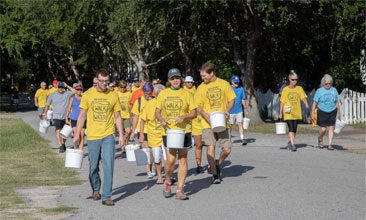 With more than 330 walkers joining the second annual Beaufort Walk for Water on Saturday, September 22nd at Live Oaks Park in Port Royal, over $30,000 was raised to provide sustainable safe water around the world. All donations benefit Water Mission, a nonprofit Christian engineering organization that builds safe water solutions in developing countries and disaster areas.
"What struck me the most was a true community feel of this year's event," said Jeneane Ryan, chair of the Beaufort Walk for Water committee. "More than twice the number of sponsors of last year came onboard, and adding to that in-kind sponsors who gave us of their time, services or products; everyone really came together for this common purpose and the community got right behind us!"
The 3-mile walk through Port Royal simulated the much more treacherous walk that millions of women and children in developing countries walk daily to retrieve water for their family's needs. In most cases, even after walking for miles and miles, the water they collect is contaminated. Every 20 seconds one child dies from being poisoned with bacteria-filled water, while ironically, by current estimations, a mere $35 can provide one person with safe water for life.
"The fact that almost 2300 children die every day from basic water-borne diseases is just
something that you can't ignore," continued Ryan. "I was in Haiti just after the earthquake in 2010, and witnessed this first-hand, and it broke my heart. I just knew I had to get involved, knowing that it is possible to make a difference, even with small means."
With six different church denominations and numerous local businesses supporting Beaufort Walk for Water, now only in its second year, Jeneane and the committee see how the common cause unites Beaufort in ways she could only dream of. The committee will soon start planning and praying for Beaufort Walk for Water 2019, knowing the global water crisis work is far from done, and they welcome anyone interested in being involved to get in touch with them.
For more information follow @BeaufortWalkForWater on Facebook and Instagram, or call 843-769- 7395. Sponsorship enquiries (only) may be directed to Robert Lasher at 843-906-8118. Donations can be made online at events.watermissions.org/Beaufort18.