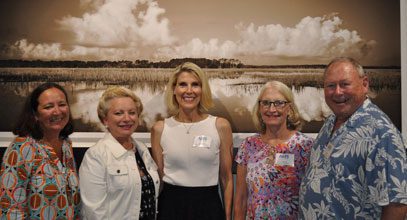 CRESCENDO–The Second Annual Arts, Culture and History Celebration, sponsored by the Arts & Cultural Council of Hilton Head (ACCHH), will be held September 27- November 15, 2018. The Opening Night event will take place on Thursday September 27, 2018 at the Coastal Discovery Museum with free guided public art tours, ticket give-aways, exhibitions, performances and refreshments.
This regional event, organized in honor of October's National Arts and Humanities month, highlights and showcases the vast array of arts, culture and history organizations, individual artists, performers, and authors residing and working in the Hilton Head/ Bluffton area. Join the celebration and honor the importance of arts and culture in America and our local community.
According to ACCHH President, Patti Maurer, "Arts and cultural patrons of all ages are invited to help celebrate this important month-long event in our community by attending or participating in any of the myriad of outstanding and engaging cultural programs offered, many free or reasonably priced, and highlighted on the ACCHH website's calendar." To see a listing of all arts and culture events happening for Crescendo and beyond, please go to www.hiltonheadartsdaily.org
The 2018 CRESCENDO Celebration features more than 70 unique arts and cultural programs, concerts, theatrical productions, museum and gallery exhibits, lectures, poetry readings, dance performances, historical tours, hands-on arts experiences, and educational offerings which are estimated to attract more than 10,000 people from all over the United States, Canada and parts of Europe.
National Arts and Humanities Month, first launched 30 years ago by Americans for the Arts, includes these goals: Focus on the arts at local, state and national levels, Encouraging individuals and organizations to participate in the arts, Allowing Governments and businesses to show their support of the arts and Raising public awareness about the role the arts and humanities play in our communities and lives.
"Building on the success of our inaugural Crescendo event last year, we've added even more engaging, informative, and educational events to the calendar. Our ACCHH membership has grown – and so has the number of cultural activities available during this special event," said Natalie Hefter, ACCHH Crescendo Chair. We hope that everyone in the community, residents as well as visitors, will come out and support the incredible arts, culture and history organizations, working artists and high-quality arts programs we have in Hilton Head and Bluffton. Just go to our website www.hiltonheadartsdaily.org and explore our calendar to find out what you can see, learn, or experience during CRESCENDO. Our community is full of talented individuals sharing their expertise and passion with visitors and residents alike."
The Arts & Cultural Council of Hilton Head coordinates, promotes, communicates, and showcases arts and cultural organizations and businesses in the Hilton Head area for the purpose of creating an arts destination, enriching the quality of life, and speaking with one voice on cultural issues. Membership is open to non-profits and for-profit entities in Southern Beaufort County that support the mission of the ACCHH. Currently, more than 40 arts, cultural and history organizations as well as individual artists in the Hilton Head/Bluffton area make up the diverse membership.
CRESCENDO Celebration is sponsored in part by The Hilton Head Monthly, The Island Packet, Hilton Head/ Bluffton Chamber of Commerce and Visitors & Convention Bureau.
For event information, please go to www.hiltonheadartsdaily.org or contact Crescendo Chair, Natalie Hefter by email at nhefter@coastaldiscovery.org. or 843-689-6767 x 225. For ACCHH membership information, please contact Vice-Chair, Linda Bloom at bacartcon@aol.com, or 916-704-2266.
Above: Arts & Cultural Council of Hilton Head Executive Board 2018 – (from left to right) Natalie Hefter, Crescendo Chair/past ACCHH Chair, Linda Bloom ACCHH Vice-Chair Membership, Patti Maurer ACCHH Chair, Elaine Lee ACCHH Secretary, Paul Gibson ACCHH Treasurer