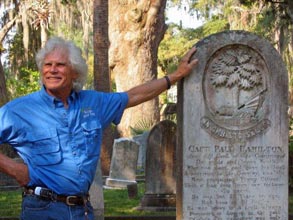 Jon Sharp, whose walking history tour through the city of Beaufort has earned top accolades from TripAdvisor.com and other tourism outlets, will retire on May 17.
Sharp, a tall man with a mop of white hair, is a familiar figure in Beaufort's downtown area and Old Point neighborhood. He is often seen walking backwards while talking to an engaged group of visitors during the spring and fall tourist seasons.
Sharp is a former Los Angeles actor and television director who arrived in Beaufort following a mishap at sea during an around the world solo sailing trip in 1992. He fell in love with the area and decided to change his plans and make Beaufort his home. When first here, he worked as a
scuba diver, roofer's assistant and acting teacher. He also opened a little theatre, The Port Royal Playhouse, and directed and acted in local productions here for several years.
"In 2005, I found yet another creative outlet as a tour guide. This enabled me to indulge in a life- long passion for history and give back to my adopted little home town, which has been so very kind and generous to me right from the day I landed here, in the parking lot of Beaufort Memorial Hospital, in a Coast Guard Rescue Helicopter, February 18, 1992, Sharp said."
Those who wish to sign up for one of Sharp's final walking history tours should call (843) 575-5775 for reservations.