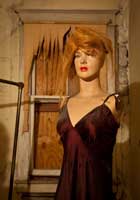 Beaufort Three-Century Project (B3C) and its partners will host two events during a special Sunday afternoon in downtown Beaufort.  The Exhibition Opening of EXPO 2011—The Future Form of Historic Beaufort will be from 12:00 noon to 4:00 p.m. on Sunday, October 10, 2010 at the Verdier House, 801 Bay Street.  The Opening Reception for Lipsitz Department Store:   Treasures in the Attic, Photography by Susan DeLoach and Paul Nurnberg will be from 3:00 p.m. – 5:00 p.m. at Lipsitz Shoes, 828 Bay Street.  Both are free and open to the public.  Downtown parking is also free on Sundays.
EXPO 2011—The Future Form of Beaufort is a collaborative design competition sponsored by Beaufort County, the City of Beaufort, Historic Beaufort Foundation and the Beaufort Three-Century Project.  A call for entries went out mid-summer for architecture and design professionals to register to participate and fifteen exhibits will be shown.  EXPO creator and coordinator, Teri Norris of the Beaufort County Planning staff, said, "As Beaufort enters its fourth century, we seek to retain and enhance its historic essence while addressing new requirements for sustainability.  Add to this a third new concept.  Countywide, governments are working to institute a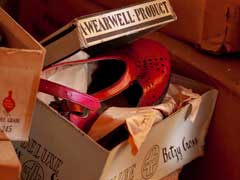 new development ordinance.  Known as Form-Based Code, it is designed to effectively preserve and enhance the desired built forms as it encourages mixed-use, pedestrian-friendly communities. "
This competition challenges designers, architects, and planners to explore Beaufort's historic form and interpret what a future form might look like on the one of three designated sites in the historic district.  Three $1,000 awards will be presented—two determined by a jury for Best Single Structure in Show and Best Community Plan in Show.  The third award is "People's Choice" and ballots will be available at the exhibition for voting.
After the opening on Sunday, EXPO 2011 will be on display 10:00 a.m. – 4:00 p.m. Monday-Saturday through October 31st.   It is free and open to the public.  The final awards ceremony will take place on Sunday, October 31st at 3:00 p.m.
Later in the afternoon at the other end of the 800 block of Bay Street will be the opening reception for a photography exhibition sponsored by the Beaufort Three-Century Project— Lipsitz Department Store:  Treasures in the Attic, Photography by Susan DeLoach and Paul Nurnberg.    Award winning photographers DeLoach and Nurnberg spent  two days in the attic of Lipsitz's store before items were auctioned off after the store closed, capturing a rare look at the amazing array of merchandise and memorabilia found there.  The images evoke memories and nostalgia in the viewers, even those who may never have had the opportunity to shop there.  An icon in Beaufort's downtown landscape for more than 100 years, Lipsitz Department Store was regularly sought out by locals and celebrities alike.  The attic was indeed a place of mystery and treasure.  Many stories have been told of seeking an unusual type of clothing or article from the past and Mr. or Mrs. Lipsitz descending the stairs with the exact item in hand.
"Early in 2009 my friend Susan DeLoach asked me if I would like to go with her to photograph the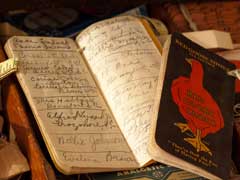 upstairs at Lipsitz Store, a place where she had shopped since she was a little girl. I jumped at the chance because I had heard it was pretty interesting up there and that not many people had been upstairs in recent years.
These images in the show are a selection from the result of hours of photographing during two days, using the small bare light bulbs and a couple of small flashlights to illuminate our subjects," said Paul Nurnberg.
"As a Beaufortonian, I remember a time when all our shopping was done on Bay Street, most of which happened at Lipsitz Department Store.  Although I don't remember my first meeting with Mrs. Lucille and Mr. Joe or my first shopping trip there, I know, I have ALWAYS known Lipsitz.  In photographing Treasures in the Attic it is my pleasure to share some fond memories from the dusty corners of my mind.  It is my hope that an era past will live on through my art," said Susan DeLoach.
"When B3C adopted this project, we thought it would be appropriate to have the photographs shown downtown and with the Lipsitz family's support, decided to open the exhibition in the Lipsitz shoe store across the street from the shuttered department store," said B3C project coordinator Deborah Johnson.    "The photographs are stunning and it promises to be an interesting afternoon as people travel between the two exhibitions."
The photography exhibition and reception are free and open to the public.  The show will move to Shoofly Kitchen at 1209 Boundary Street on Monday, October 11th.
For additional information contact Deborah Johnson, 843-522-1147, djohnson@islc.net.