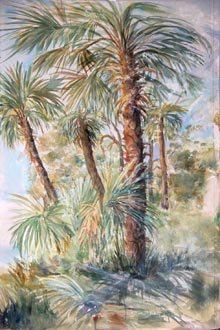 Rose Harrison with be the featured artist at the Beaufort Art Association Gallery from February 17 – March 29.
"I came to the Lowcountry on a sailboat in 2000, but soon had to leave, to go back to my job in the Midwest, where I had lived most of my life," says Harrison. "Soon I realized that I had left my heart here, where the beautiful Beaufort River meets the sea. I moved here as soon as I could, and that began a very exciting part of my life as an artist."
"I love watercolor," she says. "Especially the glow of the transparency of the medium."
Harrison is a third generation artist. "My father, who attended the Chicago Art Institute, and my grandmother enjoyed painting. A painting done by my dad, when I was a child, is a treasured possession. When I was young I liked to watch my dad paint, but only realized my passion for watercolors as an adult. I began to study art over 30 years ago, and have had many inspiring teachers, as well as encouragement from my fabulous husband, my children and grandchildren, and friends."
Harrison worked as a Clinical Psychologist, specializing in the treatment of survivors of trauma. "I began using art to help them process feelings, to make communication easier, and to promote healing. Soon I began doing 'art for art's sake.' The joy of painting was on the back burner for a long time. My family, home, and my work occupied most of my time. At last, I have time to paint almost every day. I'm in love with the Low Country, and everywhere I look I see things I want to interpret in art!"
Harrison has been a BAA member for over 10 years. All are welcome to meet her at an opening reception on Friday, February 21, from 5:30 to 7:30 pm. For more information call 838-2838.