Friends of Hunting Island (FOHI), in collaboration with Hunting Island State Park, today announced an exciting, family-friendly weekend of events, October 16 – 18, to commemorate the 150th anniversary of the historic lighthouse on Hunting Island.
Along with these two main sponsoring organizations, other major sponsors (referred to as "Leaders") include the Beaufort Three Century Project, O.C. Welch, and The Humanities Council SC. These organizations have come together to sponsor free admission to the park for Saturday and Sunday, October 17 – 18.
What was originally conceived as a simple ceremony marking this important milestone for the lighthouse ballooned, over time, into a multi-faceted four-day celebration to include sporting events, student-inspired art, sand sculpting, and a three-act original play about the history of the lighthouse.
"Starting just with Park staff and the Friends organization, our planning group and the number of participating organizations who wanted to be involved has grown to a truly inspiring level," says FOHI president Bonnie Wright.
The weekend celebration kicks off with a Pig Pickin' and live music on Thursday, 15 October at Boondocks Restaurant. The fun continues Friday night with an artist reception with plenty of Hunting Island art at the Beaufort Art Association's Elliot House. Then it's on to a full weekend of events at Hunting Island and the play, "People of the Light," written by Suzanne Larson, at the USCB Performing Arts Center, Saturday night. The USCB gallery will be festooned that same evening with artistic works created by art students from Beaufort County schools, inspired by class visits to Hunting Island, under the leadership of the Beaufort County Arts Coordinator, Margaret Rushton, and Friends members Roberta Gunderson and Connie Brotzman. After the play on Saturday evening there is a special treat, a Q&A session led by historian Larry Rowland.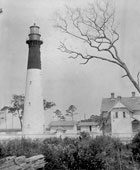 "On January 1st this year we had the first Pelican Plunge out at the park," says Park Manager Jeff Atkins. "And last year we partnered with the Friends to put on the 75th anniversary of the SC Parks. But this 150th celebration is going to be one fantastic weekend of fun and history."
There will be something for everyone during the weekend—art, history, sand sculpting, kayaking, a run/walk, and a celebration of the popular South Carolina state park's unique and beautiful lighthouse—150 years young.
The festivities have come together with the help of so many organizations: BB&T Bank, Best Western Sea Island Inn, Boondocks, Grayco Hardware, the Beaufort Art Association, Arts Council of Beaufort County, Beaufort County Schools, Higher Ground, Rotary Club of the Lowcountry, Charles Street Gallery and Frame Shop, Murr's Printing, Spectrum Graphics, Beaufort Performing Arts Center, US Coast Guard, US Lighthouse Society, US Postal Service, LowCountry Chorale, Beaufort Chamber of Commerce, and a number of other organizations and individuals who gave of time and materials.
For more information and a schedule of the weekend's events, visit: www.friendsofhuntingisland.org
People of The Light
Hunting Island's Grand Lady is honored with an original play on her 150th birthday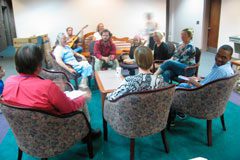 Come one, come all – moms, dads, children, grandparents and friends – to the entertainment highlight of the weekend celebration, an original play written for Hunting Island's Grand Lady on the occasion of her 150th birthday!
The setting is the isolated lighthouse on the barrier island long before it became Hunting Island State Park, just one day after the devastating hurricane of August 28, 1893. The lone inhabitants of the island are the lighthouse keeper, assistant keepers and their families. Visitors are rare – the crew of the occasional supply boat from the mainland, and a few unlucky sailors from sinking ships taking shelter now and then.
Imagine his surprise when Gus, the lighthouse keeper, discovers the survivors of a shipwreck who have been washed ashore during the terrible storm – and they are sitting in the audience! And that's when the real fun begins…
Complete with a couple of dogs, a duck, and a goat, cast members provide a rich mix of humor and lively interaction as counterpoint to Gus's solitary memories and historical observations. Together they contend with their discomfort and isolation, glean the necessities of life from the island's wild bounty, and learn to appreciate each other and their many blessings.
Play authored by producer of Light on Treacherous Water documentary
The three-act, interactive play, The People of the Light," weaves a story rich in historical background with the day-to-day challenges faced by the island's inhabitants. Author and producer, Suzanne Larson showcases life on the island as it was during the 1890's and early 1900's period in Beaufort's history. It also highlights little-known facts about the lighthouse through Gus's recordings in his Log Book as events take place. The production was built on the foundation of the historical documentary about the lighthouse, A Light on Treacherous Waters, which was written and produced for Friends of Hunting Island by Ms. Larson. She was a newscaster and producer for SC ETV for 18 years, and currently serves as public information officer for Beaufort County.
"I have always taken theatre very seriously, but this project is different," says Larson, who is also an accomplished and well-known local actor. "We are simply having a blast and it is very liberating for me! This is a family play – free of the edgy, intellectual and emotional angst I enjoyed in "The Vagina Monologues" or "Streetcar Named Desire." It is more like a G-Rated, Saturday Night Live episode with educational value. This show is unlike any I have done in the past and I love it. Working on "People of the Light" has taken me back to my childhood when I really knew how to 'play' and would put on shows in the garage for the neighbors."
A Talented Cast of Locals
Larson says she's enjoyed working with her talented cast of locals, who represent every community theatre group that once thrived in our area and a few that still do: Lowcountry Shakespeare, Beaufort Repertory Company, Redbug Productions, Beaufort Little Theatre, the Rafael Sabatini Players and the May River Theatre Company. "We have some child actors that are absolutely spellbinding," she says. "Everyone is artistically generous and patient. They also show great respect for their characters, which were crafted from historical anecdotes and based on dramatized composites of the real people who kept the lighthouse operating on Hunting Island. I will never forget this experience."
Neither will Dennis Adams, who plays the lighthouse keeper, Gus Jones. Adams, also an experienced local thespian, says, "This production is one of the best I've ever been associated with. Suzanne has gathered a truly talented cast of true "naturals" and veterans who all play on each others' performances to create an extended lighthouse family that the audience will really care about as they enjoy the carefully-researched details of the play. My character, Gus Jones, is as good a man as you would find in the past or present, in any era. What makes him an interesting person and not just a saint in uniform is that he shares the same faults we all have. But what makes Gus different is not only that he survives two enormous family crises, but that the strength of his character – and not, as he once thought – his gender, makes his family increase and prosper for all the troubles. Suzanne has written a serious piece of historical fiction that does not take itself too seriously. That is not to say that any of what happens is in the least trivial, but that there is a foundation of good humor and optimism that underlies even the darkest moments onstage. The audience will get a vivid sense of what it was to live in the Lowcountry over a century ago."
Larson has high praise for her assistant director, Vicki Ann Nestor. "She provides all the organizational and business skills necessary to pull this show off and does it so skillfully and with such grace and enthusiasm that it inspires all of us. What a treasure! If every artist in the world had a Vicki Anne they would never starve again or cut off an ear in despair."
Also on board are Larson's friends Louise Trask and Scott Grooms. "Louise is such a gifted costumer. Her clever wardrobe will really bring this play to life as will the technical direction of Scott Grooms, one of the most skilled electronic wizards I know. It is also great fun to work with 3 dogs, a duck and a goat onstage. We laugh a lot during rehearsal and I cannot predict what will happen when the curtain opens!"
Dr. Larry Rowland to answer your questions
At the end of the play noted historian Lawrence Rowland, PhD, Distinguished Professor Emeritus at the University of South Carolina Beaufort, will conduct a "Question & Answer" discussion with the audience on topics of historical significance during the period in which the play is set.
USCB Performing Arts venue for festivities
In addition to the evening's theatre production, Beaufort Performing Arts will be the venue for a Children's Art Exhibit and Reception, and separate reception for exhibit and play attendees. (See article on Children's Art Exhibit.)
Adults $5; 17 and under free!
Tickets for the play are assigned seating only. For information call BPA's ticketing office at 521-4145. Adults are $5, and students and children 17 and under are free. There is no charge for the Children's Art Exhibit and both receptions. Friends gratefully acknowledge the sponsorship of BPA for the play's rehearsal facility and ticketing function.
Friends of Hunting Island State Park gratefully acknowledges a planning grant from The Humanities Council of South Carolina, a state program of the National Endowment from the Humanities; inspiring, engaging and enriching South Carolinians with programs on literature, history culture and heritage.
Student Art Show
In celebration of the 150th anniversary of the Hunting Island lighthouse, 15 schools will be showcasing student artworks that reflect the lighthouse or some other aspect of the state park. An exhibit of this work – and a reception honoring the student artists – will take place in the USCB gallery in Beaufort on Saturday, October 17th, from 5:30 – 7 pm, before the original play "Children of the Light."
According to Beaufort County Schools Arts Coordinator, Margaret Rushton, "the invitation to participate was sent to visual arts teachers – most of whom are partnering with classroom teachers in ways that make the learning deeper (for example, enhancing a science lesson about habitats or the natural environment)."
"This is great!" says Rushton. "Using arts to support academics is just what we hope happens all the time. This project is giving us a real-life, real-time reason to bring these forces together!"
Participating schools may enter either six individual pieces or one group project. "From what I've heard so far, these will be very creative, and there will be quite a variety of interpretations," says Rushton.
In honor of the 150th anniversary of the lighthouse, Hunting Island state park has generously offered all schools free admission to the park, complimentary docent-led beach/marsh tours and free admission to the lighthouse. This has been an extremely generous offering which Beaufort County teachers have been taking advantage of.
The student reception (cookies and punch) begins at 5:30pm @ USCB. The ceremony (certificate distribution) will start at 6pm. All artwork will be removed that night or the next day to make room for another exhibit, so this is your one and only chance to witness the brilliance of our young local creatives!
Individuals and organizations who contributed to the weekend celebration will be invited to select a piece of student work as a thank you. Remaining pieces will be added to the permanent display at the school district office.
150th Lighthouse Anniversary Schedule
Friday, October 16
5:30 – 8 pm: Opening Reception, Beaufort Art Association Gallery (Free!)
Saturday, October 17
At Hunting Island State Park
10 am – 2 pm: Paddlefest Kayak Race (sponsored by Higher Ground)
11 am – 4 pm: Sand Sculpture Contest (Free!)
11 am – 4 pm: Steel Band Beach Music (Free!)
In Beaufort
6 – 7 pm: Student Art Exhibition, USCB Performing Arts Center (Free!)
7 – 8:15 pm: "People of the Light," an interactive, historical play, USCB Performing Arts Center ($5 for adults, free for children)
8:15 – 9 pm: Lighthouse History Q & A following the play
Sunday, October 18
At Hunting Island State Park
1 – 2 pm: 5K Trail Run/Walk ($25)
1 – 3 pm: Kayak Demonstrations (Free!)
All Day: Lighthouse "Passport" Stamp (Free!)
(must have lighthouse passport)
All Day: USPS Commemorative Postmark Envelopes ($6)
2 – 5 pm: US Coast Guard Demonstration (Free!)
2 – 5 pm: Oyster Roast, sponsored by Rotary Club of the Lowcountry ($25)
3 – 4 pm: Lighthouse Grand Ceremony (Free!)