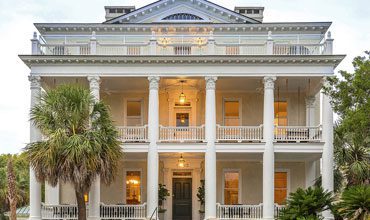 The Beaufort Regional Chamber of Commerce hosted the 2018 Civitas Awards Gala presented by Lockheed Martin and Hargray on Thurs, May 24th at Tabby Place in the heart of Downtown Beaufort. The annual Civitas Awards recognize outstanding businesses, organizations, and individuals who are exemplary in our region.   

2018 Civitas Award Winners
TOURISM LEADERSHIP 
Anchorage 1770 (above)
OUTSTANDING EMPLOYEE 2018
Cesar Garcia, Second Helpings
OUTSTANDING LOWCOUNTRY YOUNG PROFESSIONAL 2018
Russell Baxley, Beaufort Memorial Hospital
OUTSTANDING LEADERSHIP BEAUFORT ALUMNI 2018
Amy Achurch, Ballenger Realty
OUTSTANDING NON-PROFIT 2018
Beaufort-Jasper YMCA of the Lowcountry
VOLUNTEER OF THE YEAR 2018
Katie Phifer, Wells Fargo Advisors
COMMUNITY STEWARDSHIP 2018
Lockheed Martin
REGIONAL EXCELLENCE IN FREE ENTERPRISE 2018
Geismar
HISTORIC REHABILITATION 2018
Fordham Market
REGIONAL IMPACT AWARD 2018
Marine Corps Community Services
NON-COMMISSIONED OFFICER OF THE YEAR 2018
Cpl Saamad A. Mitchell, USMC 
JUNIOR ENLISTED SERVICE MEMBER OF THE YEAR 2018
LCpl Xukai Chi, USMC 
MILITARY CITIZENSHIP AWARD 2018
David Moncada, USMC
LIFETIME OF LEADERSHIP 2018
Mayor Samuel E. Murray
Thank you to all of this year's sponsors! 
Award Sponsors include: 
Ameris Bank, Outstanding Leadership Beaufort Alumni
Bank of America and Merrill Lynch, Regional Economic Impact
Beaufort County Economic Development Corporation, Excellence in Free Enterprise
Beaufort Memorial Hospital, Outstanding Nonprofit
Greater Beaufort- Port Royal Convention & Visitor Bureau, Tourism Leadership
J.H. Hiers, Historic Rehabilitation
Marine Federal Credit Union, Non-commissioned Officer of the Year
Technical College of the Lowcountry, Military Citizenship
The Beaufort Inn, Community Stewardship
United Way of the Lowcountry, Volunteer of the Year
University of South Carolina Beaufort, Outstanding Lowcountry Young Professional
Previous Lifetime of Leadership Award Recipients, Lifetime of Leadership