Hilton Head Comedy Club is there for you!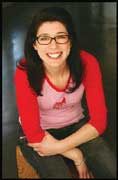 A trio of top-notch comedians grace the new Hilton Head Comedy Club in October including the club's first female headliner and a pair of returning acts who delighted audiences during the club's summer grand opening.
Todd Paul, who helped launch the club with rousing performances in July, is a former street performer who has mastered all manner of "cool stuff" during a career that has led him to headlining gigs in comedy clubs across the country. Todd's amazing skills range from traditional stand-up and general goofiness to skillful juggling, a bit of electric guitar and a dash of mystifying magic. Hilton Head Comedy Club is honored to host Todd Paul's return to the island. He appears Oct. 15-18.
Next up is Dana Eagle, a fast-rising comic star who becomes the club's first female headliner. Dana's dry wit and well-honed observational comedy is sure to please, and her solid credits include appearances on HBO's "U.S. Comedy Arts Festival" from Aspen, Caroline's Comedy Club in New York City and at college campuses across the country. She also won "Best New Comic" at the Bud Light "Ladies of Comedy Competition" at Caesars Palace, Las Vegas, and recently completed a pilot for E! Entertainment Network. Dana Eagle is on the verge of becoming a household name and she makes her Hilton Head debut Oct. 21-25.
The last week in October marks the triumphant return of Pat Godwin, a guitar-toting comedian well-known to fans of nationally syndicated radio shows such as "Lex & Terry" and "Bob & Tom."
Pat is a frequent radio contributor known for his satirical tunes, quirky send-ups and quick-witted repartee with club audiences across the country. His early summer shows at the club were enthusiastically received with no shortage of patrons requesting his prompt return. So, he's back; appearing Oct. 28-Oct. 1.
Hilton Head Comedy Club is located in Pineland Station at 430 Wm. Hilton Pkwy. (behind Le Bistro restaurant) and is an intimate, supper club-like venue with linen and candles on every table. The club seats about 100 patrons with all tables arranged for maximum sightlines to maintain focus on the first-rate comedy. Shows are at 8 p.m. every Tuesday through Saturday with added 10 p.m. shows on Friday and Saturday. A new headliner opens every Tuesday night.
Admission is $10 per person weekdays and $12 per person Fri.-Sat. Doors open a half-hour before showtime and admission is restricted to those 18 years and older. The club offers a full bar with specialty drinks, a limited but expanding menu and personalized table service from our friendly staff. Because of space limitations, advance reservations are strongly recommended by phoning (843) 681-7757. Tuesdays are Ladies Nights with all women admitted for half-price.
Hilton Head Comedy Club will be available for special comedy fest Holiday parties so give a call for more information.