Debbi Covington Chronicles Sophisticated Cuisine from the South Carolina Lowcountry.
By Mark Shaffer
 In the interest of full disclosure Debbi Covington is not only a longtime colleague, but a close friend. I even like her husband, Vince. I have her brother in-law Fleetwood's art on my wall. You might say that I'm connected to the Covingtons as was my wife, Susan. She appreciated forthright people who loved to sip a fine bourbon. And when the worst happened last May, the Covingtons – like so many others – were right there. But I digress.
            Debbi's food column, now titled Celebrate Everything, has been in every single issue of Lowcountry Weekly. Ever. That's approaching two decades of columns. That should tell you something about the woman. She delivers. I've no doubt that in kitchens all over the Lowcountry there are folders and notebooks bursting with worn and st
ained clippings of Debbi's recipes. She's been my partner on countless culinary adventures for The Moveable Feast and Burger Beat. She is Beaufort's perennial choice as Best Caterer, and anyone who's ever attended an event she's catered or even a simple social gathering she's thrown does their best not to miss the next one. But don't take my word for it. Check out a few testimonials from the new cookbook, Celebrate Beaufort.
            Bestselling author (and Beaufort resident) Cassandra King writes, "Lemon in Grits? Frogmore Stew potato salad? What new and irresistible wonders has Debbi Covington created to add to her impressive lineup of prize-winning cookbooks? Celebrate Beaufort does exactly that, and more, in celebrating the many pleasures of life in beautiful, historic Beaufort."
            High praise comes by way of author Tim Conroy who recalls, "My brother, Pat Conroy, said it best, 'Debbi Covington's food is as stunning as a marsh sunrise.'"
            And from her foreword to the new book, Lowcountry Weekly Editor Margaret Evans writes, "From Covington Christmas parties, to ladies luncheons, to Film Festival receptions, to porch gatherings and beyond, I have probably sampled a thousand Debbi Covington recipes over the years, and I can honestly say – the woman never disappoints." I'll add an enthusiastic "Amen!" to that.
            But in the age of "Ins
tagramification," a dish is only as good as its photograph, or so it seems. Debbi tapped award-winning local photographer Susan DeLoach to tackle the challenge of capturing each mouthwatering image.
            We recently gathered on the famous Lowcountry Weekly porch, overlooking Waterfront Park, to get a first look at Celebrate Beaufort and raise a toast. But before we pop the cork, Debbi opens the book to the dedication. It reads, In loving memory of Susan Shaffer. Damn.
            Mark Shaffer: When we sat down to talk about the last book, Celebrate Everything!, you said, "If I ever talk about doing another one, just shoot me." Here we are. What changed your mind?
            Debbi Covington: (Laughs) It was time. And Susan and I had been talking about doing a cookbook for a long time.
            Susan DeLoach: She had to prove that she wasn't stringing me along as a friend.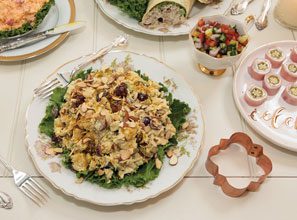 DC: That I wasn't blowing smoke. It seemed right. And here's a little back story: Susan and I met when she took the back cover photo for my first cookbook in 2005. We ended up being friends and every time I asked her to do a project she always said yes.
            SD: The only problem was I'm not a food photographer. I was like, I shoot people. I don't really shoot food. I never really had the confidence to do it. But she talked me into it somehow.
            DC: She'd shot a lot of photos for my column. And we'd done wedding magazines together over the years and she was shooting more and more food stuff and I knew she had a better eye for it that she thought. So when we talked about this one, she kept saying, "I'm not a food photographer." Well, you can look at the book and she is a food photographer.
            SD: As a compromise for me I told her I'd be more comfortable with people in the book. And she said, "Fine, we're going to do a chapter on weddings and we can use some of your people."
            MS: You've worked together on a lot of weddings over the years.
            DC: All the pictures in that chapter – called Happily Ever After – are from weddings we've done together. They're our mutual brides. So, we have relationships with all the families in that chapter. And they're going to be tickled.
            SD: That was a happy compromise for me, getting my people in the book. So, would I do it again? Probably.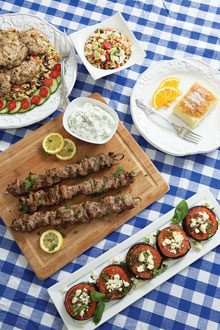 DC: Yes, you will!
            (Laughter)
            MS: Sounds like another one's in the works.
            DC: I have a few thoughts (laughs). For this one we did a lot of overhead photography. Susan was up on a ladder trying not to get her toes in the shot.
            SD: And every bit of it was shot in the same place.
            DC: My house.
            SD: But you can't tell.
            DC: And the recipes are really, really good. They're simple to follow and the ingredients are easy to find and it's all geared toward Beaufort.
            MS: You've captured a unique and different aspect of the town in each chapter.
            DC: There's a French chapter, a Santa Elena Chapter, there's one about the bases. There's a Pat Conroy chapter, a Cooking With the Movies chapter, one about The Point.
            SD: Church suppers.
            DC: Oh yeah. There are stories in this book. And we spent a few days riding around
town taking pictures, which was fun. And we ran into a thousand different people from the churches who all had their stories. Lots and lots of stories. We got a lot of history.
            MS: That's always part of the point of a good cookbook. And thank you for the dedication.
            DC: You are welcome. We all miss Susan.
Get your signed copy of Celebrate Beaufort with Debbi at these events:
Cookbook Launch: April 19 @ Sea Island Inn/Best Western on Bay Street, 5:30 – 7:30 pm
Cookbook Signing: April 23 @ Susan DeLoach Photography on Ribaut Road, 5:30 – 7:00 pm
Cookbook Signing: May 3 @ Verdier House on Bay Street, 5:30 – 7:00 (portion of the sales benefit Historic Beaufort Foundation)
Cookbook Signing: May 8 @ Pat Conroy Literary Center, 5:30 – 7:30 (portion of the sales benefit PCLC)

Photos at top left: Debbi Covington with photographer Susan DeLoach, and with the writer, Mark Shaffer, sharing her dedication to his wife.