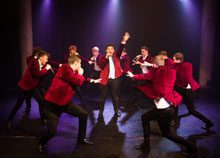 University of Exeter's all male a cappella sensation SEMI-TONED is headed for a one- night-only performance at USCB Center for the Arts on Thursday, April 12 at 7:30 pm.
SEMI-TONED, is heavily praised for their creativity, uniqueness and vocal acrobatics. The group embraces music of a variety of genres to ensure there really is something for everyone in any of their shows. Audiences around the world have been wowed by klezmer versions of Gwen Stefani, unlikely mash-ups of Jay-Z and Game of Thrones, and the Arctic Monkeys in a 1920s style. All, of course, performed in the group's trademark witty and engaging style – topped off with the iconic burgundy blazers.
Semi-Toned was formed in 2010 as a five-man barbershop harmony group at the University of Exeter. Now, in 2017, the group is now at the forefront of a cappella in the United Kingdom. The twelve-man group earned the title of national champions in April 2015, having won the Voice Festival UK. In December 2016, Semi-Toned went on to win the BBC2 competition The Choir: Gareth's Best in Britain. Now an international phenomenon, they perform in the US and the UK, and are renowned for their five-star shows at the Edinburgh Fringe Festival.
Don't miss SEMI-TONED on Thursday, April 12. Ticket prices are: $35 for adults, $30 for Seniors and Military, and $15 for Students. Tickets available online www.uscbcenterforthearts.com or call the box office 843-521-4145