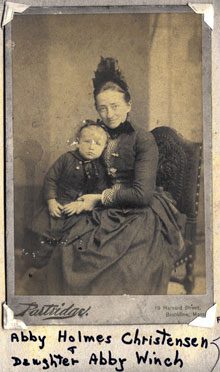 The legacy of much-loved Beaufortonian Abbie Holmes Christensen will be in the spotlight on Tuesday, March 14, when the Beaufort History Museum presents a talk as part of its popular history lecture series. The free lectures, created in partnership with the Beaufort County Library, have been filled to capacity and pre-registration is required for seating.
Please visit the Museum's website at
www.beauforthistorymuseum.com
to secure a reservation. "A Woman Who Changed Beaufort – Abbie Holmes Christensen" will take place at 2 pm at the Beaufort Branch Library, 311 Scott Street.
Hear Anne Christensen Pollitzer talk about her great grandmother Abbie Holmes Christensen and her legacy. Christensen came to Beaufort during the Civil War with her Abolitionist parents and made a lasting impact through her educational, business and civic contributions. She was an abolitionist, civic leader, businesswoman, and founder of the Port Royal Agricultural School, as well as an activist for the temperance, suffrage and civil rights movements.
Pollitzer, a fifth generation Beaufortonian, was a teacher for 34 years and founded the Montessori School in Beaufort. Carroll Christensen Sommerville Eve, Pollitzer's cousin, will join her in sharing her own personal memories of growing up in Beaufort with her grandmother, Abbie Holmes Christensen.
Beaufort History Museum, located in the historic Arsenal, has evolved to focus specifically on the history of the Beaufort District. It strives to manage and display artifacts and documents held by the City of Beaufort, telling the compelling stories of this area from the early 16th Century until modern times. The Arsenal address is 713 Craven Street. BHM's hours of operation are 10:00 AM – 4:00 PM Monday – Saturday.
The Beaufort County Library System is a free and accessible marketplace of ideas, information, and culture that fosters learning, community, and information literacy. The Library provides open and guided access to a wide variety of media and programs to inform, inspire, and empower all its patrons in their pursuit of lifelong learning, personal enrichment, and cultural understanding. The library system operates five branch libraries throughout Beaufort County and library cards are available free of charge to all county residents and property owners. It offers free access to millions of items through a combined online catalog and digital library.
The Beaufort District Collection (BDC) is the Library's special local history and archives unit. BDC staff and docents are stewards who collect, protect and share a research collection of permanent value about local history, Gullah culture, the natural southeastern coastal environment, family history and archaeology. For the BDC's hours of operation, please visit its website at www.beaufortcountylibrary.org