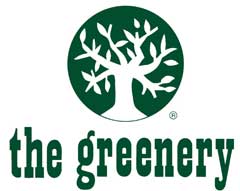 First, there's the name. The Greenery. How could anybody not love that name? It speaks of springtime and flowers, blooming plants and lush, fragrant grass.
Next, there's the back story. Lee Edwards' parents started the Hilton Head-based landscaping company in 1973 with six employees. Lee started working there summers by the time he was thirteen. Today, he orchestrates the whole show, employing around 400 people, some of whom like their jobs so much they've been there for over 30 years. Sound more like a family than a company? It's both. In fact, The Greenery is an employee-owned company, and according to Lee Edwards, that's just good business.
"It comes down to motivation," he says. "The longer an employee stays with the company, the more ownership he gains. It creates a real sense of pride, responsibility, and, certainly, motivation. We're real big on nurturing an ownership mentality around here."
Edwards didn't actually mean to go into the family business… or to move back home to the Lowcountry. "I went off to college, then lived in lots of different places – the Caribbean… out west for a while… but wherever I went, I kept finding myself working in landscaping. The truth is, I like it. And I'm good at it. At one point, I was landscaping out in Colorado, and I just thought, 'Why not come home to Hilton Head, where I can do this 12 months a year?' Plus, I got cold."
Fast forward to a couple of weeks ago: The Greenery, which now oversees commercial landscaping projects from Savannah to Charleston, just signed a contract with the City of Beaufort to maintain its celebrated Waterfront Park & Business District. The company's Beaufort Operations Manager, Jerry Ashmore, discusses how it came to pass.
"When the recession hit, the City had to take a good, hard look at the way it was doing business. They decided it made sense to outsource some things – trash, parking… and now, landscaping. We had already started handling some jobs for the City back in August – Ribaut Rd, for example, and several little parks throughout town – and people seemed to like our work. I guess the City liked our bid."
Beaufort's mayor Billy Keyserling confirms. "The competition among those vying for a contract with the City is stiff. The Greenery offered the best deal and they seem to be doing a magnificent job. It's not often that elected officials receive calls thanking them for the services they provide. This is the exception as the public notices the changes and is grateful for our new way of doing things, which definitely includes contracting with the Greenery."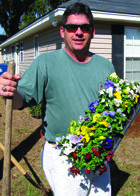 So what are some of the changes Beaufort residents and visitors can look forward to this spring?
"We really want to exceed expectations," says Operations Manager Ashmore. "We're planning to take downtown to a whole new level. Really ramp it up, with lots of new pots and baskets and beds. Lots of seasonal color. You'll definitely notice a difference!" The Greenery is also responsible for turf maintenance, tree maintenance, irrigation system maintenance, holiday décor, pressure washing, and even janitorial services for the park bathrooms.
Jerry Ashmore has been with The Greenery for ten years, and has enjoyed them all, but he's particularly excited about this new Beaufort initiative. For him, it's about home.
"I live in Port Royal," he says. "I teach Sunday School at Carteret Methodist Church. I coach soccer and T-ball at the YMCA. This is where I live. This is where my kids are growing up."
He's also happy to note that this contract isn't putting any City employee out of business, but is only adding jobs. "The City was just too spread out. Too few people trying to do too many things.  You'd have a guy emptying garbage one day and planting flowers the next. They were unable to focus. Now, we've freed up a few of those folks to concentrate on other projects – the new Southside Park, for instance – while we just get down to business and do what we do."
Sounds like Beaufort is in for a beautiful spring.