Habersham has recently designed a "Discovery Trail" blazed with birdhouses to guide visitors through Habersham's Marketplace and into Habersham's award-winning New Urbanism landscape. Habersham's Discovery Trail gives guests a taste of its walkable neighborhood, amenities, restaurants, retail shops, and health and wellness businesses. It was scheduled to open at Habersham's Third Friday celebration on March 20, but that event has been canceled due to the coronavirus pandemic. Habersham hopes to reschedule soon.
"When the Merchant's Council presented the idea, it checked the right boxes. Our neighborhood is designed for walkability, and Habersham celebrates nature and the beauty of the Lowcountry. The trail and birdhouse waypoints highlight Habersham amenities, and it gets people into our marketplace to visit our restaurants & shops," said Patrick Kelly, Habersham Land Company.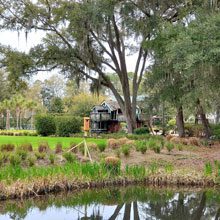 "We wanted to create a lovely walk-about to give visitors another reason to find Habersham on the Beaufort map and visit," said Robert Howell, a member of the Merchants Council and Project Leader. We worked with a Hunting Island Shorebird Steward and a Master Naturalist who are Habersham residents to site the birdhouses for bluebirds, wrens, owls, kestrel and wood ducks."
Gooding Contractors built the species-specific birdhouses from cedar wood with plans from The Cornell Lab Nestwatch. Maddy Scutta of Madaline Cathleen Designs led talented residents in a workshop and painted the Wren & Bluebird houses beautifully with bird friendly paints. Per NestWatch, the larger houses for owl, kestrel and wood duck were kept in raw cedar. Trail walkers will be offered 10% discount at select Habersham Marketplace shops if they mention the Habersham Discovery Trail in their Facebook and Instagram posts. Share pictures of a favorite birdhouse and pictures of any participating marketplace business on your social networks using the #HabershamMarketplace hashtag. To claim the 10% discount, the mention & picture must be from the day the discount is claimed.
"We imagine people making an afternoon out of a visit to Habersham," said Kate Skinner, owner of River & Marsh, a fine apparel and accessories shop. "Wander the Discovery Trail. Eat at our restaurants. Stop into River & Marsh, visit our friends at Mystic Osprey Gallery, A Village Vault, Pearls Before Noon, Branning Fine Arts and Madaline Cathleen Designs. Get your hair done. Take a spin cycling class. Maybe do the spin class before getting your hair done," Skinner laughed.
Habersham's Marketplace is a favorite Lowcountry destination with monthly celebrations every "Third Friday" from 4-7pm and seasonal, public festivals. March 20th's Third Friday celebrates Spring 2020 and kicks off the weekend of the 12th Annual Beaufort Twilight Run, also taking place in Habersham.
Habersham is a safe, walkable village complete with vibrant outdoor patios, restaurants, retail shops, and wellness services just seven miles from Downtown Beaufort, forty minutes fromHilton Head and Palmetto Bluff, and one hour from Savannah.
Photos above by @MysticOspreyGallery and @Loonclick