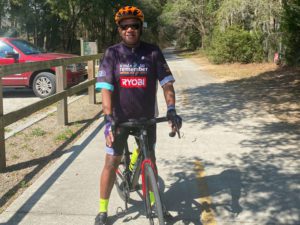 A Ride to Remember (RTR) is an annual cycling event hosted by the Alzheimer's Association. A fundraiser for Alzheimer's research, it's a three-day, 252-mile ride from Simpsonville to Charleston, SC.
Beaufort resident Charlie Frost has participated in RTR for the last three years, and will also participate in this year. He was one of over 500 cyclists in last year's ride, all of whom were committed to helping others while having a great time.
"Participating in the ride gives me an opportunity to do something I love, see beautiful South Carolina scenery, be with a community of wonderful people, and help a cause I feel strongly about," says Frost, who has had several family members with Alzheimer's, and also knows others greatly affected by the disease.
This year's ride will take place July 9-11. Because of Covid, riders will also be able to participate virtually, using the entire month to log their miles.
If you would like to participate in the 13thAnnual Ride To Remember, visit www.aridetoremember.org for information and registration. If you would like to help Charlie Frost in his own RTR fundraising effort, visit http://act.alz.org/goto/Charlie_Frost70