By Margaret Evans, Editor
There is a powerful force at work in our community, but if you don't have a high school or middle school student in your house, you might be unaware of it. No, I'm not talking about adolescence – though, indeed, that is a force to be reckoned with.
            I'm talking about Beaufort Young Life. Adolescence, meet your match.
            Over the past six years, a wildly energetic couple named Ali and Alex Holroyde (left) have taken hundreds of Beaufort "young lives" by storm, engaging our sons and daughters in ways
we parents sometimes can't at this age, providing understanding and guidance at a crucial time when many kids feel lost and confused.
            Ali and Alex – high school sweethearts from Ohio who later got married – came to Young Life from different faith backgrounds. "I grew up in the Lutheran Church," says Ali, "I fell in love with Young Life when a high school friend invited me to '8th Grade Night.' Alex didn't grow up in the church at all. He was invited to Young Life by his high school golf coach, who happened to be a YL leader."
            I interviewed Ali Holroyde and her YL colleague Sarah Burrus on a windy day in Waterfront Park. They gave me reams of good material, which – to my horror – mysteriously vanished from my iPhone voice recorder a few days later. Fortunately, I'd taken notes during our meeting. Even more fortunately, I'd been taking mental notes on this outstanding organization since my daughter got involved a couple of years ago.
            First, a little history. Though new-ish to Beaufort, Young Life is . . . pretty old. In 1939, a Presbyterian youth leader and seminarian named Jim Rayburn was challenged by a minister in his Texas town to consider his neighborhood high school as his "parish" – and to reach out to kids who had no interest in church. Rayburn started a weekly club for these kids, with singing, silly skits, and a simple message about Jesus Christ. It took off. After graduating seminary, Rayburn and four other seminarians collaborated, and Young Life was officially born in 1941. They developed the club idea throughout Texas, but it quickly went nationwide… then international.
            Though it started out ministering mainly to suburban high school students, by the early 70s, Young Life had started ministries in 25 multi-ethnic and urban areas. Today, the organization has more than 750 multicultural ministries, reaching more than 150,000 inner-city, racially under-represented and poor young people. In the 1980s, the mission developed two new cutting-edge ministries — WyldLife for middle school students and Capernaum for kids with disabilities. More recently, it launched Young Life College, targeting students on campus, and YoungLives, focusing on pregnant teens and young mothers. Today, a mix of American and international YL staff and volunteers are reaching kids with the Gospel through more than 1,500 ministries in more than 90 countries.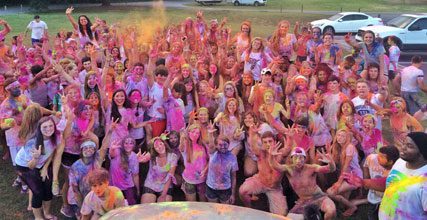 Here in Beaufort, I've had a chance to watch Young Life in action – along with its "little sister" WyldLife – and it's a beautiful thing. Ali and Alex Holroyde, with their team of volunteers, have woven themselves into the world of our youth in wonderful ways that go far beyond the weekly club meetings (which the kids, by the way, adore). They show up at ball games, volunteer at school events, drive carloads of teenagers to school plays, pick them up for after-school coffee dates. They set the younger kids up with older mentors, lead them in Bible study, take them on camping weekends – and to summer camp – and invite them into every aspect of their lives. (About ten months ago, teenagers all over town were glued to their cell phones – even more so than usual – awaiting word that the newest Holroyde, Baby Addie, had arrived. Great celebration ensued in homes all over Beaufort.) Under the caring guidance of this dedicated couple, genuine friendships are formed, young people feel supported, and the love of Christ – too often an airy, abstract concept – becomes a tangible, life-changing reality.
            "At the end of the day, Alex and I serve on Young Life Staff because we believe it makes an eternal difference," says Ali Holroyde. "We love kids, and really believe that as they encounter the love of Jesus it changes everything – the way they think about themselves, others and our world."
            Beaufort Young Life's newest (maybe most challenging) ministry is YoungLives,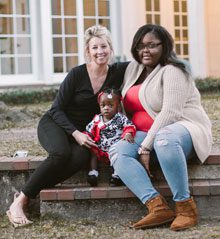 which provides mentors for pregnant teens and teen moms. Sarah Burrus coordinates that ministry, currently serving about 20 local girls. With a professional background in social work, Sarah (seen here, with one of her YoungLives moms) says this volunteer position is more satisfying than any job she's ever had.
            "So much social work is putting band aids on gaping wounds," she says. "This is different. We get to go deep – to the root of the problem."
            Sarah's father, William Trask, helped found Beaufort Young Life back in 2006. Both he and another beloved founder, Holly Konoza, have since passed away, and the organization is holding a fundraiser in their honor next month. In true Young Life spirit, The Holly Konoza & William Trask Memorial Trivia Night promises to be a night of zany fun, with about 20 teams (no more than 10 people per team) competing to be named the "smartest." Team tables are available for $300, and each team gets to pick a theme. Decorate your table, wear costumes, go wild! Prizes will be awarded, and there will also be a silent auction. 

            Every YL organization is financially supported solely at the local level, so fundraisers like Trivia Night are crucial, and donations are always gratefully accepted.
            The Holly Konoza & William Trask Memorial Trivia Night is Saturday, May 14, from 7 – 9 pm in the Beaufort Academy Gym. For more information or to sign up a team, call 843-321-8441 or visit the website at www.beaufort.younglife.org