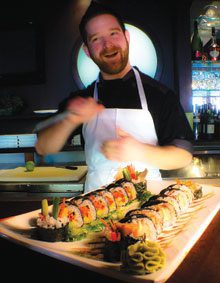 Up & Coming Sushi Chef Justin Patton Takes On the Roll at Saltus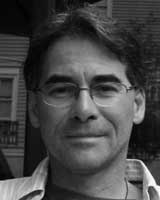 Story and photos by Mark Shaffer

A brisk Tuesday night in late January at Saltus River Grill, the only place you'll find sushi in downtown Beaufort. My wife Susan and I, along with filmmakers VW Scheich and Uyen Le, stake out prime seats in front of the sushi station. Lorrie and David Anderson join us after they lock up NeverMore Books right around the corner on Carteret. Tonight we've come for sushi and to experience the unique fusion of art, food and passion for which young Justin Patton is quickly building a buzz around town. Tonight he's teamed up with buddy John Blood behind the bar. The two grew up together hanging at the skateboard park back in the day.
            "That's steamed shrimp," he says. I ask him to surprise us with the first course. He does and does so marvelously. "I chill the shrimp in orange, lime and lemon juice and pair it with tuna, scallions, avocado, pineapple and bell peppers, top it with wasabi uzu and a little bit of Sriracha." It is sublime, a revelation in subtly layered flavors, textures and levels of heat. It heralds delicious things to come and is remarkable considering Justin's basically self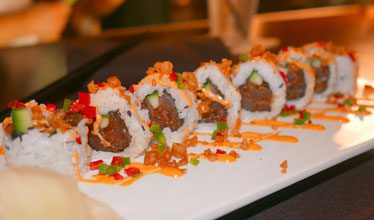 taught and brand new to this game.
            "He started out working in the kitchen with me as a dishwasher quite a few years ago," says Chef Brian Waters. "He's a hard worker and I always promote from within."
            Justin worked his way up on the line but the chef could see it wasn't the right fit somehow. "He was good at it but it didn't suit him," he says.
            After a brief detour to Charlotte, Justin came back home and gave Waters a call looking to pick up a dishwashing shift. Waters had a better idea.
            "I said 'No' but are you interested in sushi at all?"
            "I told him I'd give it a try," says Justin. "And I fell in love with it."
            "He just ran with it," says Waters. He smiles the sly smile that comes with knowing a kindred spirit. "I think he's a bit of performance artist," says the Chef. "He definitely wants to make people feel special and give them the best possible experience, period."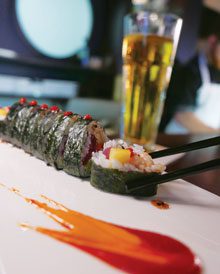 Performing runs in the Patton family. Justin's grandfather Bill is a playwright and director and his uncle is the award-winning character actor Will Patton (Remember the Titans, Armageddon, Falling Skies).
            "It's all about having fun for him," says Chef. "And that's the key for Justin. He's got to have fun with what he's doing."
            In the Japanese tradition of sushi, you'd be hard pressed to find any master or apprentice willing to apply the term "fun" to a culinary discipline that borders on religion. In Japan an apprentice may spend years preparing rice and rice only, day in, day out, over and over again.
            To better explain this culinary phenomenon allow me to channel my inner Alton Brown. First off, "sushi" does not mean "raw fish." The word is actually an ancient Japanese term which roughly translated means "sour," a reference to the vinegared rice traditionally used in the dish as a means of preserving or pickling fish. The science is simple and first shows up in China around the 4th century BC. Raw fish is pressed between two layers of "sour" rice along with a little salt. This causes the rice to ferment producing lactic acid bacilli that slows the bad bacteria in the fish. It's a kind of pickling which is why in Japan the sushi kitchen is still called a tsuke-ba or "pickling place."
            Fast foreward to what is now Tokyo, 1824. An enterprising young man named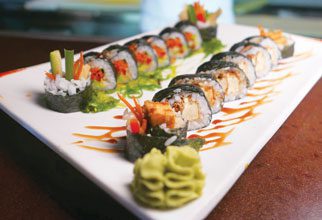 Hanaya Yohei opens the first sushi stall next to a busy bridge over the Sumida River. Yohei is the first to add raw fish (nigiri) to his sour rice, thus eliminating the preservation process while simultaneously inventing fast food. He is the Ray Kroch of his time.
            1966. Nigiri style Sushi lands in the U.S. as Noritoshi Kanai and Harry Wolff open Kawafuku in L.A.'s Little Tokyo. Soon after the now ubiquitous California Roll is born. The fact that it is prepared backwards (literally made inside out) and that avocado is substituted for fatty tuna warns of future SoCal cultural trends to come.
            Sushi has its rock star chefs and brands. Chef Nobuyuki Matsuhisa's Nobu boasts 22 locations around the world including two in Las Vegas. His Vegas partners include Oscar winner and sushi fanatic Robert DeNiro. I lived in Vegas in the late 90's when the two opened Nobu at the Hard Rock. DeNiro's appearance before the Nevada liquor board created a celebrity frenzy. Before the doors opened the reservation list was a three month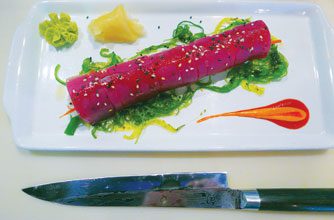 wait. And then there's Jiro Ono, the 90 year old sushi master and subject of the 2011 documentary "Jiro Dreams of Sushi." Ono's Sukiyabashi Jiro is the only Michelin three-star restaurant of its kind on the planet. Ono began his "pursuit of perfection" in 1965 with 10 seats in a nondescript corner of a Tokyo subway station. Not much has changed except the clientele and the prices. Heads of state and the rich and famous book reservations months in advance. The average bill for Ono's 20 course tasting menu is about $330 a seat.
            "Price is always a factor, wherever you go," says VW. In Los Angeles, he and Uyen were used to west coast trends and the prices. They recently switched to a vegan diet and Justin's creative substitutions have helped to ease the transition. Tonight's selections include his Vegetable Roll with cucumber, carrots, avocado, bell peppers over seaweed salad topped with Thai chili sauce and a Fried Tofu Roll with roasted shiitakes, carrots and bell peppers finished with eel sauce.
            "It's amazing," says Uyen. "I don't even miss the fish."
            "I think passion plays a big part here," says VW. "These guys obviously love it so much and the quality is definitely there."
            Susan agrees. "You can't enjoy the experience without both the passion and the quality."
            Meanwhile the bar's filling up and the orders are rolling in for Justin and John. Like a fine-tuned machine, they shift into overdrive, laughing and joking as they work.
            "If the tickets pile up, we don't stress," says Justin. "We just have fun and make edible art. The plate's a canvas, paint it. Right?"
            Right.

Saltus River Grill
On the Waterfront Park
Historic Downtown Beaufort
843-379-3474
Enjoy ½ price Sushi Tuesdays 4-6:30pm