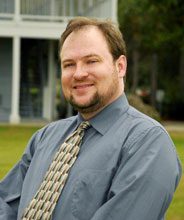 Beaufort History Museum, in partnership with the Beaufort County Library, announces this season'€™s second program in its local history lecture series, The Battle of Port Royal Sound. The event is planned for Tuesday, November 7, at 2:00 pm at the Beaufort Branch Library, 211 Scott Street.
The Battle of Port Royal Sound was one of the earliest naval operations of the Civil War. On November 7, 1861, a massive U. S. Naval fleet and U. S. Army expeditionary force sailed into Port Royal Sound and captured Fort Walker on Hilton Head and Fort Beauregard on St. Helena Island. At the time, it was the largest armada ever launched by the United States.
Beaufort was among the first southern towns to fall into Union hands. The Federal occupation changed the course of Beaufort District history and led to the most misunderstood period of American history, the Reconstruction Era.
Berkeley County Museum and Heritage Center Executive Director and historian Michael D. Coker will bring this important battle, and the events surrounding it, to life. He will share stories from his book, The Battle of Port Royal Sound, about this pivotal point of the Civil War.
Admission is free. A donation of $5 is suggested and reservations are required. To sign up visit the BHM website: www.beauforthistorymuseum.com Please print out the ticket and bring to the event. Registration opens October 25. (Lectures sell out. Those with tickets admitted first.) Funds collected will be used to support ongoing Museum programs, which are open to all.
Beaufort History Museum, located in the historic Arsenal on Craven Street, has evolved to focus specifically on the history of the Beaufort District. It strives to manage and display artifacts and documents held by the City of Beaufort, telling the compelling stories of this area from the early 16th Century until modern times. The Museum's hours of operation are 10:00 AM -€" 4:00 PM Monday – Saturday.