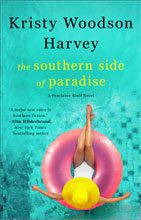 Beaufort History Museum will present its fifth annual Tea on Tuesday, May 7, 2019 from 1 – 4 pm at Dataw Island Club.  The popular event, the Museum's principal fundraiser, will showcase national best selling author Kristy Woodson Harvey, who is using the occasion to launch her newest book, The Southern Side of Paradise. Local author Patricia Bee and her book, Mama's Pearls, will also be featured. Both women will talk about their books and the importance of family, heritage and communal traditions to southern culture.
            The Tea will be set in Dataw Island Club's beautiful Carolina Room, which offers sweeping views of Jenkins Creek and surrounding marshland. In addition to delicious traditional formal tea delicacies there will also be a cocktail reception with a cash bar, an auction and an exciting raffle. Auction items include a double strand antique Mikimoto cultured akoya pearl necklace offered by Modern Jewelers and an Oyster Roast by Lady's Island Oysters featuring acclaimed Single Lady Oysters.   
            Reservations may be made by credit card on the Museum's website beginning April 1, 2019 at www.beauforthistorymuseum.com. Ticket prices, which include a copy of Harvey's book, are $60/per person or $500 for a table of 10.  (Those buying a table are asked to use a single credit card for the reservation and to list the names of guests to facilitate seating at the Tea).
            Kristy Woodson Harvey is a born-and-bred North Carolina girl who loves all four seasons—especially fall in Chapel Hill where she attended college, and summer in Beaufort, NC, where she and her family spend every free moment. She is the author of The Southern Side of Paradise, The Secret of Southern Charm, Slightly South of Simple, Dear Carolina, and Lies and Other Acts of Love.
            Publisher Simon & Schuster provided this preview of the book launch: "For the last two summers, 'one of the hottest new Southern writers' (Parade)Kristy Woodson Harveyhas captivated readers with her beloved Peachtree Bluff series and the resilient Murphy women. This May, readers travel back to the picturesque Southern town of Peachtree Bluff with the third stand-alone novel in the series, The Southern Side ofParadise(Gallery Books; on-sale May 7, 2019; Trade Paperback Original),when a long-held family secret threatens the tight-knit bond between the trio of sisters and their mother".
            Patricia Bee, a Beaufort, SC native, is a retired educator with 28 years experience in the public school system. She graduated from Beaufort High School and earned a B.A in Elementary Education from the University of South Carolina and a Masters in Public Administration from Iowa State University.
            Bee describes Mama'sPearlsas a book of poetry that captures "the essence of Gullah culture as priceless words of wisdom emanate from a grandmother's heart and unfold a roadmap for life's journey."
            The BHM Annual Tea fundraiser enjoys wide community support. This edition's sponsors include Modern Jewelers, Merrill Lynch Bank of America Corporation, The Clark-Troutman Group Wealth Management, Lady's Island Oyster Company, Fernwell Florals,Hairplay,Bay Street Outfitters, Eat Local (Hearth Wood Fired Pizza, Plum's and Saltus River Grill restaurants), Hand and Tanner, Rossignol's, MacDonald's Marketplace, Kilwins, and Seaside Grown Bloody Mary Mix.
            Beaufort History Museum has evolved to focus specifically on the history of the Beaufort District. It strives to manage and display artifacts and documents held by the City of Beaufort, telling the compelling stories of this area from the early 16thCentury to the modern era.   
            The Museum's hours of operation are 10:00 AM – 4:00 PM Monday – Saturday. Docents are on duty to provide information and conduct tours. Admission is $7.00 per visitor ($6.00 for Seniors). Children and active military are admitted free of charge.  Please visit www.beauforthistorymuseum.comor BHM's Facebook page for updates and news from the Museum.