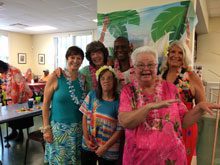 A small but mighty group of volunteers have been making a name for themselves as the "go to" group for helping non-profits in the Lowcountry.
   Founded by the YMCA five years ago, the Togetherhood initiative is the national organization's signature program for social responsibility. Here in Beaufort County, the group has been busy growing and getting things done.
 "I'm tickled to death we're up to 24 members," said the program's chair, Gale Swann.
   As she explained the idea behind the program is to make volunteering an "easy, fun and rewarding experience."
   The program works by enlisting the YMCA's own members to assist other non-profits in the community.
   Just some of the projects and organizations the group has helped with include Friends of Caroline Hospice, HELP of Beaufort, United Way Day of Caring, CAPA, St. Helena Senior Center, U.S. Postal Carriers Food Drive, Spring Carnival, Trunk or Treat Port Royal, The Giving, Riverview CharterSchool and Bridges Charter School.
   The group also helps with projects that benefit the Y and its members. One recent project helped raise money for the Y's "Learn to Swim" program,which provides reduced-cost and free swim lessons for both kids and adults who cannot afford lessons.
   Togetherhood has been such a success that in 2018 it was recognized with a Civitas Award given by the Beaufort Regional Chamber of Commerce.
   Since the YMCA's closing in March due to the coronavirus though, the group hasn't been able to meet or do as much as it usually does, but Swann said members can't wait to get back to work.
"I miss all my friends," she said."You get really close to the people and we have so much fun together."
   B
efore retiring, Swann was the former director of academic support at Carteret Community College in Morehead City, North Carolina. She got involved with the Togetherhood program after she and her sister, Sally, moved to Beaufort and joined the Y three years ago.
   "And what makes it wonderful is the warm people at the Y," she said.
   Soon after joining, she became the program's chair. Members meet once a month at the YMCA to review previous activities and talk about projects coming up.
   "It's a well organized program," she said. "Volunteers know where we're going to go and what we're going to do."
   Members are mostly retirees but come from a wide variety of backgrounds with a variety of expertise as well, she said. What's more, members can volunteer for projects that only require a one-time commitment or, if they have more time, can help with some of the program's ongoing projects.
   "And we're open for suggestions," she said.
   One of her favorite activities has been helping with bingo at the St. Helena Senior Center. Some of the "grand prizes" have included toilet paper or detergent.
   "It's a hoot and we have a lot of fun with everyone there," she said.
   To date, Togetherhood members have donated thousands of volunteer hours to projects and organizations that better the community. But Swann said she feels certain that what she and the group's members are getting out of the program is something invaluable.
   "We're getting much more than we're giving," she said.
Want to Volunteer or Learn More? 
If you're a YMCA member, the group meets the first Friday at noon at the YMCA. If you're not a member but are interested in joining or learning more about the program and the organization, email Gale Swann at galeswann@yahoo.com or visit www.beaufort-jasperymca.org/volunteering-giving-back.