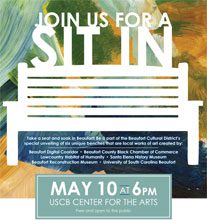 The city of Beaufort's Cultural District Advisory Board has scheduled a sit-in.
The event, Friday, May 10 at 6 pm in the University of South Carolina Center for the Arts Center on Carteret Street will be the launch date for the CDAB's newest project designed to draw attention to the area's multitude of cultural opportunities and the one-year-old free public shuttle.
The project features a half-dozen customized benches decorated by representatives of local agencies but also provides a functional aspect, according to CDAB Chairwoman Bonnie Hargrove.
"The decorated benches will be placed along the city's free shuttle pick-up points, providing opportunities for those waiting the shuttle to take a rest and reflect on the unique cultural aspects of our town," said Hargrove. 
The bench decorations will be the art work of representatives from the Beaufort Digital Corridor, Beaufort County Black Chamber of Commerce, Lowcountry Habitat for Humanity, Beaufort Reconstruction Museum, Santa Elena History Museum and USCB Center for the Arts. 
Shelley Barratt, manager of the Beaufort Digital Corridor, said her agency's entry "combines the talents of several creatives who captured the magic of the Digital Corridor using stock photography overlaid with photos of our beautiful Beaufort." 
Other Digital Corridor participants came up with the idea to "plug-in" the bench design with not only the digital energy of the BDC but the many facets of the city, she said. 
"I simply helped coordinate the process," Barratt added. "And I'm in charge of painting the bench legs in the four BDC colors, representing our four pillars of operation: workspaces, community, talent, and capital." 
The BDC also plans a second part to their bench that involves augmented reality once it has been installed in its location. That will be done by Dr. Brian Canada of USCB, BASEcamp resident and his Computer Science students.
Linda Silk Sviland is designing a bench for Habitat of Humanity and says she's thrilled to be participating in the project. 
"The challenge was to design something that would convey our agency's mission and present Habitat projects in a way that would attract and engage," she said. "And how easy is it to design something that reflects our beauty. Who doesn't love the flora of the Lowcountry?"
The free shuttle service was begun March 2018, funded by the city, supporting organizations and businesses with the idea of enhancing mobility while minimizing parking demands throughout the downtown district.
The May 10 event is free and open to the public. 
For more information, contact Hargrove at USCB Center for the Arts. www.uscbcenterforthearts.com